How technology can help fleet managers recruit and retain top talent
Build a team of drivers that stays for the long haul
Advances in technology are shifting the way all industries do business. The Internet of Things (IoT) is continuing to open doors, and as transportation and logistics companies expand the adoption of its use, drivers are beginning to benefit from new tech tools in the industry. IoT can make aspects of their jobs easier to execute, streamline communications with dispatch, and help improve driver and equipment safety and security. Leaders who understand how the right IoT choices can benefit drivers as well as the companies they drive for can help improve driver retention and address the long-held challenge of driver shortage.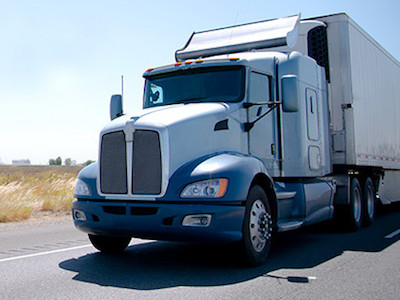 Transportation Solutions
Transportation companies are turning to technology to gain a competitive edge, reduce costs and create new efficiencies.
The U.S. population of skilled trades-workers is in decline. Truck drivers are on the list of trades that have more jobs than qualified workers to fill them. By 2022, the American Trucking Associations (ATA) estimates that there will be a shortage of more than 100,000 truckers. The fact is, more truck drivers are retiring than there are new people interested in taking up the profession.
The boom in e-commerce has only increased the need for all types of freight carriers, from over-the-road (OTR) to same-day delivery fleets serving regional warehouses. Without qualified truckers to fill these positions, fleet companies are struggling to keep business on the road.
Upping drivers' wages is only the beginning
According to the ATA, in 2018, larger carriers began increasing wages for most drivers, including offering attractive sign-on bonuses, referral bonuses, and new pay structures meant to mitigate dips in earnings from situations that were beyond a driver's control—such as long wait times at distribution centers, warehouses, and unloading stations where they're not being paid, or unavoidable traffic delays.
The higher pay and signing bonuses triggered a wave of driver churn, in an already high-turnover industry. In the first half of 2018, the turnover rate for large carriers reached 98%, but trended down to around 87% by the third quarter.
But 87% is still too much driver turnover. Most carriers understand that they'll have to do more than offer drivers more money if they're going to solve the drought in the trucker-pipeline and win driver-loyalty over competitors who are trying to lure them away. Improving pay is one way, but since most carriers are doing that, you may need to go the extra mile to win over loyal drivers.
Increase job satisfaction and quality of life for drivers
Addressing job satisfaction from the point of view of truckers can demonstrate that a company values its employees' best interests and wants to employ them for the long-term. Here are some additional ways your company can invest in keeping your truckers happy and driving for you and your customers.
Providing technology to employees that makes the job easier is an example of a strategy to retain and attract new workers to an organization. - David Van Dorselaer, AVP Industry Solutions – Manufacturing and Transportation
Provide them with tech tools to be more efficient
IoT solutions like AT&T Fleet Complete can simplify and centralize regulatory reporting, asset tracking, and command center communications. B&P Enterprises sought a solution to address issues related to tracking their equipment, Department of Transportation (DOT) violations, and other operational challenges that were inhibiting the flow of operations. They discovered that implementing AT&T Fleet Complete into their business addressed these pain points and helped them to create new efficiencies in day-to-day operations, and helped create a safer work environment for their drivers.
Provide your drivers with the tools to operate hands-free while on the road. AT&T Enhanced Push-to-Talk enables them to collaborate and communicate with dispatch in near-real time, from a range of devices like smartphones, rugged phones, and specialty devices. With features like messaging, tracking and sharing locations, and centralized administration and dispatch, they'll have all the hands-free tools they need to communicate safely while the truck is in motion.
Once you've invested in IoT and equipped your fleet with time-saving devices and platforms, put the data you collect to work supporting your drivers and improving efficiencies. You can track driver productivity and equipment status in near real-time and store the data for long-term analysis of process gaps and other assessment opportunities. This enables you to have a deeper understanding of moment-to-moment operations to identify ways to improve efficiency and ultimately reduce costs – a benefit that may be used to provide more driver incentives. This may also help support your drivers and maximize their job satisfaction and productivity.
Provide reliability and entertainment
Your drivers know as well as you do that truckers don't get paid if their wheels aren't turning. Preventative maintenance on fleets not only helps keep your drivers safe, but it can keep them moving and making money for themselves, their families, your business, and your customers. In the trucking world, word gets around fast. A reliable, well-maintained fleet can be an incentive to keep good drivers from leaving you for a company whose drivers spend too much time dealing with or waiting on fleet repairs.
Truckers spend most of their over-the-road downtime in their cabs—waiting in line to unload and resting in their sleeper when off-duty. Help ensure that downtime does not destroy their job satisfaction by making sure sleepers are comfortable, and equipping your truckers with DIRECTV for Business to stream their favorite entertainment.
Augmented reality (AR) providers such as Magic Leap can help empower your drivers with the ability to make simple repairs themselves. Remote mentoring and maintenance capabilities enable technicians to walk them through these tasks. And when drivers are off-duty, they can use the same equipment to escape through company-approved apps into the world of gaming and interactive content.
Safety and security for a more diverse workforce
Equipping your drivers with advanced, highly secure IoT solutions like AT&T Fleet Complete that function as a single dashboard for ELD compliance, vehicle diagnostics, and service support can streamline the administrative and equipment safety aspects of their job. Being able to do all their reporting and service requests through a smart-phone or tablet running on a highly secure global network in near-real time can help your drivers feel more secure in their compliance duties and the status of their equipment.
The ATA reports that 40.6 percent of drivers are minorities and 6.2 percent are women. This is up from 38.6 percent being gender and ethnic minorities in their 2015 report. It is worth considering that these groups can have different concerns and desires in the employer benefits they prioritize. Organizations such as National Minority Trucking Association and Women in Trucking help to promote the interests of the drivers.
Listen to your truckers and provide them with a communication pipeline that prioritizes their input and values. You can make that communication pipeline a combination of clear company policies and reporting protocols through your IoT fleet technology or highly secure mobile communications channels, which can help your employees feel heard and valued. Truck safety and the safety issues truckers encounter on the road are constantly changing. Making their safety a top business priority can pay off in loyalty, cost savings, and staying ahead of the competition who may only abide by regulatory and ELD compliance minimums.
Keep going—in their direction
The future of retaining truckers is going to require actively recruiting a more diverse workforce and asking them what they need. Companies will have to consider newer, better incentives and benefits, like in-house driver training and certification programs, childcare and parental leave, higher-tech cabs, and replacing fleets with newer cabs and beds designed to be ergonomically easier to handle for aging drivers.
With some consideration and exploration into some of our recommendations, you can increase driver loyalty and satisfaction with benefits that make good business sense, like IoT fleet technology, hands-free mobile calling, entertainment solutions for downtime, and prioritizing driver safety and fleet maintenance. Technology can help you harness the right data to predict, learn, and make near-real-time decisions for your business fleet can create a distinct competitive advantage for you, while also helping to solve your toughest operational challenges.
Keeping your truckers loyal and productive can be done by using technology to help improve their work experience. Learn more about AT&T Business industry solutions on our transportation page.