How businesses can adapt to the "new normal"
Technology solutions and applications essential for businesses in a post-COVID market
It's hard to believe it has been nearly 4 months since the U.S. enacted shelter-in-place measures to counteract the spread of COVID-19. In that time, we have seen an unprecedented perseverance on display from businesses, both large and small. Through ingenuity and innovation, companies across all industries have had to adapt to new customer dynamics and working environments.
But more than anything, we saw just how important technology and connectivity is to our society — that it isn't just for businesses to connect their mobile devices to the internet, but that it serves as a bedrock to keep an organization's operations running even in the most challenging of times.
As states begin to lift their stay-at-home orders, employees begin returning to offices, and customers start to re-enter the market, we all hope a return to normalcy is around the corner. But, the impacts of a disruption of this magnitude can alter the market indefinitely. New trends have taken hold, some industries have declined while others have prospered, and businesses will need to prioritize the health and safety of both their employees and customers for the foreseeable future.
What do businesses need to do to adapt to this new reality? The answer isn't simple, and there isn't just one. But, fortunately, the key lies in that same bedrock that saw many businesses through during shelter-in-place measures: technology and connectivity solutions.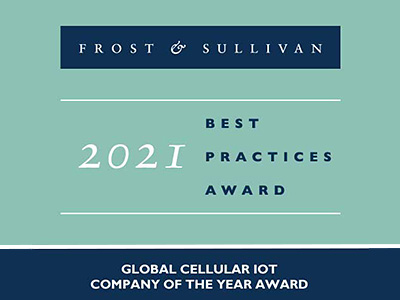 Internet of Things (IoT)
Drive your innovation into the future with our best-in-class IoT solutions. Discover why we're recognized by Frost & Sullivan as the 2021 Company of the Year for Global Cellular IoT.
The 3 focus areas for thriving in a post-COVID market
The best way to get a comprehensive view of how a post-COVID market impacts your business is to break it down into 3 focus areas.

Customer engagement

Employee enablement
Operations protection and support
These areas reflect the most common pain points of business due to recent events. Each contains its own obstacle and set of technology solutions that can help you reopen your doors to employees and customers. Let's take a deeper dive into each section.
Customer engagement – how to reach and appeal to a post-COVID consumer base

Many consumers are still cautious due to health concerns. That means that for many businesses, contactless service and shopping methods will continue to be the norm. Finding ways to engage with customers so they feel comfortable and safe will continue to be a priority. Most of this is possible through Internet of Things (IoT) and web-based platform technology.

Curbside service solutions – One of the most common adaptations made by businesses, curbside service models aren't going away anytime soon. Many businesses can still benefit from investing in a technology solution that enables them to fulfill orders, streamline operations, and deliver products to customers curbside to avoid crowded facilities.
Near-real-time queue updates and visual inventory – Giving customers insight on wait times and inventory status remotely can make them more willing to engage with your brand. Customers can feel more comfortable in making a trip to your store if they know there isn't a crowd or if what they need is in-stock and ready.
Wireless WAN/Hotspots – An effective way of bringing cautious customers to your brand is by bringing your brand to them. Wireless WAN setups and mobile hotspots can enable you to quickly build pop-up stores in areas and in ways that are more comfortable for your customers.
New trends have taken hold, some industries have waned. In contrast, others have prospered, and businesses must accept that there will be an air of caution among both their employees and customers for the foreseeable future.
Share this quote
Employee enablement – how to help maintain a safe workforce while working effectively
Some employees are returning to offices, but many offices still need to support a largely remote workforce and take extra precautions for their returning staff. The key here is establishing an effective collaboration and communication network.
Training platforms – Remote, technology-enabled training platforms help train employees on new food safety and social distancing standards before they return to the office. Training platforms can also act as space for you to address the concerns of your employees.
Remote VPN access – VPN access will continue to be crucial for supporting remote workers while protecting your network. A VPN allows executives and staff to connect to business-critical resources in a highly-secure manner while at home.
Collaboration tools and applications – Many companies are already familiar with various conferencing and file-sharing tools that have supported them for the past few months. But, as their workforces remain remote for longer and longer, many are finding that they need to invest more heavily in robust collaboration tools and applications to carry them into the future.
Operations protection and support – how to evolve operations and meet new demand
Many businesses have had to adapt to a severe increase in online orders, and this has placed a significant strain on many organizations' supply chains and shipping lines. Operations and logistics for most businesses will need to continue to adapt as online purchasing continues at an increased volume while making sure they're protected from cyberthreats.

IoT fleet management platforms – Organizations with fleets need to optimize the performance of their vehicles and drivers. An effective fleet management platform can transform the way businesses can process and carry-out orders. Powered by IoT connectivity, many platforms can help reduce vehicle downtime, implement GPS tracking for optimal routing, lower fuel and maintenance cost, and more.
Mobile workforce management platforms – In addition to vehicle fleets, field workforces and back-end personnel also feel the strain of the online shopping surge. Ensuring these workers have the best tools possible is vital for matching demand. Many mobile workforce management platforms provide field teams the tools and applications they need to streamline or automate tasks to work faster.
Cybersecurity services – As the threat of COVID-19 still looms, so do the recent scams and cybersecurity threats that came with it. Businesses should consider getting help by a trusted advisor with their security operations to manage threats before they reach their network.
The time to invest in technology solutions is now
Just as no one could have foreseen COVID-19, the lingering effects after its initial strike are just as unpredictable. But, one thing is certain – technology is what is going to keep businesses together and moving forward. Whether your business needs Wi-Fi and network solutions for supporting contactless service or a workforce management platform for adhering to new demand, the time is now to seek the solutions that will allow you to adapt to whatever comes your way.
AT&T is taking every step to help during this extraordinary, heightened time of need. Please reach out if you need any services or devices to help your organization, or if we can help answer any questions. By pulling together, we can help and support as many people as possible. If you'd like to know more information about how we're responding, how our network is performing, or our business continuity plans, please visit our response page.