What is "enterprise-grade mobility," and why do you need it?
Explore 4 critical pillars of mobile technology built for businesses of all sizes, including yours
Given today's unprecedented times, businesses really need to make sure their mobility solutions are enterprise-grade. Operational requirements brought on by the shift from the traditional central office model to remote options—which include companies moving more data functionality to the cloud and employees working from home, for example—demand enterprise-grade mobile solutions that support across 4 key areas: connectivity, integration, control, and security.
We already know that mobile technology enables an organization to share information across devices while operating from de-centralized locations. But why choose "enterprise-grade" mobility? Because you want to minimize the risk of your business being open to vulnerabilities or competing for critical connections and resources as you adapt your mobile model. Think about it—not only is your workforce remote, but your customers are shifting how they interact with your business. You need endpoint management. Data visibility. Real-time collaboration, and more. But not only that, enterprise-grade mobility offers a world of possibilities in efficiencies, security, performance, user experience, and so much more.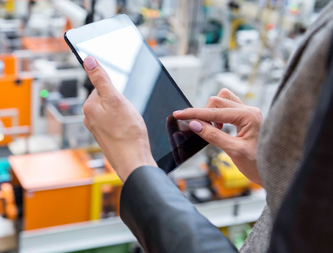 Mobility Services
Device trade in. Connectivity. Apps and services. Empower your teams with solutions that can help you grow your business.
Here's how enterprise-grade mobility can benefit your organization—large or small.
Why enterprise-grade mobility?
Companies and organizations of all sizes need mobile technology built for the rigors of business—it's a must for businesses seeking to stay competitive. Enterprise-grade mobility offers additional business options, features, and services, helping companies perform functions beyond just enabling employees to work remotely. The right mobility solutions can significantly help increase productivity, reduce inefficiencies, and improve Quality of Service (QoS)—while helping to protect the organization's critical business information.
Solving a business problem often requires working across multiple technology dimensions. This means bringing hardware, devices, and connectivity methods together, wrapped inside related services and software that stretch from endpoint to data center to the cloud to the edge, while helping people stay connected to the applications and information they need to get their jobs done. With enterprise-grade mobility, the sky's the limit on how companies can adapt—and get more done—in the "new normal" business landscape.  
Let's look at 4 critical pillars of what it means to be enterprise-grade:
#1.  CONNECTIVITY
Connectivity is the lifeline that keeps your workforce connected to critical business applications, enables voice and collaboration, enhances productivity, and helps companies deliver the service today's customers expect. If your locations, employees, and devices do not have sufficient connectivity, business suffers. Depending on the mobility platform you choose, you want to make sure your connectivity is:
On the nation's largest network,¹ so your business can connect from virtually anywhere that benefits your employees and services your customers
Highly reliable to support vital functions between your headquarters, branches and locations, employees, customers, and devices
Flexible enough to meet your specific business requirements
With enterprise-grade mobility, the sky's the limit on how companies can adapt—and get more done—in the "new normal" business landscape.
Share this quote
#2.  INTEGRATION

Integration across vendors, platforms, and networks help your business efficiently extend the power and reach of your existing mobility investments. With the right integration, you can stay one step ahead of evolving business and customer demands to get products and services that mesh with your existing environments. Plus, you can:
Embrace new technology opportunities with minimum delay or disruption to how your business operates
Run applications from your core network to the edge
Design Internet of Things (IoT) solutions from local to global, integrating mobility across your marketing, operations, and workforce management
#3.  CONTROL
Businesses need the ability to determine how they use their mobile solutions. Enterprise-grade control enables you to manage local networks and solutions down to the device level, so you can:
Expand the reach of your business while controlling where your data goes and who sees it
Design and manage networks that balance performance and privacy
Get greater data control with onsite, portable, and temporary private cellular networks
Enhance operational efficiency through lower latency and better data management with flexible product and service offerings
#4.  SECURITY
Enterprise-grade security can help safeguard your mobile network and endpoints, enabling you to evolve and adapt your business model with greater confidence. The right security solution can:
Help protect your users, devices, data, and applications
Support your business as you scale with greater confidence through 5G, IoT, and mobility innovations
Proactively defend against cyber threats and help reduce or eliminate impacts to your network and business
The AT&T Business difference
AT&T Business is differentiated not just by amazing technology, but by our tremendous expertise in helping businesses navigate, evaluate, and act on the right mobility options for:
Keeping people, assets, and data connected and highly secure at scale
Delivering excellent products, services, and experiences to customers
Moving quickly to respond to new opportunities and adapt to new risks
Maximizing the impact of each and every technology investment
Our expertise in technology and its applications have led us to offer an outstanding  business mobility ecosystem, driven by best-in-class products and vendors. We are committed to innovations in mobility as we continue to work side-by-side with you to solve your business challenges.
Visit AT&T Business Mobility Services today.
¹ Based on overall coverage in U.S. licensed/roaming areas. Coverage not avail. everywhere.