Hybrid workplace models are here to stay
See how cloud-based solutions can give every employee the tools they need to succeed
In recent years, businesses have discovered that it's necessary to be more flexible in how and where employees perform their work. To achieve this flexibility, they've adjusted their workplace policies and adopted new norms while also often providing more channels for their customers to do business with them. Many new polices that emerged during the pandemic era, for example, have proven valuable for workplace flexibility, employee productivity, and a better customer experience.
The New York Times reports that "many companies have hatched a post-pandemic plan in which employees return to the office for some of the time while mixing in more work from home than before."[1] This versatile strategy attempts to preserve the benefits of working from home—such as reduced commuting, a better life and work balance, and potentially higher productivity—while also enhancing the tools needed for on-premise workers to succeed. For the new strategy to succeed, it's necessary for companies to embrace technology solutions that extend connectivity such as collaboration solutions into the home. However, they also must ensure the solutions provide virtually seamless integration with their office-based equivalents.
The initial focus for remote workers was on equipping their homes with robust, enterprise-grade solutions. Now the conversation has shifted toward enabling a more fluid arrangement in which some employees routinely pass between their homes and the workplace while others take up more permanent posts in one or the other workspace. It's the advent of the hybrid work model.
The case for hybrid work: Can workers deliver from various workspaces?

A full 98% of business leaders in a Cisco survey indicated that they plan to transition to a mix of in-office, mobile, and remote workers.[2] Such an overwhelming majority indicates the prevalence and attractiveness of the hybrid model—businesses recognize that they cannot simply return to the status quo.
Fortunately, evidence supports the viability of hybrid work for sustaining business objectives. Remote work arrangements do tend to disproportionately favor roles within particular industry sectors in the most developed of economies. However, McKinsey & Company notes that "more than 20 percent of the workforce could work remotely three to five days a week as effectively as they could if working from an office."[3] Another 41 percent of surveyed workers reported that they were more productive working remotely than in the office. These statistics reveal that, for many businesses in the developed world, a hybrid arrangement offers a genuine alternative to a strictly on-sight work arrangement.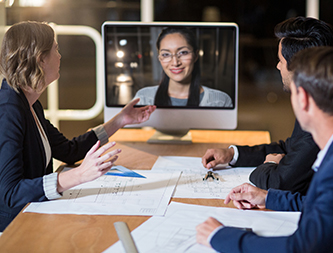 Collaboration Solutions
Empower your teams with solutions that can help you grow your business.
Key considerations for helping ensure a hybrid model works for your business
Having established the overall practicality of hybrid work, what additional factors and potential challenges should business leaders keep in mind when considering a transition to a distributed workforce?
Obviously business continuity is a critical concern. All workers must be capable of making equal contributions to business objectives, regardless of their location. Rather than assess the appropriateness of a hybrid model for your business by evaluating job titles, some experts suggest creating generalized personnel profiles that reflect patterns of employee contributions. Cisco Webex with AT&T offers this overview of hybrid worker profiles: "The profile describes where and how someone works. Key attributes are location, equipment, and services. Profiles are used to roll out hybrid work environments or unified communications.[1] Instead of listing the individual attributes of each employee, grouping them into profiles allows businesses to predict the needs of the whole workforce.
Building out these categories of worker functions will help your business determine how many types of employees are capable of working offsite full-time, which need to split their time between home and the office or travel, and which types require office access to perform their jobs at all. List the resources and applications needed to fulfill the duties of each profile, then specify the preferred work location given by a typical employee in that role. You can then assign the profile a score representing their ability to participate in hybrid work. This exercise will help you plan and provision for an eventual transition to a hybrid model.
Some of the practices established during the pandemic are here to stay, and businesses recognize the value of incorporating those transitions while providing the best outcomes for their customers.
Share this quote
Selecting the right technology: how to help sustain continuity
To successfully implement a hybrid model, businesses need a range of tools to help ensure workers can collaborate, communicate, receive calls, move between desktop and mobile devices, message, and file share, all in near-real time and from wherever they are performing work. Technology now enables this degree of flexibility and versatility, and AT&T Business offers a complete range of hybrid work solutions to help your business embrace the new model.
Here are a few of the key solutions AT&T Business provides to help you effectively transition to hybrid work:

Cisco Webex Calling with AT&T: A global, cloud-based solutions that can be integrated with legacy phone systems, as well as Cisco-based conferencing and collaboration solutions.

Cisco Webex Meetings with AT&T: A global, cloud-based, highly secure web, audio, and video conferencing solution with content sharing so you can have more productive meetings.

AT&T Office@Hand: A flexible cloud-based solution that provides voice, fax, text messaging, and audio and video conferencing so workers can be more productive in the office or on the go.

AT&T Conferencing with Zoom: A cloud-based video communications service that brings high-quality video, data sharing, and carrier-grade audio to collaborators all over the world.

These solutions help businesses to:

Improve customer satisfaction through better communication and response time from employees located anywhere they're performing work.
Increase efficiency by reducing the number of applications and workflows used by employees.  
Increase mobile productivity and collaboration by delivering the same capabilities across the entire workforce.
Realize savings by migrating many essential functions over to cloud-based solutions.
These resources enable businesses to support a mix of employee work routines, including on-site, traveling, remote, and everything in between. The consistency and accessibility of cloud-based voice and collaboration tools help ensure that every employee can participate in all critical aspects of your business and deliver exceptional customer support.

Cloud-based collaboration tools offered by AT&T Business come with advanced features. For example, Webex Meetings with AT&T offers live captioning during meetings and translation services that can aid participants in comprehension as well as promote meaningful employee engagement. Virtual assistant functions can perform routine tasks such as recording conversations and scheduling meetings. And virtual background and virtual identity options help reduce distractions caused by participants being located outside the office, providing a more uniform experience for all attendees. Plus, the solutions integrate with other providers and third-party applications to help ease the transition to hybrid models.

AT&T Business is here to help your organization select and implement the right solutions for your business needs. With our decades of expertise and practical know-how, we can help you achieve your objectives in adopting a hybrid workforce model that keeps your business moving forward. Learn more about how AT&T Business collaboration solutions can help you make the move to hybrid work.

¹ The New York Times, "How to Navigate the Postpandemic Office," April 24, 2021
² WebEx, "Simplify your 'return-to-office' with the collaboration profiles – Part 1," April 19, 2021
³ McKinsey Global Institute, "What's next for remote work: An analysis of 2,000 tasks, 800 jobs, and nine countries," November 23, 2020
⁴ WebEx, "Simplify your 'return-to-office' with the collaboration profiles – Part 1," April 19, 2021