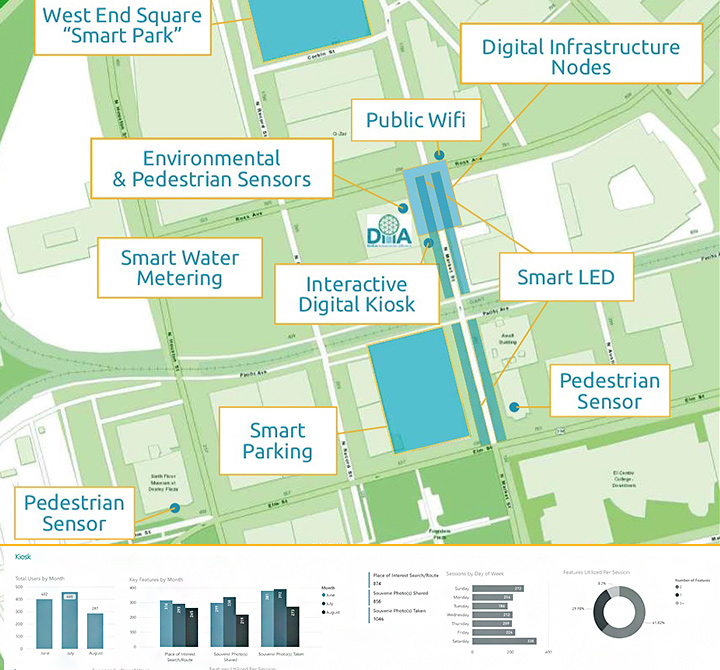 Living Labs – real insights on Smart City use cases
The Dallas Innovation Alliance (DIA), a 501c(3) public-private partnership, created the DIA Smart Cities Living Lab powered by AT&T. It's a 4-block corridor in downtown Dallas and houses 9 integrated smart city projects. It also represents the fastest-to-market smart cities initiative in the country.

"This effort is the culmination of the hard work and dedication of our partners across the City of Dallas, civic, academic, corporate partners and the community. We are particularly grateful for the support and leadership of AT&T in making this vision a reality for Dallas." Jennifer Sanders, DIA Executive Director
Smart City projects can help you realize your city's vision
Unlock the value of data being generated by connected things
Quickly address issues for the communities you serve
Smart lighting solutions
Use smart solutions based on lighting infrastructure to lay the foundation for your other smart cities initiatives.
Energy and building management
Centralize management operations with near-real-time data throughout your facilities. A comprehensive, customizable program which enables building operators to proactively monitor, manage, and maintain the efficiency and capabilities of multiple buildings.
Smart Cities solutions
Learn which solutions can best address your needs
Solutions
Purpose
Benefits
Smart lighting infrastructure
Transform your existing lighting infrastructure into an IoT platform and gain operational agility and actionable insights through near-real-time controls.

Rapid deployment with LTE

Reduced energy consumption and CO2 emissions through LED retrofit

Flexibility and further energy savings through dimming and scheduling
Use ROI from smart lighting solutions to leverage IoT technologies

Energy and building management
Optimize your energy and building management systems throughout your facilities

Reduce energy use across entire physical asset base
Drive operational agility using near-real-time IoT data
Employ big data analytics for actionable insights
Ensure predictable building and facility maintenance tasks 
Extend HVAC systems and control lifecycles
Smart Cities resources
Learn about AT&T Smart Cities stories
What are the benefits of the Energy and Building Management solution?
Benefits can include: reduced energy usage and spending, optimized building and facility maintenance based on data driven insights from the actual condition of your facilities.
How does the Energy and Building Management Solution work?
The Energy and Building Management solution collects data from multiple data sources. The data is processed, and analytics and fault rules are applied. This enables you to visualize and manage building information from multiple buildings and sites through a single user interface.
What type of data sources can be integrated in the Energy and Building Management solution?
Common data sources that are integrated into this solution include existing building management solutions, new sensors and gateways. Data sources that may not be part of your typical building management systems may also be integrated.
What if I already have a building management system?
Whether assistance is needed with developing a strategy around a current building management system, creating a plan for a building management system, or building a business case, AT&T can provide the expertise to determine the right vision.
Talk to a business expert
AT&T business experts are available M - F 7am - 7pm CT
Request info
To get sales help from a Business Solutions specialist, please complete this form.
Your feedback will help us to improve AT&T Business so you continue to have a great experience when visiting us!
This survey is conducted by an independent company ForeSee for AT&T.