5 key technologies propelling finance companies into the future
Advantages of next-generation network infrastructures
Businesses across all industries are becoming increasingly more connected and adopting innovative technologies. We've seen this in many large financial institutions, such as commercial banks, insurance and wealth management companies. Think mobile banking apps, Internet of Things (IoT) usage-based insurance services and renovated retail banking branches now serving as high-tech advisory outlets.
While many financial service companies understand digital transformation is essential, some still feel like they're failing to fully achieve it.
As one of the most conservative and highly secure industries, there are many challenges and concerns with adopting new technologies. With the number of connected devices expected to reach 40 billion by 20221, financial institutions must adopt a digital-first strategy to stay competitive. These 5 key technologies will help financial companies overcome their challenges and become digital first: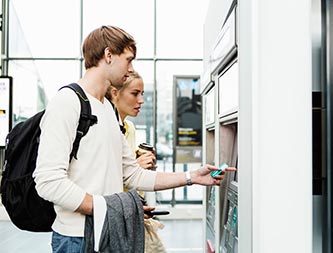 Financial Services
Inspire renewed loyalty, streamline operations, and position yourself to outpace competitors with integrated, data-driven solutions.
Software Defined Networking
For finance companies to become digital-first, it's important to take advantage of next-generation network infrastructures. This starts by modernizing current legacy IT systems and moving to the cloud.
In addition, adopting new technologies such as software-defined networking (SDN) and networking functions virtualization (NFV) will provide more network flexibility and agility. They help finance companies save money by replacing hardware with software, allowing them to scale to business needs "just in time."
One example: A large insurance company is utilizing SDN for its existing nationwide network. It will help increase the company's agility, allowing it to push out updates to offices around the country and provide consistent application performance for agents.
5G
Personalized and anytime-anywhere services are no longer enough to be differentiators. They're becoming 'must haves.' This means the future of finance is mobile. 5G promises faster speeds and lower latency than 4G so customers can stay connected virtually anywhere.
It will also help finance companies become more mobile. From pop-up mobile branches, virtual teller services and wearable device payments to biometric authentication and AI-enabled services, 5G will ultimately help enable new digital technologies and services and create efficiencies for finance companies.
While many financial service companies understand digital transformation is essential, some still feel like they're failing to fully achieve it.
Share this quote
Cybersecurity
One of the top challenges for the finance services industry is cybersecurity. According to a study by Accenture2 and Ponemon Institute, a data breach in financial services is 1.7x more costly than in other industries. In addition to that, consumers have begun to expect seamless experiences and different delivery models1. Striking a balance between usability for customers and helping to protect sensitive customer financial assets is important.
In addition, companies are moving towards a more software-centric network approach. Thus, implementing a structured edge-to-edge cybersecurity strategy that provides protection spanning from endpoints like mobile devices to the cloud is vital. Security should be built into all aspects of business strategy and execution so that when the business evolves, the cybersecurity strategy can evolve with it. In addition, it is important to build in adequate measures to prevent unauthorized account access, system infiltration and data exfiltration, but at the same time also implement a solution for near real-time threat detection.
One example: To keep pace with the growth of their mobile customers, a large national bank wanted to help ensure consistent and highly secure performance across their digital banking platform. They implemented a content delivery network with a DDoS and web security solution that helped to deliver safer online experiences to users of their digital banking platform.
Blockchain
Blockchain is quickly gaining buzz for the benefits it will provide to companies across verticals. When it comes to transactions, Blockchain helps make it easier to exchange information in a way that is permissioned and highly secure. Finance companies could benefit from auto-generating smart contracts between parties and simplifying cross border payments.
AI and Data Analytics
With the increase of connectivity, comes the increase in data. Financial service companies are already turning to AI and machine learning to effectively harness and learn from big data sets. AI will help to improve customer service and can provide efficiencies throughout their businesses. Some examples include, monitoring for online fraudulent activities in near real-time, making faster and more informed lending decisions on customer loans and personalizing wealth management services.
But it's not just about adopting these technologies. Digital transformation requires adequate planning and control throughout the entire process. By adopting these technologies and investing in a comprehensive digital transformation plan, finance companies can boost agility, improve customer experience (mobile, online and in person) and gain efficiencies throughout their business.
Visit our financial services industry page to learn more about how your business can embrace next-generation technologies.
[1] 2018 Frost and Sullivan - Fintech "Growth Opportunities in the Global Market, Comprehensive Products and Services will Disrupt and Transform Financial Services"
[2] 2018 Accenture and Ponemon Institute Report