Working from anywhere through the connected law firm
Professional services firms should ask themselves these 4 key questions
You don't have to be an attorney to know what happened in Texas's 394th District Court on February 9, 2021. Why? Because the hearing went viral. Presidio County attorney, Rod Ponton, was on a Zoom hearing with other attorneys and Judge Roy Ferguson. Ponton, however, was not himself. He was a cat. His Zoom filter was on, and he couldn't figure out how to turn it off. Which led to this amazing line delivered by a very earnest-sounding, cute kitten: "I'm prepared to go forward with it. I'm here live. I'm not a cat." This anecdote highlights the theme of our discussion: Connectivity and collaboration challenges for law firms. In this article we'll identify key challenges and ways to address them so you can improve the customer experience and enhance operational efficiency.
The lay of the land
GlobalData surveyed employers in the professional services sector (services that typically bill by the hour) on the future of their work. Survey participants were asked what they expected their work environment to look like in the next 24 months. One-third of respondents predicted most of their staff would be working from home. And the majority of employers (up to 60%) expected a hybrid future, with a mix of remote and in office work. For 63% of those surveyed, the hybrid and work-from-home model is not a big deal. In fact, for nearly half—44%—these models would increase their firms' overall productivity. During COVID-19's forced lockdowns and the reliance on a remote workforce, 27% of employers in the survey reported a significant increase in their productivity levels, while 17% reported a slight increase. What does that mean for your law firm's connectivity needs? If productivity's up, it ought to be smooth sailing from here, right? Following are four key questions when it comes to judging the state of your firm's network architecture.
Question #1: Who's connecting from where?
In your law firm, one size of connectivity does not fit all. At least, it shouldn't. Your first consideration should be to think of connectivity needs in terms of who in the firm you're supporting and the type of work they do.
Senior management – Here we're talking about the partners of your firm. If you're a partner, you'll likely be working in the office most of the time. The nature of your role and the type of information you receive and send means you'll need superior network performance (high upload and download speeds) and high levels of security across various locations. All the bells and whistles? Yes, please.
Professional staff – Your firm's billable staff. They will be using digital tools at home, on mobile devices, or in the office. Security's a big deal here, too. You've got to protect attorney-client privilege. Don't forget your network performance will affect your firm's brand—and possibly even case outcomes. Jittery video call as you present your client's case in court or hearings? Your connection cuts out in the middle of a client's emergency call? The data transfer stalls out in the middle of critical filing just before deadline? You don't want any of those headaches from your network performance.
Back office – These are your support teams, who are now most likely in hybrid mode. Accounting, IT staff, HR. Here you'll find a lot of sensitive personal information for clients and the firm that needs to be protected. These teams need quality tools for operational efficiency.
Call center – Inbound and outbound teams, either in home or office settings, will be relying on a host of voice and collaboration tools. Will these tools enhance or diminish the customer experience?
Mobile workers – Field teams who are rarely in the in the office using mobile devices (4G, 4G LTE, or 5G), nearby Wi-Fi, and hotspots. What apps and data do they need access to? How do you protect your network at all those network-edge locations?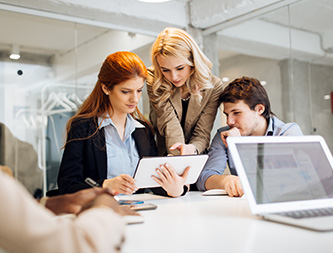 Network Services
Technology is changing rapidly and with that comes higher demands on your network while pushing bandwidth requirements to its limits.
Question #2: How robust is my networking and connectivity?

GlobalData's research revealed the top four technology challenges of professional services executives. The first two on the list are tightly entwined: Supporting employees working from home and having robust networking and connectivity. GlobalData concludes: "Technical challenges, stemming from issues in hardware, software, and connectivity, can seriously impact the productivity and sense of inclusion of remote employees. Maintaining corporate culture and a sense of belonging will be harder in the world of hybrid work, issues that will require more attention from executives and will further underline the importance of appropriate collaboration tools and robust connectivity to prevent the emergence of a two-tier workforce" (p.7). Can your network give you all the horsepower you need to support your employees and to represent your clients to the best of your ability—without technical headaches or hiccups?
Question #3: What's the status of my cloud migration?
Building network architecture via the cloud (and now, multiple clouds) has accelerated rapidly in the past few years. And why not? Cloud-based applications and connectivity have been critical in supporting remote and hybrid work. But there's a reason professional services executives listed it as their third greatest technology challenge. Hybrid environments give your IT support groups extra complications. They require intensive expertise and work to manage and secure them. For example, rapid cloud migrations prompted by the pandemic were often made so fast some network efficiency and security elements weren't fully considered. Meet with your IT team to find out the state of your cloud architecture and how well it meshes with other network components.
Question #4: How confident are you in your cyberdefenses?
More cloud. More devices. More off-premises connections to your network. What does that add up to? More entry points for hackers and cybercriminals to attack—and a larger attack surface for you to defend. As GlobalData observes in their white paper, the mass migration to remote work has led to "a huge increase in direct cloud traffic, bypassing the traditional and secure access routes via company VPNs and secure gateways. The growth of remote work also accelerated existing moves towards BYOD devices, often unauthorized, which may lack appropriate security features" (p. 7). GlobalData cites research from McAfee that cyberattacks increased by 29% in the first half of 2021 (compared to the first half of 2020). Globally, the first half of 2021 saw 305 million ransomware attacks. That's an increase of 151% over the first half of 2020 (p.7). Legacy approaches to defending a network were based on a centralized network and data. In other words, it was like defending a castle: dig a moat around it, pull up the drawbridges, and lock all the gates. The challenge today, according to GlobalData, is "to extend the concept of the secure, trusted network from the corporate premises to the network edge, where this may in fact be located, whether the home office or other remote locations" (p.7). 

As you take inventory of the architecture of your network and how you defend it, consider if you have:
Anti-malware
Endpoint protection
Multifactor authentication
Identity access management
Security for assets running across multiple cloud environments
Secure Access Service Edge (SASE)
Threat detection and response
Educated employees who know and follow best practices
This isn't a comprehensive list, but it's a solid place to start. After you assess what defenses you have in place—and those that you should have, but don't yet—there are other things to consider:
How automated is your cybersecurity?
Is your cybersecurity artificially intelligent and powered by machine learning?
What's the quality and quantity of threat intelligence enabling your solutions?
Do you have an in-house cybersecurity team?
Are the solutions you use unified and coordinated, or are they patchwork?
Can your IT network give you all you need to effectively represent your clients to the best of your ability—without technical headaches or hiccups?
Addressing the challenges

Your firm will have a different connectivity fingerprint than every other firm. Therefore, what your firm needs to shore up the challenging bits of your network will be different from the particular needs of another. It's not complicated. Whether you engage consultants or meet with several solution providers to find out what they have to say, be wary of those who pitch a one-size fits all approach. Look for providers who listen to you, take the time to examine and understand your network, and want to craft a set of modern solutions around your unique situation. Providers who can offer a full breadth of portfolios, from cloud to connectivity to cybersecurity to consulting, can be a powerful, convenient resource. And those who partner with other best-in-class providers have the capability to fortify your network's weak points and enhance its strong points with high-performance, industry-best solutions.
Don't be a cat
We opened the article with the story of attorney Rob Ponton, who didn't understand his collaboration and networking technology, which led to a distracting—though amusing—viral moment as he spoke to the judge as a Zoom-filter kitten. But if your law firm can't figure out its tech challenges, the results may not be nearly as amusing.
Why AT&T Business for Professional Services
Technology is complex. Transformation is fast. It can be difficult to know you're making the right connectivity choices for your law firm. With experience across all professional services, we bring a rich understanding of your firm's demands—no matter its size—to help deliver the right insights, guidance, and solutions.
Find out how AT&T Business Internet and Networking solutions can power your business with high-speed Business Fiber internet and Dedicated internet to enhance your network performance and security.