What's your SMB social strategy for the new normal?
Download part 1 NOW of our 5-part series and get the must-read Small Business Social Media Playbook
We all know COVID-19 has disrupted "business as usual," and companies have had to quickly pivot their business models to stay connected with customers and find new ways to serve them. If you are a small-to-midsized business and you aren't using social media to the fullest to keep your business up and running, you should be!
Thanks to Fullscreen Media, we are bringing you a Small Business Social Media Playbook.  This step-by-step guide can help you use social media engagement to boost your business—with specific tips to implement right away. Download the first chapter now, linked below! And watch for the next in this 5-part series, where we will share tips and tricks to help you strengthen your social media presence and connect with existing and new customers.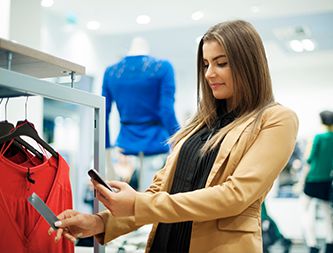 Retail Solutions
AT&T empowers retailers with data insights and secure technology solutions to help provide a powerful, connected consumer experience.
Since social media is more important than ever, it's time to revisit your strategy. Get this 5-part series.
Share this quote
Developing Your Social Purpose: Tips on how to get social in a socially-distanced world
Chances are, you've already invested in building your company's social media presence. But it's time to focus in on how it can help you grow in this new socially-distanced landscape. It's important to remember that social media can do more than just help your customers locate and contact your business. There are ways to boost your presence on social media platforms to generate awareness, make sales, connect with your audience in an authentic way, and ultimately help your business thrive.

Download Part 1 now to learn how social media can help your small business:

Identify and engage with your ideal audience
Find competitive positioning that makes your brand STAND OUT
Develop your company's tone of voice
Watch for the next chapters in this series and you'll learn how to:

Identify a priority platform to build on first
Create content that speaks directly to your audience
Foster a sense of community around your brand
Reach new audiences with paid media
Measure your success
Reenergize your social media presence today.

Download Part One of the Small Business Social Media Playbook, "Developing Social Purpose."