Support meaningful interactions for hybrid workforces on the move
When employees can't meet face to face, video conferencing delivers
At AT&T Business, we recognize just how fast digital transformation moves. And lately, the traditional business model has shifted to a hybrid work environment, which has required businesses to adopt trusted and reliable voice and collaboration solutions to keep their workforces connected. Meanwhile, the stakes are high for businesses attempting to keep pace with competitors. That's why we work hard to understand your needs and identify your business's goals before recommending solutions that can help you achieve outstanding outcomes. These solutions take into account your (quite possibly new) voice and collaboration requirements.
Nowhere is the rapid advance of technology more apparent than in the explosion of options available in voice and collaboration technologies. As greater numbers of workers transition into the hybrid work model — a combination of on-site, at-home, or travel work arrangements — businesses need powerful ways to keep their employees connected and productive. While many solutions promise to enable employee interaction, video conferencing has proved to be the preferred way of uniting workforces who might be distributed across many locations.
Evolving trends help explain why businesses now rely on video conferencing to sustain their business activities. From education and healthcare to government and beyond, video conferencing plays a significant role in the way many organizations operate. GetVoip Reports that 88% of education professionals say video conferencing tools, like Zoom for Educators, will help more students earn advanced degrees.1 By virtually eliminating distances between students and educators, video conferencing has opened new opportunities to non-traditional students or students unable to commute to campus locations. Similarly, the technology enables essential business interactions that once relied on travel. GetVoip found that "Video conferencing reduced the need for business travel by 47%," and a full "87% of remote employees say they feel more connected and involved with teams and projects when using video conferencing."1 The ability to correspond with colleagues over video, chat in real time, share files, and integrate with existing applications provides a near-seamless resource for fostering creative collaboration.
So how does video conferencing work, and what can it do for your business?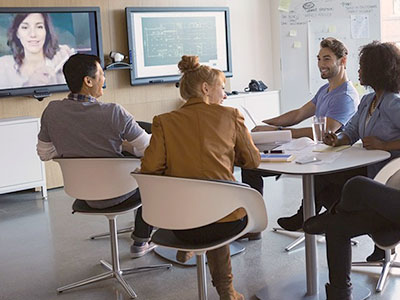 Did you have a chance to catch Tech Demystified: Cloud Voice Simplified?
If you didn't, we've got you covered! The webinar can now be viewed on-demand.
Video conferencing 101: The fundamentals of cloud-based video communications
At its most basic, a video conferencing solution provides a way for many persons to interact in near-real time via their own devices. This means that multiple participants can join a video chat session from a desktop computer, a smartphone, a tablet, or a smart conference room. To achieve flexible performance, video conferencing solutions reside in the cloud. This decentralized architecture allows many hundreds of participants to join from anywhere they have internet access. Because it's a cloud solution, it can scale to suit the needs of almost any business.
Besides supporting clear video, conferencing solutions deliver quality audio. Files can be accessed by all participants, and users can create breakout rooms to accommodate more focused discussions, or chat directly with other attendees to rapidly and discretely share messages or files.
When face-to-face meetings are impossible or impractical, video conferencing offers an excellent alternative for hosting companywide meetings and training sessions, enabling businesses to reach and qualify more prospects, and conduct essential employee activities.
Zoom Meetings with AT&T: a full-featured video conferencing solution to help sustain business continuity
AT&T Business provides a complete video collaboration tool powered by our global network. Zoom Meetings with AT&T gives organizers and users exceptional control over where and how they connect.
With a suite of built-in management features, Zoom Meetings with AT&T helps your employees collaborate through a consistent, shared experience. Participants can save recordings of calls to local devices or in the cloud, and AI-powered voice-to-text can transcribe conversations for review after the meeting.
The solution offers out-of-the-box integration with sales tools such as Salesforce, Marketo, Eloqua, and PayPal. And the optional webinar package provides additional functionality to support panel discussions and live broadcast events via Facebook Live or YouTube. Zoom Meetings with AT&T delivers all of the convenience of a comprehensive video collaboration resource with additional features that help create highly effective meetings.
By uniting teams and spurring constructive dialogue, video conferencing solutions can enable meaningful interactions that help maintain business continuity and keep employees engaged and contributing.
Share this quote
Zoom Meetings with AT&T features and benefits:

Global implementation, management, and maintenance
User training
Adoption services
Proven service, redundancy, and resilience
High uptime and support
Ubiquitous, cost-effective access
Easy to use, buy, and scale
Up to 500 video participants and 50,000 viewers
Engineered and optimized to work with high reliability
AT&T Business appreciates how challenging it can be for businesses to keep remotely-located workforces collaborating and highly effective. By uniting teams and spurring constructive dialogue, video conferencing solutions can enable meaningful interactions that help maintain business continuity and keep employees engaged and contributing.
We're here for you
Are you a small-to-medium business wanting to better support your workforce, customers, and locations? Contact us today. We have professionals who can demystify the technology for you and get you up and running with emerging technology and other solutions for your business.
AT&T Business is here to help small businesses in a big way. Our Tech Demystified series can help you decide what products and services will work best for your business. To learn more, visit Zoom Meetings with AT&T or contact your local sales representative.
1 GetVoip, "The State of Video Conferencing in 2020," July 2020