Transformational collaboration for tomorrow's challenges
Companies rush to modernize their comms and collaboration platforms. Many don't realize they may be building a comms suite for yesterday's challenges.
"Many armies," wrote the strategist Lieutenant Colonel J. L. Schley of the U.S. Army Corps of Engineers, "spend peace time studying how to fight the last war." Schley was onto something. And the phenomenon is not confined to the military. If we're not careful, doing everything necessary not to miss out on yesterday's opportunity may cause us to neglect preparing for tomorrow's.
It's become clear that the way businesses collaborate — internally and externally — is changing faster (and more radically) than even most senior executives realize. We are entering an era where organizations can prosper from "transformational collaboration."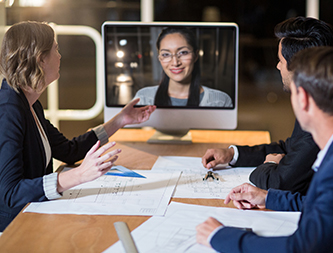 Collaboration Solutions
Empower your teams with solutions that can help you grow your business.
Transformational collaboration does not simply enhance the way the company works; it fundamentally changes it. For those companies that are ready, this will deliver a significant competitive edge. Among other things, transformational collaboration includes:
A unified approach to collaboration between platforms and applications
Process automation and workstream integration to drive efficiency and create value
AI-driven platform-wide innovation coupled with machine learning to derive insight and drive improvement
Standards-based, cloud platforms configured for adaptability, scalability, and flexibility
Leveraging open APIs that enable dynamic, secure collaboration across platforms
Creating new levels of intimacy and experience between parties
Generating new service opportunities – enhancing revenues, satisfaction, and competitiveness
Transformational collaboration does not simply enhance the way a company works; it fundamentally changes it.
Share this quote
Imagine an executive that's presenting at a virtual industry leadership conference. During that morning's prep session, she talks to a peer from a company in a field adjacent to hers. They quickly see that both companies can work together to profit from an emerging opportunity. Later in the day, with a single tap in the conference mobile app, our executive invites her new contact into a private meeting. Using a legal plug-in to the messaging app, the two quickly share and sign a non-disclosure agreement.
That evening, she creates a virtual meeting room with documents and content relevant to the conversation she wants to have with her new contact. The artificial intelligence (AI) behind the collaboration app sees the meta-data attached to this content and suggests other participants for the meeting: relevant subject-matter and legal experts.
They meet online the next day. All of the domain experts from both companies are in the meeting. They have a fruitful discussion. Using another open application programming interface (API), they alert their relevant teams about data that they need to complete their project plan. By dinnertime that evening, she and the team from the other company both have first proposals ready to present to their boards.
All these things are possible, because the collaboration platforms, conference app, knowledge base, and enterprise applications use a common set of APIs. All platforms run on highly agile cloud-based systems which are interoperable with each other and are continually updated. This creates a layer of seamless internal- and external-facing collaboration tools and protocols across an integrated platform that allow business people to build connections faster and with greater agility than ever before. They can then use those connections to create measurable value for the business.
How to lay the foundations for transformation
The foundations for these innovations are being set down today. With the right technology and the right provider, it is already possible to achieve a high degree of integration between different collaboration platforms but also between these platforms' back-end systems and data.
Once it's market ready, this technology will be taken up by other sectors — with communication and collaboration as an obvious area in which it can provide instant and massive benefits. But these benefits will only be realizable by those companies that are working now to lay the necessary ground work. And there's the rub.
Many businesses are still working to solve yesterday's problems. Their companies use many different collaboration systems, often with a good deal of duplication and with variable usage and user-acceptance rates, and they need to streamline to a more efficient, interconnected, and user-friendly system.
That's certainly worth doing — in fact, it's the minimum requirement for building a collaboration platform fit for today's needs, let alone tomorrow's. But it's not enough on its own.
To be ready for a future of transformational collaboration, companies must begin the process now of working with expert partners to implement a future-proof collaboration platform based on flexible, secure, and open-API-ready cloud technologies. If yours is one of the companies already doing this, congratulations, you're ahead of the market. If you have just begun your journey, and are exploring the right fit for your organization, asking the right transformational questions of your key business unit stakeholders, will ensure you are prepared to do business in the future and break from the past.
Watch the discussion on transformational collaboration to learn more about  next generation collaboration for the hybrid workplace. 
To learn more about what AT&T can do for your business, visit our website.