Branch transformation strategies to increase agility and reduce expenses
Future-flexible hybrid networking for Financial Services
Have you seen the videos of soccer players, police officers, and linebackers lying in front of cones or chairs, then timing each other jumping up and trying to run around them? Athletes focused on footwork might be familiar with the Illinois Agility Test (IAT).
Championed by Dr. Leroy "Bud" Getchell, a coach and early proponent of physical fitness programs in the United States, the IAT was designed to improve and measure how quickly whole-body changes of direction could be made. Getchell's approach was influenced by his work in the Human Performance Lab at Ball State. A description of the test appears in Physical Fitness: A Way of Life:
"To measure your ability to move with quickness, speed, and balance… jump to your feet and run as fast as you can to the end line, a distance of 30 feet… then weave in and out around four chairs spaced 10 feet apart to the end line, and then turn and weave back through the chairs…"
When it comes to branch transformation, it can feel like the market is putting financial institutions (FIs) through similar paces. Like athletes, FIs come in all shapes, sizes, ages, and abilities, and as the competitive landscape continues to shift, an agility test is underway.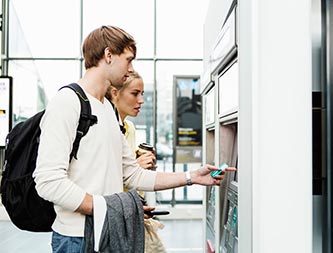 Financial Services
Inspire renewed loyalty, streamline operations, and position yourself to outpace competitors with integrated, data-driven solutions.
A marathon of sprints
Speed to market and adapting to changing conditions have always been important, but legacy org and tech structures are becoming outdated faster than ever. According to a recent Temenos / Economist Intelligence Unit report, "Improving product agility" is now the top strategic priority of senior banking executives (52%), even ranking ahead of "Migrating client usage to digital from physical channels" (45%).
Additionally, the 2018 Banking Industry Outlook from Deloitte declares, "The core objective for most banks is to achieve organizational agility, and to do so they should consider embracing innovation, managing talent differently, and pursuing key partnerships within a broader ecosystem to manufacture and deliver solutions for customers." Mapping an agile strategy for replacing older networking models of branch connectivity is proving to be one of the central challenges for large-scale organizations in the digital economy.
Future-flexible scale
Growth tends to breed complexity, and complexity tends to slow growth. This "growth paradox" slowly pulls scaling organizations away from agility. Once-successful FIs suddenly realize they're performing like former athletes that stopped training. Investing in a next-generation network can get things back on track, prioritizing resilience and speed, driven by the needs of rapidly-changing applications.
In terms of branch transformation, the champions of software-defined networking (SDN) are being rewarded with infrastructure that's more cloud-capable, higher performance, lower latency, and lower cost. Network Function Virtualization (NFV) and Software-Defined WAN (SD-WAN) can be combined with inexpensive internet access to create an entirely new branch tech architecture. Companies then benefit from flexible infrastructure that responds faster to changing customer expectations, saving money by scaling to business needs "just in time."
Once-successful FIs suddenly realize they're performing like former athletes that stopped training.
Share this quote
The dime on which to turn
Branches remain vital links for both customer engagement and intelligent marketing. According to a recent report from GlobalData, 78% of consumers open new accounts in-branch, regardless of the digital touchpoints used for the initial product research. The critical metrics for business leaders seeking to repurpose branches as streamlined digital hubs are 1) reducing cost and 2) improving customer experience.
Based on requirements, certain applications can be moved to less expensive Internet circuits. Banks, for example, are exercising their options, increasingly incorporating guest access to enhance the consumer in-branch experience. This is the kind of traffic that's ideal for moving to a highly secure, segmented network with internet access. By optimizing bandwidth, it's possible to realize up to 30-60% cost saving per branch.
Hybrid WAN: Finding the right mix
In a world where bandwidth requirements are exploding because of video demand and cloud traffic, scalability of network resources is a must-have. While internet access has become ubiquitous because of its significant economic advantage, MPLS is tried and true for sensitive workloads. A hybrid network strategy allows for the incorporation of Internet access, possibly utilizing SD-WAN or LTE. The integration of wireless LTE into next-generation network designs is gaining popularity. For FIs, mobile ATMs and contingency backup WAN access are now common solutions. Think about how easy it is to relocate mobile ATMs to support variable demand during a major sporting event, for example.
These technologies work together to increase the agility of redeploying bandwidth, all while reducing operational overhead. This is done by centralizing management into a single orchestrator that can be either cloud or premise-based. This new generation of NFV-based software-defined networks allows organizations to right-size their WAN transport based on application requirements. The ideal transport approach balances these cost benefits with reliability and security.
Winning with agile implementation
To achieve maximum cost savings, future-flexibility, and share of wallet, your branch transformation strategy requires vision, focus, commitment, and persistence. Like athletes sweating their way through the Illinois Agility Test, some FIs have started well but tripped halfway. Some have disqualified themselves by going out of bounds. Others are maintaining what seems like a reasonable pace yet might not cross the finish line before time runs out. As Coach Getchell once told an interviewer, "We're going to have to be a little bit quicker than some of these other teams."


AT&T is a leading provider of integrated solutions for business, powered by a global network that helps secure more connections than any other communications company in North America. We're also working to deploy SD-WAN in more than 28,000 locations around the world, making us the largest SD-WAN provider globally. Our vision is to help businesses be more efficient, process more data, and run more applications than ever before. Our team specializes in the financial services industry, providing consulting and solutions for line-of business, marketing, digital experience, and IT leaders. If we can help you in any phase of Strategy and Planning, Architecture and Integration, or Optimization and Transformation, please let us know.