The next chapter of IoT
AT&T launches IoT Accelerator Program to provide smaller, cheaper modules
By now, you've likely heard about the Internet of Things (IoT) and how it can change the world by connecting more "things" in more places than ever before.
As of June 2017, AT&T has nearly 34 million connected devices on our network – everything from cars and trucks to security alarms, irrigation pipes and shipping containers.
Now, we're taking IoT connectivity to the next level with our LTE-M network.
LTE-M is a Low-Power Wide-Area technology with many advantages over traditional LTE connectivity. These advantages include:   
Better coverage deep inside buildings and underground   
Longer battery life (up to 10 years)   
Smaller module size
We deployed our LTE-M network across our nationwide 4G LTE network and we're on track for deployment across our network in Mexico by the end of 2017. That means carrier-grade security and a North American footprint.
LTE-M is now part of our "network of networks" – including traditional cellular, low power, satellite, Wi-Fi and wired – that address a full range of use cases for our customers. We're building a broad base of ecosystem collaborators, devices and applications for global markets and a more connected world.
AT&T Accelerator Program
To speed development and time to market for IoT devices, we've launched the AT&T IoT Accelerator Program. Through the program, we work with leading suppliers to provide AT&T network-certified low-cost modules that meet the needs of a broad range of IoT applications.
For example, we worked with Wistron NeWeb Corp. (WNC) to design new LTE-M modules priced for as low as $7.50. That's the lowest price we've seen in the industry.
These modules are the size of a penny – ideal for personal wearables, smart meters, asset tracking, security and alarm monitoring, and more. By making it easy to obtain these modules directly from WNC, we can help customers bring their IoT solutions to market in a matter of weeks.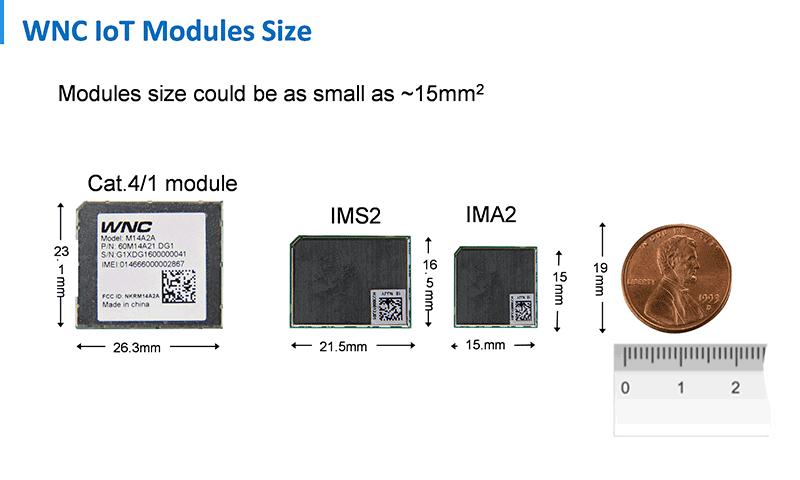 You can order the IMS2 module now; the IMA2 will be available in the first quarter of 2018.
The right tools for LTE-M
Over the past few months, we've been working to put the right tools in place for IoT deployments through LTE-M in the U.S.   
AT&T LTE-M IoT Starter Kit: Helps enable developers to develop and prototype cellular connected IoT devices for AT&T's LTE-M network.   
LTE-M Data Plans: Monthly rate plans start for as little as $1.50 per month per device. Further discounts available for annual and multi-year plans, plus volume commitments.   
Mobile IoT Developers Workshop: Our workshop next month in San Francisco at Mobile World Congress Americas will help developers learn more about LTE-M and how we can help.
The pieces are coming together for the next chapter of IoT.
Visit the AT&T IoT Accelerator Program page to learn more about the program and order the WNC modules. Additionally, visit the AT&T IoT services page for information about services and support