The future of field service beyond telematics
An interview on how IoT is changing the use of technology for quality service
David LeBlanc, Director of Industry Solutions at AT&T Business, works with companies that are looking for ways to optimize their fleet operations. In this interview he shares how leaders are looking beyond telematics to plan for the best ways to deliver quality service out in the field.
Q: We've seen a lot of changes in field service over the past several years. More companies are moving from paper to software-based applications. Others are taking a hard look at IoT as a way to make even deeper changes to how they operate and service their customers. These are big shifts. What are some ways they can prioritize what's most needed for their business?
A: I would advise companies to begin with the end in mind. They should ask themselves what type of experiences they want to create for their customers and employees, then align specific technologies around improving their experiences. This can cover many different areas of focus – adopting technology that eliminates paper to improve documentation standards, reducing the number of lost service requests, collecting the right information to become more agile in making data-driven decisions, and improving equipment uptime through predictive analysis can all drive a company's competitive advantage.
Ideally, areas of improvement that can decease a company's costs and improve the overall process experience is the best place to start. In addition, AT&T's consultant services offers another way to help companies determine where to begin and navigate through complex technology-based waters.
Q: Begin with the end and work backwards with customers and employees as the focus. What are some other priorities?
A: Correct. It's going to be increasingly important to focus on the customer experience also in setting priorities. Predictive analysis will potentially be a key to new service revenue in both the business-to-business and business-to-customer segments, but regardless the customer will expect better reliability and first-time fixes, all of which can be enabled or assisted by IoT sensors. They also want to "trust" that their information is protected. This is not only through cybersecurity, but integrity by the company for how their data is used.
As an example, AT&T has over 80,000 vehicles and an extensive service workforce. We've combined technologies on vehicles to track tools and parts that are used in servicing. We can provide information about work orders and the parts and tools needed before the dispatch of a tech to the field. Through technologies like RFID, we keep track of items as they move off the vehicles. Then, using cellular networks, job completions are logged which helps to make sure that the technician has everything on a vehicle before leaving a job site. The data from the job is collected and transferred to the ERP systems and analytic applications to keep records up to date on our highly secure network. This enables us to feed that data to the analytics engines, which can help lead to better predictive analysis and a better customer experience.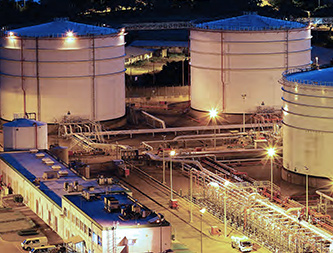 Manufacturing Solutions
Industry 4.0 technologies help manufacturers save money through better inventory management, improved asset utilization, and optimized production planning.
Q: That's a number of things to be coordinated and secured to keep an eye on customer satisfaction. You've touched on making better business decisions as a result of IoT. Can you talk a little more about how this can help field service?
A: Converting data into information that drives decision making is a challenging area for all companies. In many cases, the vast amount of data available can be overwhelming and can ultimately run the risk of driving the wrong results if careful consideration is not given on the right measurements. Spending time determining key performance indicators (KPI) and ensuring those KPIs are aligned to strategic results is worth the effort.
A few examples of KPIs for field service companies to consider implementing are customer satisfaction, successful fix rate, reoccurring issues, equipment uptime, technician routing efficiency, and technician utilization rates just to name a few. Once the right KPIs are determined, then it's a matter of aligning the right IoT technology with the right performance analytics to make data-driven decisions. There are thousands of sensors that can collect data which can be transferred on our highly secure network .
Q: A new era of field service for sure. What are some challenges and opportunities that many companies may not have thought of?
A: First and foremost, big changes are coming that will affect us all. For example, networks such as 5G will enable companies to better manage data-heavy traffic such as video, virtual reality, and augmented reality. Although companies are increasingly embracing the value of predictive analytics over the old model of preventative tasks, there's more they can do to improve such things as warranty programs and first-time fix rates. And, we're still in the early stages of seeing the broad use of tech such as artificial intelligence (AI) and machine learning. Advancements like these will no doubt impact most industries over the next decade.
These exciting developments will allow us to change our business models, but there are adjustments that need to be made to accompany them. Companies will need to be more agile in adapting to the needs of the customers. But staying focused on the customer experience, collecting and analyzing the right data and keeping both business process and equipment running correctly will always be keys to successfully running profitable operations.
Q: That's great information, David. You mentioned the adoption of VR and AR. In some industries, such as manufacturing, we've seen an increased use of VR, and AR is beginning to take its place for tasks such as repairs and maintenance. Field service companies are getting in the mix now for their service techs. What are some of the advantages and benefits for adopting VR and AR for them?
A: Great question. Being able to respond to a problem quickly and have expertise available to fix issues the first time is certainly a main driver. Enabling an on-site tech to have detailed visual information such as where the repair is needed and instructions or assistance from off-site personnel can certainly help them diagnose and troubleshoot problems more efficiently. Also, having in-hand access to engineering data, work instructions, and quality inspection techniques greatly enhances the ability to have a faster turnaround resolution and a positive customer experience.
Although companies are increasingly embracing the value of predictive analytics over the old model of preventative tasks, there's more they can do to improve such things as warranty programs and first-time fix rates.
Q: What needs to be in place for this to occur, then?
A: A highly secure network is the foundation. Field service companies must make sure that their network can not only offer the bandwidth for this type of data, but it also must have cybersecurity there to help guard it as it moves across the network. The great news is that this prepares the business for the adoption of other technology that enables them to get the most out of IoT and emerging tech to better understand the business and be more competitive. If used strategically, this can help distance a business from competitors by becoming an example of tech-driven operations and quality service with the added benefit of customer loyalty.
Q: That's exciting for businesses, but even more so for the future quality of field service practices. Many of these concepts were unimaginable a decade ago. In closing, how would you summarize where field service is heading?
A: Well there are several things to consider, but I think enabling technologies that will also allow for better, faster communication and decision making are going to have a big impact. 5G networks with the ability to provide this faster communication and low latency will move data closer to the worker and make a more seamless VR, AR, and special computing experience possible. Predictive analytics will help prevent and isolate fixes faster, and condition monitoring will allow workers to address developing issues rather than having to respond to a volume of failures.
Utilizing AI technologies as a co-technician can up the game for on-the-job training to improve a technician's skillsets and their decision making. This will enable a company to not only have a stronger workforce, but it may even help them to reduce churn. With this training, field service companies can help their techs to develop stronger people skills and, coupled with having the right parts available for the job, first-time fixes can help avoid secondary issues that cause further downtime.
There isn't an end to the evolution of how technology can be used to provide better and more reliable products. We can see offering better service levels and continue to see improvements across the board from these technologies and many others to come.
What will never change is the need to provide quality, skilled service to customers, which starts with the people who are involved, and how they interact with the customers. Providing skilled technicians with the technology they need to elevate their ability to create an un-matched customer experience will be a key competitive advantage.
There are great opportunities for field service and in the future. It's exciting to see how it's evolving.