Tech innovation or environmental sustainability? Why not both?
The incentive for businesses to become more sustainable has never been greater. New legal, regulatory and compliance laws, cost-savings, increased employee morale, favorable public perception, and the contribution to the longevity of the planet we all live on are all reasons businesses around the globe are adopting more environmentally sustainable solutions. Now, emerging tech has opened up new opportunities for businesses looking to become more sustainable .
For instance, with the advent of blockchain technology and satellite imagery, major food suppliers are using satellites to monitor farms and prevent unethical deforestation at their suppliers' sites. Many major food companies have already pledged to increase their efforts in avoiding suppliers that clear forests for their crops. But, it's been challenging for companies to ensure that none of their produce come from recently cleared land. By monitoring near-real-time surveillance footage, companies can see any deforestation that occurs around any of their suppliers.

But minimizing your company's environmental impact isn't just limited to those with international supply lines, and it doesn't have to incorporate a system of satellites. The greatest impact businesses can make involves using the technology that is already available to them to adopt more efficient practices that reduce their greenhouse emissions.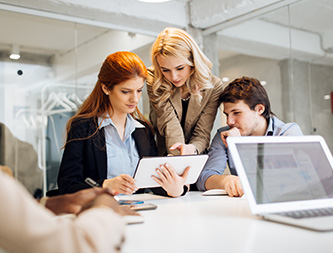 Network Services
Technology is changing rapidly and with that comes higher demands on your network while pushing bandwidth requirements to its limits.
Create a more sustainable business with software-defined networking

Businesses are already looking into software-defined networking (SDN) solutions, like AT&T FlexWare™, to simplify and add flexibility to their network operations. AT&T FlexWare allows companies to deploy a variety of network functions on a single device. It not only  streamlines network deployment, but it can also significantly reduce the power usage and cooling requirements that it takes to run their network. 
By consolidating multiple hardware boxes—routers, firewalls, WAN accelerators—into one device, it's estimated that electricity usage can be reduced by 130 watts per device. Let's say a company implements 3,500 SDN devices, consolidating hardware across their international locations — that's an annual energy savings of 4 million kWh, reducing greenhouse gas emissions by over 2,200 metric tons of CO2e. That's the same as emissions from 250,000 gallons of gas.1
The energy cost of maintaining a network is often a hidden factor playing into a company's overall emission contribution. Reducing the electricity required to power the network can be a quick and effective offset.
Looking to reduce your impact on the environment? See how these companies use AT&T network solutions to reduce their greenhouse emissions.
Share this quote
Enable more sustainable solutions with the Internet of Things (IoT)
IoT connects everything to the internet, from computers and phones to cars and… yes, even pallets. Recently, businesses have started to use more durable, reusable composite pallets to circumvent many of the challenges that traditional brittle and wasteful wood pallets bring. Naturally, though, these composite pallets are more expensive to produce which makes the potential loss or theft of these pallets a heftier risk.
But, with IoT technology, pallets manufactured with tracking devices allow companies to locate lost pallets, negating the risk of loss. This ability to effectively track pallets and control loss rates makes this sustainable solution much more attractive. This is an example of how, through the connected world of IoT, businesses can address many of the potential shortcomings of a more sustainable alternative and make it a more lucrative endeavor.
How can you do your part for the environment?
The above are just a couple of specific examples of how AT&T technology is empowering companies to make more environmentally conscious business decisions. Other companies are using networking technology to make their equipment and facilities more energy-efficient and gain more precise control over their equipment to reduce greenhouse emissions. But in every use case, the idea is the same: using the technology that keeps your business connected to enable more energy-efficient operations and less wasteful procedures.
Wondering how you can do the same? Get more information on our "10x" Goal initiative to see even more examples of how businesses are using AT&T solutions to reduce emissions and strive for a cleaner earth.
1All equivalencies in this document are estimated using the methodology outlined by the U.S. Environmental Protection Agency, Greenhouse Gas Equivalency Calculator. (Note, the average eGRID electricity factors have been used rather than the marginal AVERT  electricity factors, this being a more conservative estimate of the savings).