Robots in the aisles: The future of grocery
Transforming grocery operations through robotics
Ever run into someone in the grocery store who isn't, well, human? If you have, you know what I'm talking about – robots. Aside from being interesting and sometimes having cute names, these devices are transforming grocery operations in incredible ways. That's why I'm so excited to share that AT&T has announced a new collaboration with Badger Technologies, where we'll be combining the power of 5G with the impressive, autonomous data-gathering that has become invaluable to many retailers.
I was able to catch up with Badger CEO Tim Rowland to ask him a little more about "retail robots" and the limitless potential that they represent in the grocery store of the future.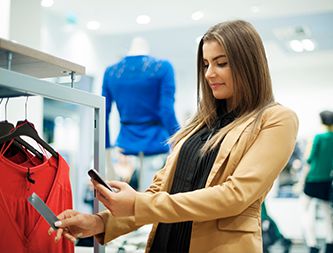 Retail Solutions
AT&T empowers retailers with data insights and secure technology solutions to help provide a powerful, connected consumer experience.
Mo Katibeh: How are robots improving automation capabilities within the retail sector?

Tim Rowland: Retail robots are becoming more prevalent—from serving as behind-the-scenes warehouse helpers to front-of-the-store greeters and everything in-between. In grocery stores, for instance, robots roam aisles safely alongside employees and shoppers to gather data that can improve retail operations, including alerting employees and shoppers to potential hazards as well as quickly addressing missing, mispriced or misplaced inventory. In retail, convenience and customer experience are the holy grail, so robots that can speed and streamline both through automation are critical factors to continued success. 
MK: What role do autonomous robots play in closing store-side data gaps?
TR: While retailers invest heavily in sophisticated retail information management and robust point-of-sale systems to streamline operations and enhance shopping experiences, they often struggle to collect accurate in-store data. Not only are traditional retailers constrained when it comes to deploying advanced technologies at individual stores, they often lack personnel to manage these leading-edge solutions.
Store-side data gaps make it difficult to detect holes on shelves, understand item-level productivity as part of planogram compliance and capture timely insights on store conditions. In many retail environments, closing data and automation gaps by investing in new IT infrastructure just isn't financially feasible or even doable.
Luckily, autonomous robots operate as self-contained rolling IT infrastructure, which can take advantage of sensors, radar, high-resolution cameras and software to capture data and images on everything from misplaced and mispriced inventory to out-of-stock items, planogram compliance environmental conditions and potential hazards.
In retail, convenience and customer experience are the holy grail, so robots that can speed and streamline both through automation are critical factors to continued success.
Share this quote
MK: How are Badger Technologies' robots impacting customer shopping experiences?

TR: Badger Technologies' robots make stores safer while increasing customer satisfaction and creating new customer-service opportunities for employees. In addition to automating hazard detection and reporting, Badger Technologies' robots ensure that shoppers can always find what they're looking for—at the right place and price.
Moreover, these autonomous robots gather and perform analytics that gauge individual store performance and customer buying preferences. Armed with real-time insights, store management can adjust inventory and shopping experiences to support specific seasonal, regional and local inventory demands.
MK: Why is 5G necessary to get the most out of autonomous robots?
TR: Collecting and sharing massive volumes of store data and images can overwhelm in-store Wi-Fi networks while compromising connectivity and network performance. As autonomous robots gain even more traction, faster, lower-latency communications will be required to share information more quickly, reliably and efficiently. That's why AT&T and Badger Technologies are working together to test 5G millimeter wave connectivity with autonomous robots in a multi-access edge computing (MEC) environment.
As part of this important proof-of-concept, AT&T and Badger hope to demonstrate how autonomous robots can process and share vast amounts of data while operating in concurrent and copacetic fashion with other in-store network applications. Additionally, both companies plan to assess the opportunity for more private network connections using 5G, which will alleviate mounting privacy and security concerns among retailers.
MK: AT&T, Badger Technologies + 5G are poised to turn up the volume in retail communications, efficient store operations, improved customer experiences and elevated revenue. As a consumer, I'm looking forward to the personalization and improved efficiency that we'll soon take for granted in the grocery store. And of course, having someone new to say hello to in the aisles.