Loan servicing firm reboots digitally to capture millennials
New company with award-winning mobile banking app uses digital transformation to win over its most tech-savvy customers
Millennials, all 72 million of them, have blasted past Baby Boomers as the nation's largest living adult population. Companies everywhere are asking the same question. How can we tap into that coveted market?
One loan servicing firm found the answer. It re-invented itself digitally.
The problem
When a merger created a new loan servicing firm, the firm began to experience explosive growth in mobile banking. New mobile banking registrations jumped 200% in early April 2020. Mobile check deposits were also up 32% year over year. The financial services company needed to turn up the volume on its digital strategy. It decided to create a better banking experience and reach millennials by using new mobile and web channels.
When the new company's mobile banking app won a prestigious award, the corporation was already in the middle of creating the next version of it. If the banking firm didn't keep millennials top of mind, it risked losing customers.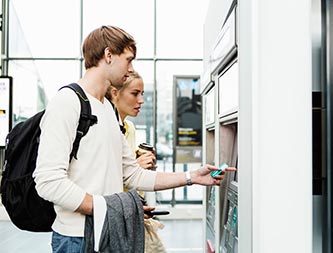 Financial Services
Inspire renewed loyalty, streamline operations, and position yourself to outpace competitors with integrated, data-driven solutions.
The solution

The bank's decision makers started a conversation with AT&T Business, a leading provider of integrated solutions for financial services providers. The AT&T Business team quickly got to work replacing legacy technology, leaning heavily on Akamai's cloud and network services. AT&T Business and Akamai began working together in 2012. During that time, AT&T Business has become the largest global provider of Akamai's security solutions.
The new banking firm began using the following:
AT&T Content Delivery Network (CDN). These web and mobile solutions help increase user engagement with mobile users. Enterprise-grade protection helps block malware and ransomware threats. These solutions also allow for optimized delivery of streaming video and other rich media.
Akamai Ion. This suite of intelligent performance optimizations and controls uses machine learning to help deliver superior web, iOS, and Android app experiences. Ion continuously monitors real user behavior and adapts in real time to content, user behavior, and connectivity changes.
Kona Site Defender. This Akamai solution protects apps and APIs against the largest and most sophisticated attacks with a web application firewall and DDoS protection at the edge. It provides application security at the edge, closer to attackers and further from applications.
Prolexic Routed. This Akamai solution is designed to stop Distributed Denial of Service (DDoS) attacks in the cloud before they reach applications, data centers, and infrastructure.
Image & Video Manager. This Akamai solution intelligently optimizes both images and videos with the combination of quality, format, and size that is best suited for every device and browser. It helps reduce bytes for images, videos, and animated GIFs across desktop, mobile, and apps for lighter pages that lead to better site performance and higher customer engagement.
New mobile banking registrations jumped 200% in early April 2020. Mobile check deposits were also up 32% year over year. The financial services company needed to turn up the volume on its digital strategy.
Share this quote
The results
The financial services firm now has the tools to support the merger efforts, including a common platform. And now it has the flexibility to manage its different domains. The corporation is able to maximize its application security so that all domains were defended regardless of bandwidth size. These changes have also simplified operations and management so that budgeting is easier, billing complexity is reduced, and business in general is easier. Now that they've enhanced their mobile and web channels, they're better poised to grow the business and attract more millennial customers.
Why AT&T Business for Finance?
Whether it's transforming your legacy technology into a future-flexible, multi-cloud ecosystem; building context-aware, responsive tools; staying ahead of security concerns; or adapting to regulatory changes, we've got you covered.
Learn more about cybersecurity solutions for Financial Services providers or contact your AT&T Business representative.