Is a self-service model what's next for patient care?
Patient, heal thyself in the age of IoMT
The famous proverb "physician heal thyself" is more applicable today than ever, also extending to the patients themselves. Physicians and the medical community are faced with an onslaught of data from ever increasing sources. The rise of new and more sophisticated technologies in healthcare - robotics, Artificial Intelligence, wearables, Internet of Medical Things (IoMT) and more – have the potential to improve patient care, but also add complexities to regulatory and compliance processes and increase concerns with privacy and security of patient data.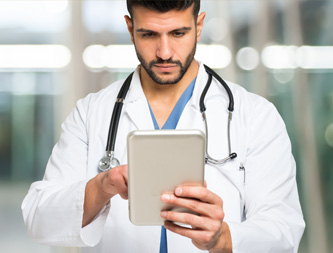 Healthcare Solutions
AT&T provides edge-to-edge technologies that help healthcare organizations orchestrate the transformation from healthcare to human care.
Still, we can look to the right set of technologies to bridge the gap for physicians and patients across the continuum of care. Earlier this month I had a chance to explore these technologies at the Healthcare Information and Management Systems Society (HIMSS) annual global conference. The AT&T Healthcare booth, in particular, was a hub of activity, demonstrating many exciting innovations packaged into useful connected care solutions for hospitals, patients and caregivers. Here are some of the solutions that were on display, enabled by AT&T's technologies and capabilities.
Self-Service Tools
Multiple IoMT devices serve the diverse needs of patients.
Bodyport, a connected smart scale, goes beyond tracking weight to measure cardiac function. Proprietary sensor technology captures electrical and mechanical heart function. This is the same type of data that is obtained via ECG and echocardiography, tests typically only available in a doctor's office or hospital. Once the data is obtained by the Bodyport scale, multiple biomarkers are transmitted to a remote care team using AT&T LTE-M cellular network. This allows the clinician to determine in near real-time patient status and risk, enabling early interventions, helping to keep patients safe and avoid unnecessary hospital visits.
Connected Prosthetics based upon AT&T's collaboration with Hanger. The network-connected device attaches to prosthesis and collects real-life usage data that could help clinicians improve fit and comfort and allow improved mobility for the amputee.
Blind can "see" via Aira's smart glasses and AT&T connectivity technology. Blind and low vision individuals benefit from assistive technology and wireless connectivity to navigate their world with more confidence.
Smart Flask, a collaboration of AT&T and Softbox Systems, could help reduce concerns about travel for diabetics and others who need to transport their medications in a temperature-controlled way.
Physicians and the medical community are faced with an onslaught of data from ever increasing sources. And the rise of new technologies helps bridge the gap for physicians and patients across the continuum of care.
First Responder Network Authority (FirstNet)
AT&T built and manages FirstNet, the first nationwide public safety broadband network, specifically designed to allow law enforcement, fire service and EMS do their jobs safely and effectively. To bring this technology to life on the HIMSS exhibit floor, AT&T Business had a fully equipped ambulance in their booth.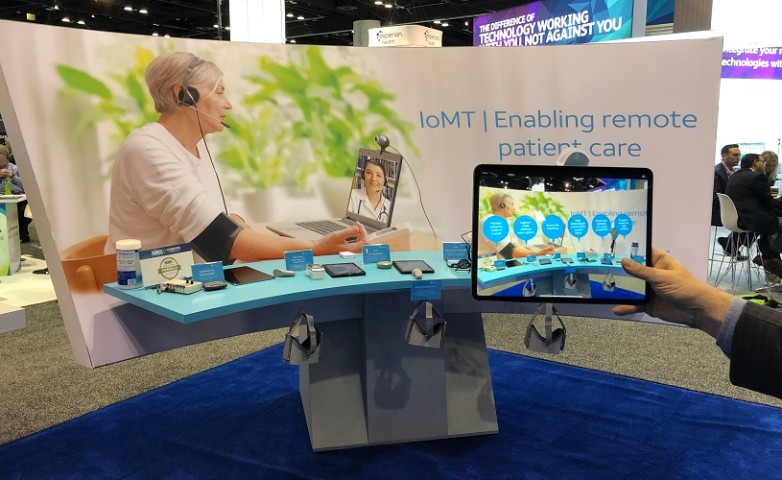 Digital Kiosk
These self-service Digital Kiosks are designed to welcome patients as they enter a hospital or clinic. With features like facial recognition, kiosks are meant to improve efficiency and patient experience. Patients can check-in, schedule a follow up appointment and even order a ride to get back home.
Wayfinding
The hospital-specific wayfinding solutions allow patients to visualize and plan their route within the hospital walls and even beyond.
DIRECTV
For hospitals using DIRECTV for Business, patients and their families/caregivers can enjoy access to entertainment on hospital campuses, improving patient experience.
Operating Room (OR) of the Future
Once you enter this futuristic OR and put on the Magic Leap One headset, you become immersed in the Mixed Reality. Here, you can take a fantastic journey inside the human brain with the Brainlab's spatial computing technology, to be used for medical treatment planning and patient education. In another application, patient anatomy is superimposed in 3D over the surgical site and multiple high-definition physical screens have been replaced by a virtual heads up display. This technology also tracks surgical instruments, potentially offering insights into efficient management.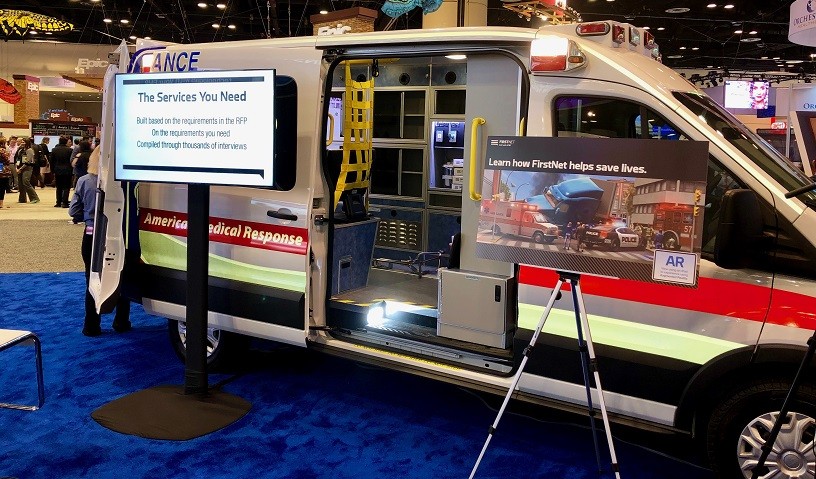 From self-service tools that are made possible with the Internet of Medical Things, to enhanced first responder capabilities, to helpful self-service options in a hospital or clinic, to enhanced patient experience, to improved care outcomes via connected digital hospital and Operating Room of the Future, AT&T Business technology and capabilities are making a difference across the continuum of care. They are working collaboratively with other leading technology providers to transform healthcare to connected care. This way both the patient and the physician can work together to heal thyself.
You can read more about AT&T Business' work in IoMT and download the IoT And Healthcare eBook.