How technology is allowing sports venues to adapt
Q&A with Guy Poorman, Director, Industry Solutions - Sports & Entertainment, on the impact of COVID-19 and how arenas are using technology to adapt.
The sports and entertainment industry continues to face tremendous disruption due to COVID-19. As businesses adapt to the new environment, the world of sports is also adjusting to the long-term impacts of the current crisis.
In this question-and-answer session with Guy Poorman, Director, Industry Solutions - Sports & Entertainment, AT&T Business, he discusses how professional teams and leagues (and their associated venues) are currently handling the "next normal." He also explores the kind of technology solutions these businesses are turning to in order to adapt to the current landscape and prepare for the future.
Editorial Team: Guy, you've been with AT&T servicing the sports and entertainment industry for years. And now, you've been working in an environment where leagues and venues have been effectively shut down for nearly 3 months. How are your customer and client demands changing, given the current situation?  
Guy Poorman: First and foremost, the top priority for all of the organizations has been to ensure the safety of their staff, players, personnel, and fans. Beyond that, the need for business continuity has created a huge demand for connectivity as customers in this space have had to shift their operations to a remote workforce.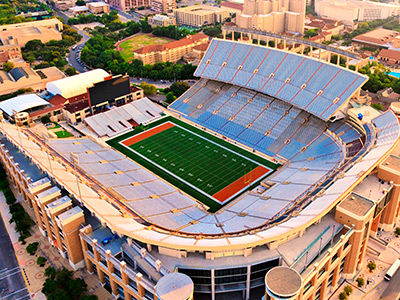 End-to-end sports and entertainment solutions
AT&T Business enables you to provide fans with interactive, personalized, and connected experiences at virtually every touchpoint, while helping improve efficiency in back-office operations.
ET: And what has your team at AT&T done to solve for this demand?
GP: We work with our customers on 3 pillars as they undergo some of the complexities of this changing landscape: 1) Staying Connected, 2) Communicating and Collaborating, and 3) Protecting and Managing Data.
For the first, Staying Connected, depending on the customer's existing network architecture, we have provided a wide of variety of options around connectivity necessities to help keep these organizations and their employees connected to critical business assets and operations. This includes not only wired and wireless capabilities, but also shared and dedicated connectivity options, as well.
For the second, Communicating and Collaborating, voice and collaboration and conferencing solutions have no doubt spiked in usage as clients look to carry on business with their remote workforce. But they also need to maintain high levels of communication with their players, personnel, and fans. As our customers continue to adopt more and more digital strategies to connect with their fanbase,collaboration solutions are playing a critical role in making that communication more streamlined than ever before.
And on the third, Protecting and Managing Data, we know that protecting an increased amount of sensitive data generated by additional endpoints is important to our customers as they look to protect their people, the brand, and its image. A positive brand experience will continue to be a big factor that weighs in on a fan's decision to return the game.
ET: Speaking of connectivity, what's surprised you in terms of what you've seen across the industry?
GP: What's most surprising to me is how quickly organizations have been able to adapt to this change and how much of a spotlight it has placed on technology. Teams and leagues have moved from having around 50 people work remotely (some of the time) to having hundreds of people working remotely until deemed appropriate to return to the workspace. This speak volumes to how easy connective technology has become to consume for enterprises. It also speaks very highly to the ability of the IT professionals in the sports and entertainment industry who are executing on the delivery of said technologies under what some may describe as the most challenging time in their career.
ET: And do you see an opportunity for AT&T there?
GP: Absolutely. With connectivity as one of our core competencies, this creates opportunities in a lot of different areas for us. This pandemic has proven that connectivity is not just table stakes, but a bedrock and foundation to keep an organization's operations running even in the most challenging of times. This spans across the entire network, from a customer's endpoint device, through the core, and into their public or private cloud infrastructure.
The other piece that can't go without mentioning is how closely customers want to partner with us (and us with them) to help deliver technology for the good of the community, like what the San Antonio Spurs are doing at the AT&T Center. If you don't know, we've teamed up with the Spurs and Aruba to offer residents of the community free Wi-Fi® access at the stadium there.
This pandemic has proven that connectivity is not just table stakes and something that someone needs to connect their mobile device to the internet, but a bedrock and foundation to keep an organization's operations running.
Share this quote
ET: When fans do return to sports venues, what are you expecting in terms of how their experience will change?

GP: I wish I had a crystal ball and knew the answer to this one, both professionally and personally. But what I will say is that this is a prime example of why we work so closely with our clients as a trusted advisor, leaning in to help them work through these scenarios, however they unfold. They are the leaders in this decision making, and we're here to help them solve for the return of sports (and fans) through technology. Additionally, we're also aligned with the analyst community and industry leaders about the future of the industry.
Public safety has always been a key concern for venue owners and managers. Amongst fans, the safety, comfort, and cleanliness of the venue have always been important factors that influence their overall experience. Given the current environment we're in and the uncertainty of public perception upon return to the "next normal," whether we come back to zero fans, 25% capacity, 50% capacity, or whatever the number may be, there's no doubt that safety is going to be a primary driver in a fan's decision to return to the arena, stadium, ballpark, or venue.
ET: How can technology help shape that future experience?
GP: Technology is going to elevate the level of communication and the depth of visibility that venue owners have into their operations, visitors, and fans.
For example, IoT technology is paramount when operators need to monitor fan and staff safety through protocols such as social distancing, queue management, people and object detection, and thermal analytics. Our IoT platform and connectivity are going to play a key role in that implementation.
New broadcast messaging (emergency or non-emergency) via push notifications and mobility connectivity options will rely on technology and highly secure network connectivity to deliver the right message at the right time. Technology will also play a key role in helping prioritize critical voice and data applications essential to safety operations.
Outside of safety measures, immersive fan experiences that leverage technology will continue to play a big role, just as it did before the pandemic, but perhaps with some new twists and certainly with some new audiences. Sports saw an explosion of digital and social interaction and gaming during COVID-19, and that trend will continue as teams and leagues look to maintain and cultivate that new fan base. Bringing those fans into the venue to experience and immerse themselves with these brands will be supported by technologies such as edge computing, 5G, and Wi-Fi. So, it's game on!
ET: It's a lot to look forward to. Thanks for speaking with us, Guy.

GP: Of course. Thank you.