How IoT is expected to transform medical care
AT&T Business Healthcare Solutions leaders discuss how the Internet of Medical Things is helping enable better care and more efficient hospitals
The Internet of Medical Things (IoMT) is a recently coined term now uttered by IT visionaries and healthcare professionals alike. IoMT refers to the vast network of technology and devices that support modern healthcare delivery. It's giving healthcare providers unprecedented levels of insight and communication with their patients, enabling them to give better care. It's expected to transform the way we keep people healthy.
We recently had the opportunity to sit down with Maria Lensing, VP of Healthcare Solutions at AT&T Business, and Rod Cruz, General Manager of Healthcare Solutions, to discuss just how much the healthcare landscape has transformed and what the future holds with the growth of IoMT.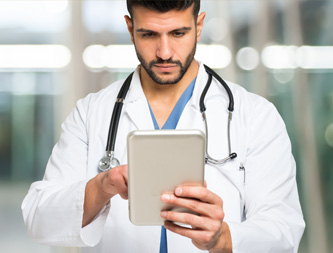 Healthcare Solutions
AT&T provides edge-to-edge technologies that help healthcare organizations orchestrate the transformation from healthcare to human care.
Editorial Team: Rod, you've been the Healthcare Solutions General Manager at AT&T for almost two years now. But you've been involved with technology in healthcare since pretty much the beginning of your career. With your insights into where healthcare has been and where it's heading, what sort of technological innovations are you excited about?
Rod Cruz: I am really excited about how digital technology can help transform the patient experience. Every provider we have talked to has improving the patient experience at or near the top of its priority list.
Here is one specific example of how technology can help them do that: streamlining the seemingly simple process of checking in a patient. The traditional way – manual and paper-based -- can lead to delays, overcrowded waiting rooms and anxious patients. In addition, hospital staff can spend valuable time giving navigational assistance or guiding visitors, taking them away from patient care. To help solve these problems, AT&T has teamed with various partners to create a new self-service kiosk for providers called AT&T Check-in. This self-service kiosk automates the check-in and appointment scheduling processes. Features include biometric authentication, wayfinding navigation, payment tracking and payment processing.
ET: Maria, like Rod, you have an extensive healthcare background. How would you answer that question?
Maria Lensing: I definitely agree with Rod. Additionally, hospitals are looking ahead to use their IT investments for aspects such as remote patient monitoring, machine learning, voice interface, and social robots. These all play a role in the most popular pilot tests or rollouts that involve wearables. AT&T and the Health Information Management Systems Society (HIMSS) recently surveyed the industry and discovered that 47% of organizations are currently providing or testing wearables for patients with chronic diseases.
Much of this is enabled by the IoMT. The Internet of Things turns almost any object into a source of information about that object, whether it's a heart monitor, medication, a wheelchair — or more. This becomes an especially important aspect when we're talking about older patients. The number of Americans ages 65 and older is projected to more than double from the 2016 number of 46 million to over 98 million by 2060.
Connected health technologies powered by IoT may become essential to mass-deliver personalized care and help older adults live fulfilling and independent lives. Remote monitoring systems, connected health wearables, Mobile Personal Emergency Response Systems (MPERS), and personal healthcare companions are all examples of technologies that can greatly help older demographics.
ET: Rod mentioned AR, VR, and AI. What roles do these play in IoMT?
ML: AR and VR are, for the moment, lesser known technology. However, they are highly promising. 5G will open the door for organizations to truly utilize them. A great example of AR/VR technology is VITAS Healthcare and how healthcare solutions are expanding outside of the four provider walls. AT&T and Vitas Healthcare have a trial agreement where they are studying the effects of virtual experiences in reducing the stress and pain of patients. We're currently taking the study to the field to determine how the network behaves in a real-world environment.
RC: You are definitely on point, Maria. As for AI, the biggest opportunities are driven by 4 factors:
1. Disruption of the cost model 2. Delivering expected outcomes 3. Improved security 4. Overall improved experiences for society
Along with those drivers, numerous trends are emerging, all enabled by AI. We're seeing communication networks moving to autonomous networks that are capable of self-optimizing, auto-scaling, and helping to protect against cyberattacks. We're also seeing IoT-connected devices moving to intelligent, fully autonomous devices, and healthcare shifting to proactive care and autonomous surgeries.
ET: There's a lot in the pipeline. It seems like the healthcare industry has been slow to adopt many of these innovations. What are the primary obstacles faced by healthcare innovators, especially startups?
The Internet of Things turns almost any object into a source of information about that object, whether it's a heart monitor, medication, a wheelchair—or more.
ML: Healthcare is extremely complex and nuanced from a legal, financial, and technological perspective. Ultimately, we're talking about people's health and their lives. Business opportunities in the healthcare ecosystem need to be carefully evaluated and thoughtfully defined. There's an extreme level of responsibility for technology companies to provide robust, highly secure solutions. These solutions must be HIPAA compliant and adhere to all regulations. The industry is rightfully cautious to adapt. At the same time, there is opportunity to find adjacencies in healthcare to bring innovation that could help business outcomes without risking lives.
RC: The way to move forward is for technology companies to guide and provide solutions in the tech space but ultimately leave the medical portion up to the doctors, nurses, and staff.
ET: Where do you see healthcare organizations deploying IoMT in the next 3–5 years?
ML: Currently, the clear majority of IoMT is deployed on the operational side—facility security, workflow optimization, and medication tracking. I expect IoMT to have a much greater impact on the clinical side within 5 years.
The AT&T/HIMSS survey results were striking: 11.4% of respondents said they are remotely monitoring patients to reduce readmission rates while 77% say they're considering researching, piloting, or implementing programs. This kind of patient-generated data can have a huge impact, saving thousands lives and billions of dollars. Remote patient monitoring is expected to save up to $36B globally over the next five years.
RC: That is correct, Maria. A good example of this is that these devices can support patient care after discharge, identify those patients most at risk for readmission and help clinicians intervene before readmission becomes necessary. There are these "smart pill boxes" that remind discharged patients to take their medicine. According to research published in the New England Journal of Medicine, non-adherence costs anywhere between $100B to $289B every year, causing nearly 125,000 deaths and 10% of all hospitalizations.
ML: If you have devices designed to help patients get the care they need and there is a system in place to inform professionals, we will be able to fix many of these issues.
ET: Thank you for your time, Maria and Rod.
Learn more about IoMT and how AT&T is leading the digital transformation in healthcare.