How emerging tech is reshaping financial services
A conversation about CX innovation, 5G, and losing a credit card
Dez Blanchfield sat down with René Dufrene, General Manager of Finance Solutions, to talk about the industry focus on customer experience, the impact of "fast-to-market" models on Banking and Insurance, and what 5G could mean for Finance. This article is Part 3 of a three-part series.
DB: "People thought everything was going online, and that the branches would die, and we'd just be stuck with random places like petrol stations or service stations, but the data seems to indicate that that branches are not going away. The whole branch concept is not going away. It's merely transforming and shifting to meet slightly different demands, becoming more multi-service touch points for the user experience. Are they becoming multi-function centers beyond the traditional financial services experience?"
RD: "The ideal model for an FI that has a branch or office is self-service type capabilities. Whether that's through a CMS or digital signage, we're less likely to go up there and request help for very transactional pieces of the business. That enables the FI to better leverage their real estate to provide a set of services we might actually need more help with, say, a loan, or purchasing a CD, or meeting with a wealth advisor. You and I may want to go into a little private area and connect remotely to a subject matter expert that might be in headquarters, and get just the writeup. Personalized information just for what we need, if we choose to actually connect to someone. Otherwise we may be able to identify what we need through digital signage, touch the screen, get what we need, and leave. It's a big transformation. It does take time. It enables us to have human touch when we need to actually speak with a human advisor, but also self-services."
DB: "Absolutely. I'm going to my own bank recently, I thought I'd lost my credit card. Turns out it just dropped down the side of the seat in the car. And I walked in, there were none of those little cubicles with the gun-proof windows and so forth. It was just a big open floor and little benches. It was like the Apple store experience, where people wander around with tablets. Someone just casually walked up to me and asked if I wanted help and I was still catching my breath. I walked away thinking, wow, that was not a banking experience. That was just a lifestyle experience.
When we look at some of the startups, we look at a more agile organizations. Do you think it's feasible, for a bunch of reasons, (particularly security and compliance) that [incumbent] FIs can follow the likes of Silicon Valley's model? Particularly this faster-to-market concept where we see their fail-fast adoption of cloud technologies? [FIs] have got a whole bunch of security, and compliance, and governance challenges that other industries don't have to adhere to."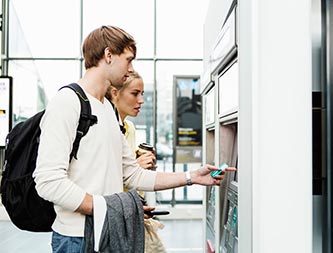 Financial Services
Inspire renewed loyalty, streamline operations, and position yourself to outpace competitors with integrated, data-driven solutions.
Is it possible for incumbent FIs to adopt Silicon Valley-style agility?
RD: "I think to a degree, it's feasible. We are certainly seeing technology enabling FIs to move faster than ever before. We talked about a few earlier: artificial intelligence, cloud, software-defined networking. Those are enablers. We're seeing financial institutions very hungry to learn more about the technology, to dive deep into it, and to innovate. We have an AT&T Foundry, which is a network of innovation centers, and we're having more and more FIs come to talk to us. I do believe there's a desire to move more quickly. But for all the reasons you mentioned, they have to do so while they can maintain a high standard for security adherence to the compliance and regulations that are out there, and to provide as much trust as possible to their consumer base."
DB: "I do love your foundries. You've got so many partners, from the mobile device manufacturers to the carrier partners that help you build the foundational components of your network all the way through to the integration and security, and all the bits and pieces."
RD: "Think about devices that you could put in a branch or in an office to help you automate things. FIs come in and chat with us about some of the things that are routine for them and then innovate on a way to make them more efficient. We'll work with clients in their own innovation centers too, but we love them coming to the AT&T Foundry… to see different applications, even if they're in a different vertical [industry]."
DB: "There's one big thing I'd love to delve into. There's a heck of a lot of hype about 5G. When you strip all of the hype away, it seems to me that it is an enormous opportunity to change the game completely… You're at the bleeding edge of all this."
I see 5G as a game changer… it's going to potentially enable new use cases in Finance and other industries that we've never seen before.
Is 5G a game changer for the industry, an accelerator, or something else?
RD: "5G compliments other technologies and what they're able to do. AI, Edge computing, IoT… 5G is going to potentially enable new use cases in Finance and other industries that we've never seen before.
Mobile finance centers in densely populated areas, let's say. A full-service financial center that's available at a concert, or football game, or baseball game with 100,000 people, being able to provide a full suite of services like digital signage. Interactive ATM with video will be empowered in an untethered form by 5G. Mobile workers in the field will have not only better tools and services, but more bandwidth and lower latency, to be able to do more analytics at the edge. I could envision a reduction in fraud because facial recognition and other biometrics may be combined at point-of-sale or when you and I engage an ATM. The power, capability, and low latency that 5G is going to bring to the table is going to be phenomenal. We're at the early stages of shaping that. FIs are exploring the technology, learning more, and beginning proof-of-concepts to enhance the consumer experience and operational efficiency."
DB: "You must have a deluge of existing clients, as well as new and emerging clients, coming to you asking for a range of help. [I can imagine] clients coming in, saying, "Look, we just want to stay as a bank. We just want to keep being a bank, but there's a lot of pressure to become an IT shop that does banking. We just want to stay in our space."
RD: "We are seeing that across multiple industries. I do think that it's beneficial for FIs to stay true to their core. In order to do so, they're going to select, hopefully us, but they'll select a technology providers that provide multiple assets and multiple services to be able to integrate those assets. And to do it at scale. They do look to us to help them bring a suite of capabilities across their integrated business ecosystem. We can take certain things off of their plate and hopefully make their business lives a little easier."
Read Part 1 of this three-part interview, when René discusses his background, what it brings to the Financial Services industry, and what use cases might be coming in the next three to five years ... or read Part 2, when Dez finds out the state of the industry's transformation, the key trends and challenges, and whether there's a priorities gap between Line-of-Business and IT leadership.
Dez Blanchfield is a strategic leader in business and digital transformation, with experience developing strategy and implementing business initiatives in the IT and telecommunications industry. You can listen to his full interview with René Dufrene at the "Conversations with Dez" podcast.
AT&T Business is a leading provider of Edge-to-edge solutions for Financial Services Solutions and is the largest SD-WAN provider globally. Achieve smarter, more trusted interactions with business solutions that integrate our unique ecosystem of technology and expertise with our highly-secure global network to obtain near real-time intelligence from every corner of your enterprise.