Hindsight is 2020: Conversations from financial services events
What we learned on the road that could help you in the new year
Financial Services (FinServ) is rapidly evolving beyond a certain building, website, or app that people need to visit to access insurance, loans, advice, or their money. Digital iteration is removing unnecessary friction, intelligently blending FinServ into the landscape of real-world customer activities. As a new decade dawns, we wanted to share some of the conversations our team had with business and IT leaders at industry events.
Q: What are the overarching conversations in Financial Services?
Across the board, there are varying stages of digital transition. In the insurance industry, we've spent hours talking to line-of-business and IT leaders, and they're clearly in transformation phases. For them, it's about modernizing core infrastructure, and part of that modernization process involves looking at emerging technologies, and then determining how to become more agile, and how to implement new ways of developing software and products. Virtual reality/augmented reality (AR/VR), Internet of Things (IoT), artificial intelligence (AI), and 5G all have the potential to impact the customer experience (CX) by connecting roles and processes in new ways.
Property and casualty insurers are continuing to invest in drones to help assess damage and streamline the claims process in the field. Drones are helping to resolve claims much more quickly than before. Some insurers are still in the proof-of-concept phase with drones, but more are actively deploying them. Augmented reality (AR) overlays of road and electrical grid data on flood footage can improve safety and risk analysis. One of the most compelling use cases of 5G in the insurance space is transferring large video files from drone capture to another location for assessment and analysis, like to an insurer's home office, an emergency response center, or a property owner's mobile device, for example.
Q: What are you hearing about 5G?
In the insurance space, "preventive analytics" is a big deal, and being able to connect a pile of IoT-enabled sensors on a 5G network could be a game changer. When there are sensors deployed in a commercial building or in a residence, and a smoke detector battery needs to be replaced, you can know right away. When there is a water leak that is reducing the pressure on an IoT sensor, you can know right away. How many mechanical motions and processes exist in your business that could be counted and measured? How many of those are safety-critical systems that could benefit from a service call or part replacement before they fail? Risk management is going to change.
But insurance companies aren't the only ones excited about the ability to handle massive bandwidth and the ability to handle a lot of connected IoT devices. Banks, wealth management firms, payment platforms, and other Financial Technology providers (FinTechs) are looking forward to experimenting with untethering hardwired systems. Imagine being able to shrink all the compute and storage currently onboard wired devices into small nodes that could be placed anywhere there's a 5G signal. The possibilities of increased speed, latency, flexibility, and simplicity are really enticing. They may not be the ones building a driverless car, but they are the ones creating the frameworks and platforms enabling "finance as a lifestyle" or "banking in the background," the coming ecosystem of nearly anytime, virtually anywhere transactions, with highly secure connections.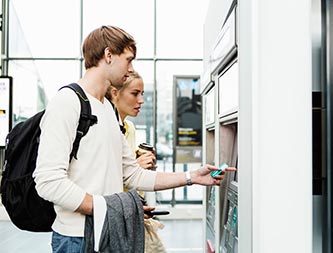 Financial Services
Inspire renewed loyalty, streamline operations, and position yourself to outpace competitors with integrated, data-driven solutions.
Q: Speaking of FinTechs, what are you hearing about partnering with them versus competing against them?
The trend has see-sawed for years, and it really depends on the company you're referring to. Larger financial institutions (FIs) are taking a hybrid approach, innovating on their own, but also partnering where it makes sense. Smaller FIs continue to differentiate by promoting face-to-face services and local community focus. However, we are hearing from several smaller FIs that partnering is working well. In addition, they are turning to trusted advisors for assistance with innovation.
We recently had an insightful conversation with a group of customer experience marketers for retail banks. They didn't consider FinTech as a competitor in years past, but now they do. Because the barriers to entry are coming down, they're looking at how FinTech is finessing customer journeys pre-, during, and post-engagement to better personalize offers like lending and mortgages. Better journey mapping could better integrate services while improving the customer experience.
Better journey mapping could better integrate services while improving the customer experience.
Share this quote
Q: What else did FinServ providers share about trying to keep up with customer expectations?
FIs are collecting more data than ever. Data integrity is a hot topic. Conference attendees we spoke to think of data as currency. But how do you connect what you collect, protecting both privacy and maintaining regulatory compliance? How do you organize and monetize the huge wealth in your data lake? Sometimes it feels more like a data waterfall or even a data swamp. Most FIs we talked to want help making sense of the deluge. We shared how many times we have seen the magic happen when different lines of business collaborate, when Cybersecurity, Marketing, Human Resources and executive leadership share key performance initiatives related to digital transformation. We talked about how our managed services expertise can help FIs work with and operationalize emerging technologies.
During one of the conferences we attended, we drew a crowd with our AT&T Foundry exhibit. Innovation becomes more than a buzzword when you're in the room with a company that has asked AT&T Business to help them ideate and co-create products and services that can solve specific challenges. One of the biggest areas of innovation is omnichannel CX. The crowd at that conference was most interested in pairing their data science with their customer relationship management (CRM) tools, their third-party-acquired data, and the insights we have about network infrastructure. Banking executives are shifting and pivoting from transactional interactions to more relevant, tech-savvy, AI-driven interactions that feel more personalized and meaningful. They also want to focus on core competencies more than trying to be cybersecurity professionals, so they like talking about how innovative connectivity can be wrapped in security.
Q: How can AT&T Business help?
We have lots of discussions with clients and potential clients during industry events about bridging and integrating capabilities. AI is going to be a bigger deal in the coming years. Biometrics are already changing authentication. The conference attendees we meet on the floor have already brought their unique challenges and needs to a variety of different providers and solutions. And when we talk to them, they appreciate our scale and expertise. Many of them need a premier integrator to help them integrate all their capabilities, whether that's in a branch, in an office, or for an online experience or mobile experience, and be able to do that in a manner that is highly secure. Our goal is to be engaged with the client, to be in lockstep with the changes they're going through, so things get better for them and their customers.
Want to learn more about the measurable results FinServ providers have achieved with our help? Check out our latest customer success stories.
AT&T Business is a leading provider of edge-to-edge solutions for Financial Services and is the largest SD-WAN provider globally. Achieve smarter, more trusted interactions with business solutions that integrate our ecosystem of technology, expertise, and highly-secure global network to obtain near-real-time intelligence from virtually every corner of your enterprise.