FIs are keeping CX at the core of transformation efforts
The pressures and opportunities recalibrating financial services
Dez Blanchfield sat down with René Dufrene, General Manager of Finance Solutions, to find out the state of the industry's transformation, the key trends and challenges, and whether there's a priorities gap between Line-of-Business and IT leadership. This article is Part 2 of a three-part series.
DB: "The industry is under a lot of pressure, in some ways good, in some ways bad. And there's a lot of competition. Now we're seeing a lot of everything getting "tech" added to the end, but "FinTech" is such a broad thing. When I'm talking to people in their board rooms, they tell me the biggest challenges these days, the biggest disruptors, are not actually the competitors, but their customers that are asking, demanding more things. You talked about trends in the industry, and I'm keen to get your insights into that."
What industry trends most excite and challenge your FinServ customers?
RD: "You just brought up an interesting point. Consumer behavior has changed over the past few years, changing as a result of some of the FinTechs that are emerging. But I think even more important is the way consumer expectations are changing due to their experiences in other industries. Retail really influenced our expectations, changed our expectations for how we want to engage our FIs.
I see a lot of focus on enhancing the consumer experience, whether the consumer is in-branch or in an office online, dealing with a mobile app, or working with the FI's contact center. That really excites me as a technologist, because so much technology is being utilized along that journey. Within a branch or office, that company may be using a digital signage or Wi-Fi or iBeacons as collaboration tools to digitize that physical environment. And then that may lead to software-defined networking to provide high performance for the applications and the systems that are now running in that branch or office. And then contact centers are being transformed. You and I, we want to engage FIs through social, through texting, as well as through voice. And of course it all has to be wrapped in a security blanket.
When I think about it as a consumer, it's great to actually see that technology come to life. I engage the financial institutions that use artificial intelligence to make my experience better and more efficient and more mobile."
DB: "I remember seeing a story come out, I think it was last year, that you did this very thing with Citizens Bank and they went through this whole digital transformation and personalized consumer experience. They did some amazing stuff in-bank. The scale blew my mind. It was like 1,100 branches nationally. It was such a massive scale of transformation and that's not a case that you're talking about future vision. You've already done this. This is something you've done multiple times."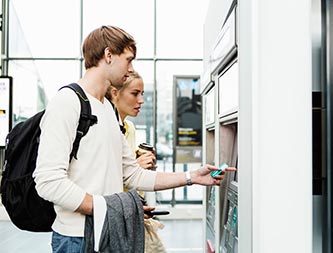 Financial Services
Inspire renewed loyalty, streamline operations, and position yourself to outpace competitors with integrated, data-driven solutions.
Tell me about digital transformation at scale.
RD: "Absolutely. Transformation occurring at scale is difficult. Already we've identified many different technologies that are all part of solutions like the one you referenced for Citizens Bank. To be able to do that for one, or two, or three sites is interesting. To be able to do that with hundreds, thousands of locations and to be able to support it – think about how many mobility clients our larger FIs have. They serve millions of customers, and then to be able to have a highly secure experience and one that's high performing, that's a great example.
Being able to integrate at scale is a precursor to modernizing their core financial systems. Some FIs have been around for a long, long time. Now, they're modernizing, and that requires them to re-write the software, re-architect infrastructure, move workloads into public or private clouds, and rethink their data center strategy to do all of this in a highly secure manner. A multi-year journey in some cases. As consumers, we want to be able to go into a branch, then maybe do some research online, or reach out to a contact center. We want all of that, and our expectation is that all of that will happen in a seamless manner."
DB: "I hate to say it, but I remember the very first sort of digital bank in Australia. It was called Advanced Bank, I think. And the day they opened, I was one of the people lined up. It could work anywhere in Australia. It used to be you'd have to go to the particular branch you banked with to get money out, because they didn't have systems that were connected at the time. That ages me. And if you wanted to travel, you'd have to carry cash or use a checkbook. I remember thinking, this is brilliant.
The scale and speed in which these financial services players are being challenged… Now, they're an entirely cloud platform. They have no choice. You reminded me that one of the banks I'd dealt with had 72 different systems. But in the conversations I'm hearing, there's this challenge between the traditional IT space and the line-of-business; whole digital transformation (DX) vs. the front line stuff, whether it's a bank, or wealth management, or asset management provider, or even some of the small lenders."
Organization structures have changed across FIs, and one of the benefits is… getting people aligned on priorities.
Do you see a DX disconnect between line-of-business and IT? What should be the priority focus?
RD: "Well, I would say that lines-of-business and IT are better aligned than they've ever been. If you go to an industry event, it's a key topic of conversation about how lines-of-business and IT need to be organized to ensure that the business priorities are met… That involves a lot of different people with different skillsets. So it's a combination of branch, operations, and marketing people, trying to market FinServ products as well as IT and cybersecurity personnel. Not only is it a hot topic, but you're seeing digital experience professionals being inserted into the product lifecycle. Organization structures have changed across FIs, and one of the benefits is actually decreasing that gap and getting people aligned on priorities. When we host customers in our Executive Briefing Centers, or meet customers at their facility or at events, we see that there's a combination of lines-of-business and IT at the same table, at the same time vs. a few years ago."
Continue reading Part 3 of this three-part interview, when René discusses the industry focus on customer experience, the impact of "fast-to-market" models on Banking and Insurance, and what 5G could mean for Finance.… or read Part 1, when Rene talks about his background, what it brings to the Financial Services industry, and what use cases might be coming in the next three to five years.
Dez Blanchfield is a strategic leader in business and digital transformation, with experience developing strategy and implementing business initiatives in the IT and telecommunications industry. You can listen to his full interview with René Dufrene at the "Conversations with Dez" podcast.
AT&T Business is a leading provider of Edge-to-Edge solutions for Financial Services Solutions and is the largest SD-WAN provider globally. Achieve smarter, more trusted interactions with business solutions that integrate our unique ecosystem of technology and expertise with our highly-secure global network to obtain near real-time intelligence from every corner of your enterprise.