Find the right ELD solution for your business
See how fleets are using the Internet of Things to help meet ELD mandate requirements
The window to reach Federal Motor Carrier Safety Administration (FMSCA) electronic logging device (ELD) compliance is coming to a close. All motor carriers must make the mandatory adjustments by December 16, 2019. And while the ELD mandate isn't completely off the beaten path set by previous hours of service (HOS) compliance technologies, it does have fleet companies evaluating what's available in the market today.
This new mandate isn't just another set of protocols — it's an opportunity for your company to gain a greater competitive edge. The ELD deadline is your opportunity to begin the digital transformation necessary for a future-ready fleet.
Get the most out of your solution
The ELD mandate is both a benefit to your company and a protection for your drivers. Most fleets today are already using either automatic on-board recording devices (AOBRDs) or an ELD that may need to be updated to meet compliance requirements to track the duty status of their drivers. But with the new mandate comes a new set of standards on how that data is collected and reported. The mandate also can help: 
Improve tracking of trucks 
Reduce paperwork and better visibility into driver activity
Provide extensive records of duty (RODs) that can quickly be accessed during inspection stops, saving tremendous time for carriers and drivers
Protect from harassment by requiring drivers be given direct access to RODs
More thorough technical and security specifications
Meet updated regulations to incorporate emerging technology beneficial to the transportation industry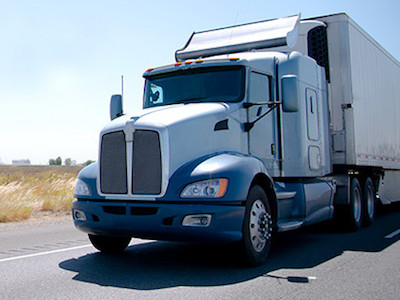 Transportation Solutions
Transportation companies are turning to technology to gain a competitive edge, reduce costs and create new efficiencies.
Compliance can boost your business through IoT and network upgrades
The ELD mandate can be an opportunity for companies to benefit from adopting new and emerging IoT technologies. The latest telematic devices go beyond mere visibility tools. Today's solutions can empower dispatch with analytical and predictive capabilities while giving drivers more agency over their professional well-being. A comprehensive IoT solution can empower your company with:
A highly secure network that enables you to collect data to better understand the performance of your drivers - Tracking productivity and equipment status in near real-time helps your company make informed decisions on how to optimize operations.
The foundation to more seamlessly adopt data-intensive tech - For instance, augmented reality can be used to aid in minor repairs on the road, potentially saving your company from deploying a service tech or another truck.
A shift from preventative maintenance to predictive analysis - Use data collected across your entire fleet to analyze the condition of your equipment. Foresee and address the need for maintenance before it impacts your operations and causes downtime. 
Lower employee churn - Recent stats reveal that for an employee who averages $45K a year, it costs a company $15k to replace them. Giving drivers tools that make their job easier may help improve employee retention and lower churn to save these costs.
The ELD mandate can be an opportunity for companies to benefit from adopting new and emerging IoT technologies.
Find your company's ideal ELD solution
Many companies are seeing similar benefits through compliance by working with a provider to incorporate IoT solutions backed by highly secure cybersecurity solutions. California Freight used AT&T tablet devices equipped with AT&T Fleet Complete® to build a recording structure that not only meets ELD requirements, but improves their efficiency. This connected platform can boost carriers' operational performance while giving them a selection of GPS tracking and management solutions from which to choose based on their business needs.
In another scenario, B&P Enterprises used AT&T Fleet Complete® to drastically reduce their Department of Transportation (DOT) violation fines by almost 80% in a 3 year period and save over $86,000 on their insurance in the first year of the service.
Other companies, such as Dupre Logistics and Cheeseman Transport, are using AT&T Fleet Management for Enterprise to track both their drivers and vehicles in near real time and better communicate with their drivers. The solution enables them to integrate other applications to extend the capabilities of their investment.
More than just driving operational efficiencies, your ideal solution for ELD can help reduce the high driver turnover rate, which the American Trucking Associations (ATA) said was at 87% by late 2018. Equipping your drivers with advanced IoT telematics that function as a single dashboard for ELD compliance, vehicle diagnostics, and service support can streamline the administrative and equipment safety aspects of their job.
A complete ELD solution offers a multi-layered approach that harnesses IoT and extensive network capabilities to ensure carriers meet all FMCSA standards. By working with a provider that can do both, you can identify opportunities for optimization, better assign loads, improve communications with your drivers, and provide better service to your customers. Now is the time to establish a highly secure network that serves as your fleet's intelligent backbone, adaptable to the ever-changing technology compliance standards — for today's ELD mandate and beyond. AT&T Business can help you get there.
Find out how AT&T Business is combining Fleet Management capabilities with IoT to help carriers meet ELD compliance and get more out of their mandated investment.