Financial firms need more integration and personalization
How data strategy and smart technology investments can fuel successful transformation
"Digital transformation" can be a vague and buzzword-y term, stretched to the limits of its definition by vendors and pundits alike.
At the heart of the buzz, though, is something very real: The digitization of business processes that enables everything from increased efficiency and smarter use of data to more engaging customer experiences. A transformed business can automate, analyze, quantify and evolve faster than its analog peers.
Financial services organizations are uniquely suited for digital transformation. Virtually all of their solutions deal with data: For example, financial advice, market analysis, and wealth management are focused on data and analytics. At a base level, currency itself is largely data now. When was the last time you had a customer pay for something in paper money?
It's clear that transformation is typically an imperative for financial services organizations to stay competitive and best serve their clients and customers. But it often takes strategy and smart technology investments to fuel a successful transformation.
I recently hosted a #BIZTALKS Twitter chat on this topic for AT&T Business. I was joined by an impressive panel of experts, including:
Dez Blanchfield, CEO, Sociaall Inc.
Theodora Lau, Founder, Unconventional Ventures.
Duena Blomstrom, Co-Founder and CEO, People Not Tech, Author Emotional Banking
Sally Eaves, Emergent Technology CTO and Global Strategy Advisor
April Rudin, Founder and CEO, The Rudin Group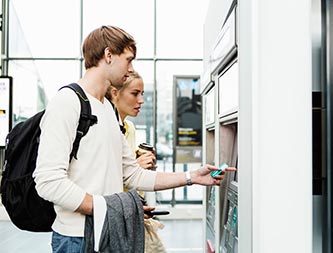 Financial Services
Inspire renewed loyalty, streamline operations, and position yourself to outpace competitors with integrated, data-driven solutions.
Here are the key points that financial services organizations need to know.
Transformation starts with infrastructure
The right software platform is a foundational layer for digital transformation in Financial Services. This back-end architecture can consolidate data, facilitate analysis, and ultimately enable a host of digital solutions through APIs. Advanced analytics, AI, robotic process automation, and customer experience tools like chatbots all depend on a robust information infrastructure.
"Financial institutions and insurance companies must invest in A.I. and data analytics," says Theodora Lau. "These should be table stakes for any orgs to remain competitive and relevant in the future."
In addition to software infrastructure, connectivity is a key component. Transformed processes rely on exchanging massive amounts of data at high speed, which makes network infrastructure indispensable. Dez Blanchfield puts it succinctly: "[Financial Services] providers should leverage 5G speed." 
Connectivity is even more important now, as many organizations are moving toward remote and hybrid work models. It's critical to make sure employees have the network capacity and tools they need to stay productive, while keeping data secure and compliant with rules and regulations.
Enhanced cybersecurity is crucial
Digital transformation is all about the flow of data through an organization — and cybersecurity is crucial to make sure that data stays in the right hands. As remote work increases and more devices come online — from cell phones to IoT sensors — we have to strengthen security and make it an ongoing concern.
On the tech side, cybersecurity solutions should focus on prioritizing data based on risk of disclosure, without granting anyone blanket access to all the data. This is what's known as a Zero Trust model: Each user is given only the access they need at any given time, with any unknown entity treated as a potential threat. Smart firewalls, DDoS defense, and managed security services are all part of enforcing this security paradigm. Says Theodora, "Operationally, we need to leverage A.I. and machine learning to make our security smarter."
The fight for cybersecurity isn't solely about technology, though; our experts agree that the human side of the equation is just as important. "VPNs are standard, but employees should be aware that their credentials and their data are always under threat," says April Rudin. "Extra effort should be taken to train workers on identifying potential phishing attacks."
Dr. Sally Eaves agrees, noting that investments in technology should be "coupled with investment in people, education and ethos."
Transformation enables a new way of thinking about financial services from the customer's perspective, one that's similar to the healthcare switch from "treating sickness" to "encouraging wellness."
Share this quote
Transform the customer experience, too
While digital transformation can dramatically improve business processes and employee experience, we can't overlook the potential for customer experience. Transformation enables a new way of thinking about financial services from the customer's perspective, one that's similar to the healthcare switch from "treating sickness" to "encouraging wellness."
With a vast amount of relevant customer data on hand, we can find specific ways to help people make informed choices about their finances, being proactive rather than just facilitating transactions.
April Rudin observes, "It all comes down to the data! Financial services organizations are able to collect more data and use that to deliver a streamlined, personalized, customer experience."
However, it's not just about the quantity of data available, says Theodora Lau. "Not all data is created equal," she says. "Financial institutions need to leverage A.I. and machine learning to better understand the mountains of data that they have, in order to provide the best and most relevant customer experience at the right time." The ability to analyze data automatically and surface the most relevant insights will be a crucial part of transforming customer experience.
Transformation is a journey
Digital transformation is an ongoing process. Even the most sophisticated, up-to-date organization today could find themselves falling behind as technology continues to mature. A big part of a successful transformation journey is committing to a mindset of experimentation, innovation and growth.
Visit our Virtual Expo Hall to learn more about how AT&T is empowering transformation for financial services organizations.


AT&T Business is a leading provider of integrated solutions for the Financial Services Solutions. Our unique ecosystem of technology, expertise, and highly secure global network can help you tackle today's challenges and seize tomorrow's opportunities.