Equinix honors AT&T Business with two prestigious awards
Global digital infrastructure company presents us with "Global Partner of the Year" and "Americas Partner of the Year" for 2021
AT&T earned two prestigious Equinix awards by consistently delivering immense value to customers' businesses using Equinix digital infrastructure solutions. AT&T Business won awards for the Equinix Global Partner of the Year and the Equinix Americas Partner of the Year for 2021.
Equinix is a global digital infrastructure company that interconnects organizations in finance, manufacturing, mobility, transportation, government, healthcare, and education across a cloud-first world. It has more than 240 data centers across 66 metropolitan areas in 27 countries. Equinix has more than 10,000 customers, consisting of more than half the Fortune 500. Its interconnected data centers around the world allows its customers to bring together and interconnect the infrastructure they need to fast-track their digital advantage.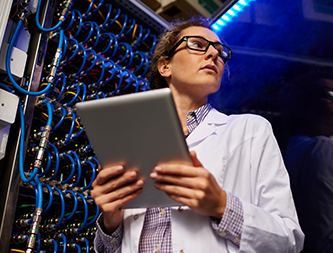 Cloud Based Solutions
Flexible, high-performance cloud services for the way things work today.
Pivoting with agility
According to Equinix, as enterprise business models morphed, AT&T pivoted with agility. In 2021, AT&T business increased collaboration with Equinix, leading to revenue growth and innovations in the creation and launch of new and enhanced shared digital services. Digital readiness continued to be a primary focus, and AT&T Business demonstrated exceptional leadership in helping customers adopt new digital business models quickly. AT&T Business continues to be instrumental in propelling customers forward on their digital transformation journeys.

At AT&T Business, we deliver integrated cloud solutions to help businesses move to the cloud confidently. Our solutions combine the power of our network, secure access to a robust ecosystem of cloud service providers, and an industry-leading cloud networking service.

About AT&T with Equinix

AT&T and Equinix allow businesses to implement hybrid multi-cloud strategies at the edge by placing critical infrastructure closer to customers and employees around the world while providing direct access to AT&T network services that reside in Equinix's International Business Exchange™ (IBX®) data centers around the globe. Customers get access to more than 10,000 companies inside of Platform Equinix as well as the ability to right-size AT&T network connectivity offerings to lower latency, increase flexibility, and improve overall network performance. The partnership has also emphasized sustainability, as demonstrated by the August 2021 announcement of a new collaboration between Equinix and the AT&T Connected Climate Initiative.
Why AT&T Business for your cloud?
We're committed to supplying the right combination of communication and connectivity solutions to fit your business needs. Our end-to-end cloud solutions scale with you, and our expert guidance and leading portfolio, we can help you drive business outcomes.
"AT&T is honored to be recognized as Equinix's 2021 Global and America's Partner of the Year. AT&T and Equinix are committed to guiding customers through complex digital transformation projects across multiple industries, including healthcare, financial services, retail, and manufacturing. Our combined services help leaders modernize and optimize their networks in sustainable and agile ways." - Rupesh Chokshi, VP of Product Strategy & Innovation, AT&T Business
Share this quote