Emerging tech that's changing FinServ business models
René Dufrene shares his background, optimism, and short-term predictions
Dez Blanchfield sat down with René Dufrene, General Manager of Finance Solutions, to hear about his background, what it brings to the Financial Services industry, and what use cases might be coming in the next three to five years. This article is Part 1 of a three-part series.
What's your background?
RD: "I grew up in Lafitte, Louisiana, which is a small fishing community, about 20 miles south of New Orleans. It's a wonderful place, a lot of outdoors living and family-oriented people in South Louisiana. I was very fortunate to have been raised there… I'm thinking I may be your first podcast guest who worked on a shrimp boat."
DB: "Absolutely. You are. How did you come to this role as GM of Financial Services Solutions at AT&T Business? That's a very broad portfolio."
RD: "I started my career writing software for complex systems. I worked for a defense contractor and then moved into the telecom space. My education is in math and software engineering. That gave me a good foundation for business and solution development. And that's really where I started to work with financial institutions (FIs), designing highly resilient and highly secure solutions for that community. I've led a couple of global alliances teams and have had the opportunity to travel around the world, North America as well as Europe. I joined AT&T Business about six years ago. I got the chance to lead the development of a new cloud networking solution. I did that for about three years and then interviewed for this job and really love it."
DB: "Fantastic. Well, it sounds like a pedigree for this challenge. I often find that folks that come into the business world from a technical, engineering, or software development space have a better appreciation for what's behind the blue flashing lights. We don't necessarily have routers and switches and servers just stacked up anymore with dedicated software. It's all very software-defined and things move quickly. I love to hear that you've traveled around the world because it also gives a much better view of what's happening on a global scale."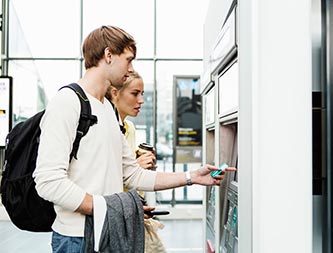 Financial Services
Inspire renewed loyalty, streamline operations, and position yourself to outpace competitors with integrated, data-driven solutions.
How does your work help the financial services industry?
RD: "I can honestly say every day is different. I could be meeting with industry analysts to get a better view of some of the trends that are shaping the industry that could be across any of the sub-verticals that we support. Think retail banking, insurance, payments, and wealth management. I have a great team working to help translate some of those trends into an AT&T value proposition, working with our product and integration resources to ultimately map that, and correlate that to solutions that help address some of these trends and challenges that our customers may be facing. I may go work with my excellent group of sellers that support our clients that have built strong relationships. They really understand the space. They're very focused. They understand the language of the customer and are very familiar with these solutions. And I'll provide them with materials, work with them, to present their clients.
I could be in our Executive Briefing Center, where we help develop the tools that customers need to be successful. Or I could be attending an industry event. That's a great time to meet with clients but also learn. I try to attend as many of the presentations as I can. And other days I'm spending time working on thought leadership pieces. Topics like 5G or IoT or the digital experience in Finance. So it's a multifaceted role. A little bit of everything, all with the goal of helping our customers address the trends and challenges they face."
DB: "I often ask my guests to do a little bit of crystal ball gazing for the next three to five years. What are some of the biggest shifts you think are going to take place?"
I think AR/VR is going to play a big role in in the future, for things like portfolio assessment, where someone can actually see all of your portfolio to better assist remotely.
What do you see happening within the next three to five years?
RD: "Continued incorporation of AI for helping consumers and improving business processes. I also see an increased use of IoT. Drones and IoT devices being used to change business models, being used to assess damage [for the insurance industry] through imagery, powered by 5G. That means you and I don't have to leave work and claims can be provided in a very accurate manner, more than they're able to do today.
I think AR/VR is going to play a big role in in the future, for things like portfolio assessment, where someone can actually see all of your portfolio to better assist remotely. Meeting a virtual subject matter expert to quickly to help you with a specific question, I could see that. I could see it being used for field appraisers as well. And more untethered services like the mobile financial center. There will be more complex transactions handled by [mobility solutions]. All of this needs to be incorporated where we still have a trusting relationship with our FI. So I think the future's bright. There are so many different possibilities."
Continue reading Part 2 of this three-part interview, when René discusses the state of the industry's transformation, the key trends and challenges, and whether there's a priorities gap between Line-of-Business and IT leadership.
Dez Blanchfield is a strategic leader in business and digital transformation, with experience developing strategy and implementing business initiatives in the IT and telecommunications industry. You can listen to his full interview with René Dufrene at the "Conversations with Dez" podcast.
AT&T Business is a leading provider of Edge-to-edge solutions for Financial Services Solutions and is the largest SD-WAN provider globally. Achieve smarter, more trusted interactions with business solutions that integrate our unique ecosystem of technology and expertise with our highly-secure global network to obtain near real-time intelligence from every corner of your enterprise.