eBook: AT&T Business is here for you with expert support
Learn how we're constantly evolving to serve you better, faster, and more reliably through innovation, more self-service options, and expert support
A 1,000-bed hospital ship providing emergency medical support needed immediate connectivity. A manufacturing plant urgently needed to troubleshoot an outage. An insurance carrier needed help boosting its cybersecurity.
What do they all have in common? Each of these businesses needed to make rapid technology decisions to move forward and continue caring for their customers. When they reached out to AT&T Business for help, they were able to not only find the right solutions to solve their challenges, but they received quality, attentive, efficient support from the teams that were assigned to them. Each of these businesses experienced the benefits of expert guidance and advice to help them make their decisions, self-service tools throughout the delivery process and into the use of their solutions, and quality care throughout. The healthcare provider, the manufacturing plant, and the insurance carrier were then able to quickly return to business as usual – running their businesses and helping their customers and clients.
We're ready to help you, too. The AT&T Business team—from first contact through the life of your products, solutions, and services, is dedicated to serving your business. We're always looking for ways to improve your delivery, support, and service experiences to make sure you have what you need from us and your technology. And the AT&T Business customer service teams  are trained and equipped to put your experience first.
In our At Your Service eBook, you'll learn how we deliver quality service and care to our customers through how we deliver, provide support, and provide additional service options to help manage the complexities of their businesses.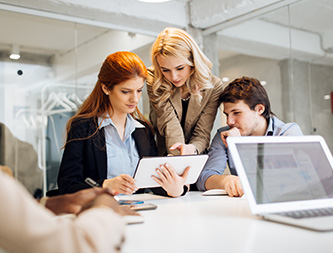 Network Services
Technology is changing rapidly and with that comes higher demands on your network while pushing bandwidth requirements to its limits.
We deliver for you
AT&T Business is committed to making sure you get your solutions as promised, so you can spend more time moving your business forward and serving your customers. To deliver your solutions faster, we've made significant investments to automate and streamline the ordering, delivery, and installation of your solutions.
Our investments are paying off. We have decreased our overall solution end-to-end cycle time by 20% to deliver solutions faster compared to 2019.
Self-service tools and expert support
To serve your customers without interruption, you need support that's available around the clock. AT&T Business offers a suite of self-service support tools to give you more ways to resolve a question or issue. These include Business Center support, online chat, and Express Ticketing.
Need more help? We have the AT&T Business customer service teams, including live agents, who are available 24 hours a day, 7 days a week. You can also count on your account team and expert support teams that are knowledgeable about your account and dedicated to providing help quickly.
For example, did you know that 30% of all support requests that we receive through EVA, our Enterprise Virtual Assistant chatbot, are resolved without them ever having to interact with a live agent?
Did you know that 30% of all support requests that we receive through EVA, our Enterprise Virtual Assistant chatbot, are resolved without them ever having to interact with a live agent?
Share this quote
Managed services for large enterprise

We understand that managing a large enterprise can be complex and require more care. Our Managed Services team can quickly tackle challenges and implement changes that address any questions or challenges you may have. 

AT&T Business customer service agents are highly trained to work across AT&T Business to make sure everyone is aligned to address your needs. Our teams can engage directly with engineers and manage any needed escalation. They can perform basic triage, remotely access routers, perform connectivity testing, and resolve carrier management and local access issues.
We have the experience and solutions to help you solve complex technological challenges. When you need help, we're here for you.
See how we deliver on our promise to you: to meet your expectations, respond quickly, and help drive your business forward. Download our At Your Service eBook.