Creating meaningful and shareable content for your audience
Download Part 3 of our 5-part series and learn to connect with customers through meaningful content
By now, amid this "new normal," you understand the vital need to utilize the power of social media for your business. You may even be researching which platforms are the best fit to spread your message. It is now time to perfect that message, and write meaningful, engaging content to reach your customers.
Where is your company's place in the market? Do customers know about your brand? How do you convert ideas into insight, motive into messages, and potential into prospects? The answer is all found in the development of your content.
In today's digital landscape, content can be anything you need it to be. From a video on Facebook® to a story on Instagram®, you determine the tools and build a path that converts leads into sales. 
What are the business goals of your content?
Aligning your content with your business goals is key to keep your competitive position. Do people know about your business? Do they know about your product or service? No one will know unless you tell them. AT&T Business and Fullscreen Media have developed a powerful tool for your toolbox to help build a better business in a COVID-19 world – the Small Business Social Media Playbook.
Here's what small and mid-sized business owners have learned so far: 
Today, it's time to move on to the fun with Part 3: Creating Content. 
By focusing on who you're creating content for, and leaning into your customer's needs, you can create content that provides value in meaningful ways.
Share this quote
Download Part 3 of this vital 5-part series to learn what you need for your small business on social media today!
During this step of the social journey, you will connect with your customers by learning how to do the following: 
Identify your tone, audience, and exact platforms for messaging
Create content that provides value and is meaningful
Connect with customers to reach your business goals
Be on the lookout for Part 4 to learn how to:
Elicit user-generated content
Become a storyteller
Transform your audience into a community
Learn how to reach your audience on social media today!
Download Part 3 of the Small Business Social Media Playbook, "Creating Content."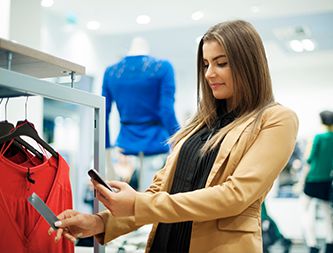 Retail Solutions
AT&T empowers retailers with data insights and secure technology solutions to help provide a powerful, connected consumer experience.