Creating an online community to make a difference
Download Part 4 of our 5-part series and learn how to show your audience they belong to a thriving, like-minded community
A loyal following on social media can be the difference between joining a conversation and leading one. Your audience wants to follow a brand they can connect with and follow others who have the same beliefs.
By supporting your organization, they become more than prospects or customers. These are the heart of your brand advocates online. They like, share, and discuss your content, which is a great way to grow your business.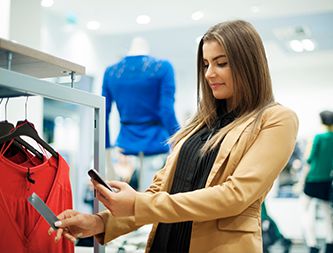 Retail Solutions
AT&T empowers retailers with data insights and secure technology solutions to help provide a powerful, connected consumer experience.
Your content really can build a community.
Learning how to navigate the sea of content on any social media platform requires study, but finding one audience who engages with your content is easier than it sounds. Start by doing some research on brands they follow and content they like. The key is to identify content that resonates with your audience. Then, you can create content that inspires people to participate.
By watching how your audience engages with your content, you can see what your audience profile is and start building a community connected to your brand.
You'll also have the opportunity to reach new customers using paid media (another way of saying social media advertising). Even with a limited budget, you can promote your posts or run paid media campaigns on key platforms to reach new customers while working towards your social media goals and objectives.
AT&T Business and Fullscreen have developed a powerful tool for your toolbox to help build a better business in a COVID-19 world – the Small Business Social Media Playbook. Inside, you will learn practical tips to help you expand your audience and engage with your brand.
Over the past few weeks, we have provided small and mid-sized business owners:
Now, it's time to really leverage the benefits of social media by showing your audience that they are not just customers, but part of a thriving community."
Share this quote
Download Part 4 of this vital 5-part series to learn what you need for your small business to be effective on social media today!  
During this step of the social journey, you will connect with your customers by learning to:

Build and strengthen connections with a social media audience
Foster a community of creativity
Learn key strategies behind using paid media
Understand how to promote your content with social media
What business owners are saying about the Social Media Playbook
Thank you! How incredibly kind and thoughtful. All of this has been obviously extremely hard on my business and even worse on my employees. I have a skeleton crew trying to keep things afloat. I worry everyday about my staff and have kept their health insurance in place but will not be able to do that much past summer if things continue as they are.
I spent the afternoon reviewing the Social Media Playbook and it has been amazing. I may reach out with more questions but I started to use these tips and have seen more sales in the last two days online that I have all month.
Again, I thank you so much for your generosity! You and your company are amazing for thinking of people and small businesses like me in such a tough time.
~Cathy H., Gift Boutique, Connecticut
Be on the lookout for Part 5 to learn how to:

Measure your success on social media
Quantify an ROI for your team and executives
Learn how to reach your audience on social media today!

Download Part 4 of the Small Business Social Media Playbook, "Expanding Audiences."