Connecting employees, customers—virtually all day, every day
AT&T Voice & Collaboration and contact center solutions are empowering remote connections and collaboration
Recent world events have redefined "business as usual" and have placed pressure on businesses to navigate an evolving landscape. In this new era of social distancing, businesses must address health and safety concerns while also embracing strategies to connect employees and customers.
In a new video, Rich Shaw, VP of Product Management for Voice & Collaboration Solutions, outlines how AT&T Business is using the power of the cloud to help customers connect virtually all day, every day. Here are a few highlights from the video.
Recent world events have redefined "business as usual" and have placed pressure on businesses to navigate an evolving landscape.
Share this quote
Meeting the evolving challenges
With the changes forced by the global pandemic, businesses were pressured to alter operations quickly to remain functional. Businesses need flexibility in receiving voice calls, text messages, chat, and even faxes. To help, we recently deployed our hosted voice service, AT&T Office@Hand. This solution can be implemented in minutes and provides soft phone capabilities. This type of agile implementation is critical for businesses who are pivoting operations during an unexpected challenge.
Meetings are also changing, and AT&T is supplying technologies that enable effective collaboration. WebEx Calling with AT&T offers "Find-Me-Follow-Me" capabilities so that employees can be reached from virtually any location with an internet connection.
Plus, in anticipation of the increased volume of users, AT&T invested in greater WebEx capacity to support the demand for virtual meetings and reduce latency and outages. Low latency video conferencing is vital for sustaining the interpersonal spontaneity that fosters creativity and collaboration.
Evolving the customer experience
AT&T Business is also improving customer experiences by providing more ways to engage. With AT&T Contact Center, along with AT&T Contact Center Essentials, your customers can connect with you via different channels such as voice, chat, social media, or video. With easy-to-use agent software, you can add remote agents within minutes.
Delivering a genuine omnichannel experiences can help improve customer satisfaction and reduce agent frustration by unifying siloed data and tracking each customer engagement. It's a great way to help eliminate frustrating obstacles standing in the way of customers getting the help they need.

AT&T Contact Center also uses Artificial Intelligence to intelligently route your customer's calls and personalize their agent interactions. This further enhances the quality of each customer encounter and reduces the burden on agents, who must ascertain customer needs.

We help businesses like yours connect virtually all day, every day, by harnessing the power of the cloud and our robust network.

Watch the entire video with Rich Shaw to learn more about AT&T Voice & Collaboration solutions.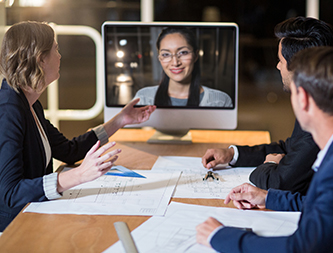 Voice and Collaboration
Empower your teams with solutions that can help you grow your business.