Connect your healthcare ecosystem with AT&T
Driving better healthcare outcomes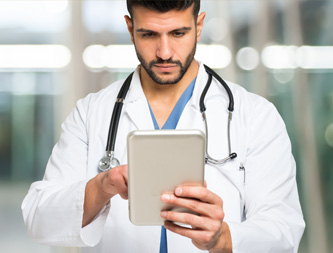 Healthcare Solutions
AT&T provides edge-to-edge technologies that help healthcare organizations orchestrate the transformation from healthcare to human care.
HIMSS also noted that traditional healthcare institutions are currently in a reactive mode, not leading the charge, but merely reacting to it. These trends also highlight the critical value of a digital network to the healthcare ecosystem, and no one knows more about delivering that value than Rod Cruz, General Manager of AT&T Healthcare Solutions. Rod sets the strategy for AT&T in the healthcare industry vertical and outlined that strategy during a recent "Conversations with Dez" podcast.
In the podcast Rod explained, "[AT&T] has learned a great deal about customer engagement in retail, finance, and hospitality. We are now applying that experience to help bring value to the healthcare ecosystem through two technology roles: solution integrator and connectivity provider."
With limited connected medical devices, the possibility of utilizing operating room data to improve efficiency, reduce cost and deliver better outcomes is eliminated.
In his discussion with Dez Blanchfield, Rod described how the carrier's technological advancements could also lead to better healthcare outcomes. A stunning example is how the AT&T Foundry for Connected Health worked with the Texas Medical Center in Austin to address dual challenges of getting patients to 1) quickly adopt and adapt to the use of prosthetics and 2) provide clinical proof regarding the realization of the desired outcome to healthcare payers. Working with Aaron Flores, Ph.D., Vice President of Hanger Clinic—the patient care subsidiary of Hanger and Andrew Dibello, Hanger's manufacturing process and systems leader, AT&T helped enable the delivery of prosthetic fit and comfort telemetry via wireless networking technology. By measuring movement and gate, caregivers were able to make real-time prosthetic adjustments leading to quicker patient adoption. This solution is expected to lead to higher patient mobility. According to a paper published in the October 2017 Prosthetics and Orthotics International, patients with higher prosthetic mobility also noted a higher quality of life and satisfaction.
Rod also shared, "Another surprising fact is that modern home appliances (i.e., refrigerator, washer, dryer, and oven) probably have more embedded connectivity than just about everything you may see in a hospital operating room. The fact that many medical devices are not connected eliminates any possibility of utilizing operating room data to improve efficiency, reduce cost, and deliver better outcomes.
A lack of healthcare industry investment into technology makes it difficult for many to deal with the rapid growth of data, connected medical devices, and the rising need for healthcare telemetry. AT&T healthcare solutions can help organizations overcome those missed intermediate investments so that they can begin to deliver better care through technological enablement.
And, with over 8 million patient records breached in a security event last year, a number higher than manufacturing, retail or finance industries, hospitals must begin to focus on enabling secure data links between these devices and the providers.
The understanding of these trends and the associated business challenges by AT&T uniquely positions them to build and connect your healthcare delivery ecosystem. Visit the AT&T healthcare solutions page for more information on the digital solutions that can transform your healthcare organization.