Closer to the edge
Bringing the cloud closer to customers can help lay the groundwork for the low latency and IoT solutions required by so many industries
At Mobile World Congress, AT&T and Microsoft announced their collaboration on Network Edge Compute (NEC) to enhance 5G for business. Microsoft will bring Azure capabilities to enable NEC in the AT&T 5G network. This exciting development is precisely the type of solution I envisioned in my recent blog, "Closer to the edge." In this follow-up blog, I will discuss how bringing the cloud closer to customers can help lay the groundwork for the low latency and Internet of Things (IoT) solutions required by so many industries.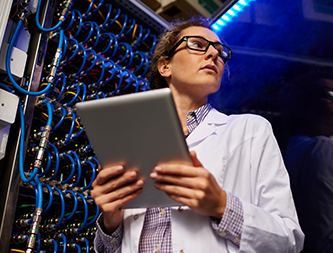 Cloud Services
Flexible, high-performance cloud services for the way things work today.
What is the edge?
These days you are probably hearing a lot about edge computing. Is the "edge" just another fancy way to reference what we've come to know as the "cloud?"
Well, by now most folks see cloud computing as relatively mainstream. Whether you've turned to a public cloud services provider or SaaS provider, most businesses utilize cloud technology in some way. In fact, it's typical that a firm may utilize several cloud providers, and many also retain a private cloud for more sensitive or legacy applications, creating an architecture commonly referred to as a hybrid cloud.
The edge, which is the first point of connection, doesn't replace the cloud. In fact, it very much complements the shift to the cloud. However, it's a confluence of business need and technological evolution that creates the use cases that make edge computing a necessity.
For example, we have the emergence of the IoT, which is changing the landscape in virtually every industry. Initial IoT use cases often communicated with and/or tracked "smart devices" that were connected to the network via sensors, and shared vital information about their condition or monitored events, typically storing data in a repository in the cloud. Such conditions might include a product being out of stock on a shelf, a temperature level exceeding a pre-determined threshold, or photographs of events triggered by a motion sensor.
Cloud computing is perfect to enable the explosive growth of data and applications that are required in a global IoT platform, however, the computing and analytics are dependent upon a generally centralized cloud. That means that the processing occurs well after any specific event may actually occur in the field. While the event may result in rapid response in some cases, the lag time between the event occurrence and the transmit time to and from the cloud, plus the application processing time, limit these use cases to cause-and-effect responsiveness. In a way this is the modern version of what used to be called batch processing, albeit leveraging the cloud.
Bringing compute power to the edge
As we enter a world of high bandwidth 5G networks, which deliver speed and low latency more equivalent to localized processing (e.g., the performance within a LAN) over a wide area network, new use cases are enabled. These use cases can provide near-real-time processing and interactive applications, in addition to all the functionality we've come to rely upon from a centralized cloud.
New, near-real-time applications can be enabled combining smart devices, IoT, 5G networks, edge computing, and public/private clouds that process applications closer to where they're used. The end result? New outcomes and capabilities.
For example, autonomous cars require split-second decision making (measured in several millisecond latency) in order to provide guidance and feedback that may direct turns away from an obstacle that unexpectedly appears in the road. Or, a doctor engaged in a simulation of a delicate procedure using VR/AR technology expects response times akin to human response times in the operating room as she practices her technique.
In these instances, and many others like them, edge computing must work interactively in near-real time with smart IoT devices to enable a successful outcome using software-defined networking (SDN) for faster access to data processing. SDN also provides the added benefits of flexibility and efficiencies by managing network traffic through on-premise hardware and software. Edge computing must house the intelligence and performance for enterprise-grade applications with local data flow that is critical for split-second decisions and processing. Centralized cloud(s), both public and private, are highly complementary and can be used for less latency sensitive application processing and analysis.
Thus, new, near-real-time applications can be enabled combining smart devices, IoT, 5G networks, edge computing, and public/private clouds that process applications closer to where they're used. The end result? New outcomes and capabilities.
Each of these technologies have been evolving, and some are significantly more mature than others. Up until now, hybrid cloud has meant a split between public and private clouds and using multiple public clouds. As this maturation continues, the definition of hybrid may need to expand to consider the workloads and data best served with edge computing versus those served in a centralized cloud. That's when we'll have made the next technological leap and will find ourselves closer to the edge.