See how this WNBA All-Star is inspiring athletes around the world
Chiney Ogwumike is using her impressive achievements to advocate for young women
AT&T has a long and storied history promoting equality. With the creation of AT&T Unlocked Games and through our ongoing relationships with the WNBA and as an inaugural partner of the WNBA Changemakers platform, we're committed to elevating women in sports and business. To continue that effort, we've launched "She's Connected by AT&T," a program supporting women athletes in the professional and charitable endeavors they pursue beyond competition.
Through the "She's Connected" program, we will offer four world-class athletes with the following tools and collaboration opportunities:   
Storytelling: The creation and distribution of each athlete's story in a documentary-style video campaign produced by the award-winning Courageous Studios, brand studio for CNN and HLN.  
Business services package: AT&T technology solutions, specifically curated for each athlete's business or foundation.  
Corporate mentorship: Access to the AT&T Aspire Accelerator mentorship pipeline to grow and scale their business or foundations.  
Personal brand-building resources: Access to brand marketing curriculum and virtual services created by AT&T.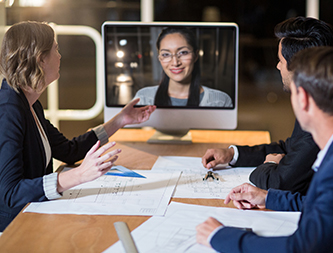 Collaboration Solutions
Empower your teams with solutions that can help you grow your business.
We're excited to spotlight our first "She's Connected" participant, Chiney Ogwumike. Chiney is a Nigerian-American professional basketball player, two-time Women's National Basketball Association All-Star, and ESPN analyst. She's also the first Black woman to host a national radio show for ESPN. Her success has inspired countless young athletes who aspire to follow in her footsteps. Whether it's a trip abroad to Nigeria to encourage girls pursuing their dream of playing professional sports, or as a coach and mentor invigorating her listeners over the digital airwaves, Chiney is motivating people and improving lives across the world.
A platform to inspire and unite
Common in all her efforts is Chiney's relentless devotion to setting a positive example for others. She uses her role as an ESPN analyst and professional athlete to demonstrate what's possible with single-minded determination and hard work. Her role as a radio broadcaster gives her an even broader reach. In support of Chiney's efforts, the AT&T Business services package provides a strong technical foundation for sustaining her positive message into 2021.
The suite of services includes:
AT&T Office@Hand: A cloud-based communication solution that provides all the features of a traditional business phone system without the complexity.
AT&T Wireless Broadband: 5G/5G+ and LTE wireless data connection services that with compatible equipment and coverage can augment or replace a traditional wired internet service for business-critical applications.
AT&T Business Wi-Fi with Cisco Meraki: Wi-Fi and wireless Local Area Network (LAN) service that provides a highly secure, managed public and private Wi-Fi network.
Whether it's a trip abroad to Nigeria to encourage girls pursuing their dream of playing professional sports, or as a coach and mentor invigorating her listeners over the digital airwaves, Chiney is improving lives and motivating people across the world.
Share this quote
Combining AT&T Business technology with AT&T marketing resources and mentorship will amplify the impact of leaders like Chiney and increase their positive influence on younger generations. Chiney describes her contribution this way: "It's through my work, through my grind, through my hustle—to be able to make pathways and opportunities for the next girl who has dreams like I did. You never know what that passion might mean to the next person."
For Chiney, genuine connections forge solidarity and build communities united in the cause of advancing women everywhere. "By working together, we make each individual voice stronger," she says. That's what "She's Connected" is all about.
Watch the video to learn more about how Chiney is inspiring young athletes around the world, or learn more about the "She's Connected" program.