AT&T Wins Big at MEF 2019
AT&T was named award winner of the MEF 3.0 Proof of Concept (PoC) in the category of Cloud Service Implementation at the MEF19 event held in Los Angeles.
AT&T, Fortinet, and Nokia worked closely with Taqtile, HPE, and Microsoft to develop our Slicing the Edge PoC as part of the MEF objective. Our PoC showcased real-world applications of the MEF 3.0 framework that accelerates industry transformation to dynamic and assured services orchestrated across a global federation of automated networks while showcasing the power of 5G network slicing with edge computing. Running a live 5G network, next-gen security, IoT sensors, video analytics, augmented reality, and compute processing, we demonstrate the value of three different locations operating in concert:
Multi-access Edge Computing (MEC) environment on-premise
Network Edge Computing (NEC) environment located adjacent to our network core providing a low latency environment and
Public cloud services connecting over the internet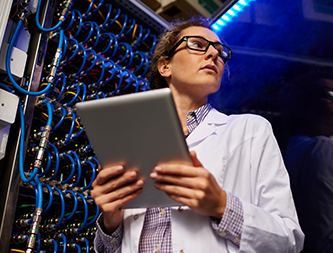 Cloud Services
Flexible, high-performance cloud services for the way things work today.
Each edge location mentioned above is serviced by a different slice of our network traffic showcasing dynamic network slicing, allowing customers to allocate dedicated bandwidth, cap it, and have it dynamically reallocate when needed.
Business benefits of such a solution include better security, control, flexibility, performance, and new immersive experiences. AT&T also earned MEF19 awards in the following categories:
Network and Service Innovation – North America
Network and Service Innovation - Global
Wholesale Service Provider of the Year
Enterprise Applications – Government
Service Provider LSO Leadership