AT&T @NRF2019: Your passport to digital transformation
See what AT&T has in store at retail's big show
Sponsored by AT&T Business
This month, Retail's Big Show, NRF 2019, will be held at the Jacob K. Javits Convention Center in New York City. AT&T will be there to showcase their ability to "Transform Retail" by delivering the retailer's passport to Digital Transformation. Featured solutions will include:
Dressing room "Magic Mirrors" that feature touchscreens customers can use to swipe through a store's options. when an item is selected, the customer can buy it off the rack or have a robot create the custom garment to be delivered via drone;
"Endless Aisle" applications that provide a more personalized experience for retail shoppers;
The "Connected Cooler" which helps retailers improve visibility into the status and productivity of their coolers as well as helps to improve sales; and
A "Smart Shelf" that can communicate to the supply chain to send a new shipment or verify when the next product shipment is in transit.
Supporting these solutions will be streamlined operations and inventory visibility capabilities, namely:
AT&T Venue analytics and
Wi-Fi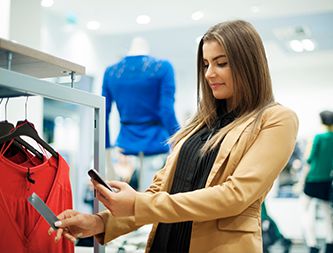 Retail Solutions
AT&T empowers retailers with data insights and secure technology solutions to help provide a powerful, connected consumer experience.
The key to retail success is using technology to solve business problems. This truism is why Dez Blanchfield jumped at the opportunity to interview AT&T Vice President of Retail, Restaurant, and Hospitality, Michael Colaneri.
After growing up in upstate New York, Michael attended the university systems of both New York and California before completing his MBA at the University of San Francisco. Soon afterward, he found himself at AT&T where he has been very successful for the last 25 years. Over those years, Michael has worked within retail as a passionate observer of the evolving retail consumer. Today, he sees consumers as individuals familiar with technology that also have ever increasing aptitude, skill, and expectation around the adoption of new technologies. According to Mr. Colaneri, this means that retail, restaurant, and hospitality businesses must establish and enhance their ability to keep pace with what these consumers are expecting. They need to create, drive, and deliver an experience that the consumer will want and desire. In this environment, technology has surfaced as a key component.
Gone are the days when customers would drive to shopping malls to walk around. The shopping mall has been replaced by the smartphone that's used to do research and preparation, in a customer's own time, before arriving at a retail destination. Today, customers are looking for a convenience factor. They want to get in and out quickly. This expectation represents a fundamental industry shift in retail. The retail business model has also changed. The profitable model has gone away from deploying tactics to drive traffic into the store and to increase consumer dwell time in the store. It has now morphed into providing an experience for the customer that has already purchased the product online and has just come to the store to pick up the merchandise. Technology is now a significant enabler of this now preferred experience.
Technologies that AT&T are showcasing at NRF2019 can be used to deliver a brand's desired experience, feel, and more importantly, the differentiation that they want to create. Another underappreciated fact is that while retail business problems are relatively consistent across different nations and global regions, the technology isn't. Some regions of the planet are more developed and have less legacy infrastructure while others may need to deal with older systems. This differing technology not only drives consumer technology proficiency, but it can drastically affect how the desired experience can be implemented. The implementation of both advance and vintage technologies is yet another area where AT&T can deliver exceptional value.
Learn more and get your passport stamped for Digital Transformation by visiting AT&T, Booth #4647, at NRF2019. If you can't make it to New York, visit AT&T's Retail Solutions page.