AT&T integrates 5G with Microsoft Azure to enable next-generation solutions on the edge
AT&T and Microsoft have ramped up innovation of their strategic alliance to enable new 5G, cloud and edge computing solutions. Following the initial announcement, the companies have announced select availability for AT&T Network Edge (ANE ) technology, which connects Microsoft Azure™ cloud services to the AT&T software-defined, virtualized 5G core (the Network Cloud). The ANE capability will enable developers using Azure-compute to deploy applications on infrastructure at the network edge, which can substantially reduce latency and improve user experience. The model will ultimately support deployment of industry leading cloud application services at geographic locations that are closer to users and business locations. This will give more users enhanced access to cloud resources, along with the chance to further optimize their usage with 5G and other high-performance connectivity services from AT&T. These advantages will be important for cloud and IoT solutions that require lower latency, such as those used in manufacturing, retail, healthcare, finance, public safety, entertainment and other industries.
The ANE technology is available now for a limited set of select customers to conduct testing in Dallas and Los Angeles. As announced  the new Los Angeles preview location of Azure Edge Zones with AT&T is offering an early adopter program for customers to build and experiment with latency sensitive mobile applications.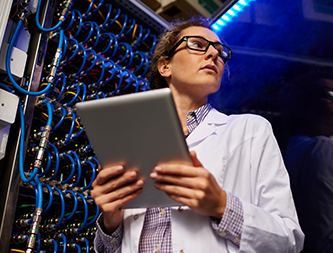 Cloud Based Solutions
Flexible, high-performance cloud services for the way things work today.
One example of how edge computing can unlock new experiences is in mobile gaming. Game Cloud Network, a leader in game and app development solutions, is one of the first companies to use AT&T-enabled ANE to give users optimized, low latency mobile connectivity. ANE allows Game Cloud Network to highlight its new multi-player and interactive "Tap&Field" mobile gaming experience, using Microsoft's Azure and PlayFab services deployed at the AT&T network edge to provide players with near-real time interaction enabled by the speed of 5G-connected devices.
In addition, AT&T and Microsoft are exploring proofs-of-concept supporting augmented and virtual reality, and drones. Both companies worked with Israeli startup Vorpal, helping its VigilAir product track drones in commercial zones, airports, and other areas with near-instant positioning. Another successful proof of concept recently demonstrated at the AT&T Business Summit featured an innovative immersive training experience powered by ANE. The participant's objective was to perform a field landing gear equipment inspection in less than 10 minutes by following procedural step-by-step instructions cleverly embedded into an Extended Reality (XR), immersive experience. The participant put on a HoloLens 2 device that was connected via AT&T's 5G network using millimeter wave spectrum through a 5G mobile hotspot to Taqtile's Manifest application running live on the ANE platform in Dallas. This solution enabled customers to experience content rendering overlays, IoT sensor alerts, streaming video and remote expert assistance in an optimized, virtually-realized experience. Users are on the precipice of unlocking a multitude of 5G and ANE use cases, with XR digital experiences being the tip of the iceberg.
Closing thoughts
ANE, when deployed more broadly, will give businesses access to compute power closer to the network edge, leading to improved latency and optimized network routing, ultimately reducing the need for dedicated on-premises hardware. ANE is being designed to use AT&T high-bandwidth millimeter wave spectrum (5G+) where available, which opens eventual new possibilities for ultra low-latency mobile applications.
How might ANE work in your business?
Get high-performance cloud services virtually accessible using AT&T mobile and wireline connectivity. To learn more about the ANE trial program, services, and availability, please submit your request here for more information, or contact your AT&T account representative.
Request info
To get sales help from a Business Solutions specialist, please complete this form.