5 priorities driving the renaissance of the store
Why retailers are investing in a more robust digital experience this year
As digital influence over retail sales continues to increase, so too do shopper expectations. And closing the gap between expectation and reality is no simple — or cheap — task. But it's the customer desire for more accommodating and digitally savvy store experiences that is motivating retailers to increase their store-level investments by 5%. So, what does that change look like in 2019? Here are five ways retailers plan to re-focus and re-invest. The statistical references in this article are based upon a quantitative survey of 77 retail executives across key business functions of retail organizations investing and planning digital transformation in their store ecosystems.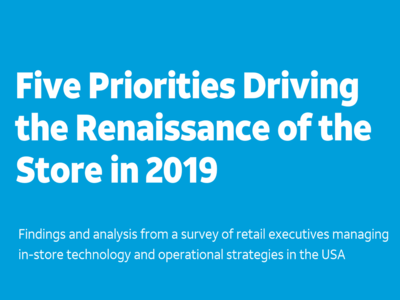 New focus, new investment
2019 investments are set to match the store's role as the hub of omnichannel commerce. See how some of today's retailers are investing in brick and mortar.
#1: A Focus on Product Availability
With online shopping at an all-time high, 68% of retailers are turning to inventory control and merchandising to help improve their omnichannel customer experience. Pickup, delivery, and shipping of online orders has added a layer of complexity to visualizing the bigger picture, and without a comprehensive view, retailers are losing big.
To correct this trend, many retailers have made achieving a single view of inventory across all channels their number one investment priority in 2019, according to the research. Mobile inventory lookups for employees and customers and the use of technology for inventory visibility and management follow closely behind as the next investment priorities.
#2: The Importance of Convenient Shopping
Omnichannel strategies are also affecting the way retailers approach in-store layouts, with 45% of them planning improvements to their current layouts in the coming year. From smart dressing rooms and customer Wi-Fi to digital kiosks, retailers are catering their store experiences to meet the demands of their shoppers  — demands for efficiency, convenience, lifestyle and service.
39% of retailers are planning to take their layout improvements even further by experimenting with entirely new store formats, whether that be a smaller footprint, a pop-up, or a flagship. And, it's all in hopes of driving the next generation of customers to their stores.
#3: An Investment in Immersive Marketing
Over the past 24 months, in-store marketing technologies have matured considerably, enabling retailers to interact with their customers in new ways.
For over half of retailers, that means an increased investment in clienteling and endless aisle, digital signage, and proximity-based marketing — the first of which is the #2 investment priority for retailers in the coming year. Investing in customer-facing and operational technologies like these can help provide a more personalized experience for their shoppers
#4: Understanding Customer Insights
When it comes to prioritizing investments in the coming year, many retailers are turning to customer insights to guide their decisions. 52% of them plan to enhance these insights through cross-channel sentiment analysis, as well as video traffic counting and dwell time analytics. Utilizing analytics from these initiatives can help drive better investment decisions and identify points of friction in the customer journey, both are fundamental to the success of their overall store experiences.
#5: Shifting into Operational Readiness
As the role of the store has changed, retailers have added a great deal of complexity to their operations. With the rollout of new digital technologies – such as contactless payment options, smart shelves, and SD-WAN enabled networks – the expansion of fulfillment options and the resulting redesigning of stores, operational excellence is critical. New processes, such as optimizing in-store labor, need to be in place to account for their increased complexity. Technology and processes are only as good as the people using them.
Many retailers have made achieving a single view of inventory across all channels their #1 investment priority in 2019.
Share this quote
The Role of Emerging Tech
When considering retailer priorities for 2019 it is also important to evaluate the role of emerging technology to achieve successful execution.
With 70% of retailers planning to spend on IoT applications, and 40% on AR/VR applications, according to the research, these technologies are seeing greater investment than ever before — an investment that retailers are hoping will place them well ahead of their competition.
Confidence in the Years Ahead
More than half of today's retail sales are influenced by digital touchpoints, and it's a number that will continue to grow alongside shopper expectations. Clearly outlined priorities along with a defined strategy and the right technology partners can help you exceed those expectations in 2019 and in the years to come.
Source: Incisiv. (2018). Five priorities driving the renaissance of the store in 2019.West New York, New Jersey: Author.