What's delaying the retail omnichannel revolution?
Learn about omnichannel contact centers in the retail industry
The genie is out of the bottle for the retail sector and its customers. But while customer expectations may have changed irreversibly, some retailers are delaying the deployment of solutions that can satisfy them.
Today's typical retail customers have more than one way to find and buy what they need or want, and more than one way to have the whole experience tailored to their personal preference. If it's still true to say that "the customer is always right", then the winners in retail will be those who can deliver that experience.
Virtual retail models
Physical stores and foot traffic have been supplemented – or replaced – by virtual retail models that are transforming traditional notions of service and satisfaction.
Consumers regularly start shopping on one device and then finish it on another. So, when a quick search on a laptop uncovers the right item at the right price, wouldn't it be great if a phone call to a customer service representative could confirm availability, and maybe even process the transaction?
The alternative is simply an abandoned shopping cart and another search that could result in a lost sale to a competitor with an omnichannel contact center.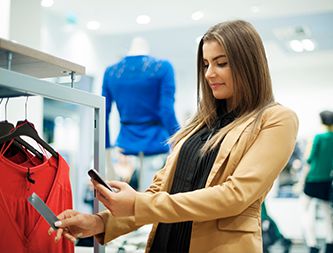 Retail Solutions
AT&T empowers retailers with data insights and secure technology solutions to help provide a powerful, connected consumer experience.
Data-driven, omnichannel contact centers
The fully integrated, data-driven omnichannel contact center enables retailers to host multiple communication channels on a single platform.
For the customer, that can mean a near seamless experience, regardless of the path they take. Across touchpoints, the customer benefits from a truly "joined-up" shopping experience with contact center agents who can integrate real-time data with accurate and highly responsive customer service.
For the retailer, a data-driven omnichannel contact center means greater customer insight and operational intelligence. According to a study by the Harvard Business Review, 73% of shoppers used multiple channels during their shopping journey. Similarly, in addition to larger purchases, within six months after an omnichannel shopping experience, these customers experienced 23% more repeat shopping trips to the retailer's stores and were more likely to recommend the brand versus those using a single channel.
The case for an omnichannel contact center is powerful. However, in spite of the fact that omnichannel shoppers will spend up to three times more than single-channel shoppers, it appears that 85% of retailers don't have a well-defined omnichannel strategy.
For the retailer, a data-driven omnichannel contact center means greater customer insight and operational intelligence.
Migration challenges
While data, decision-making, and siloed control of key channels are contributing factors, it's also easy to see why some retailers find the idea of migrating to an omnichannel platform a daunting prospect – despite the rich rewards.
With challenges such as legacy infrastructure, CRM integration and Unified Communications to consider, the task of moving toward omnichannel demands a hybrid set of skills, insights, partners and technologies to be successful.
With over 30 years' experience working with contact center executives, AT&T can help retailers find the right mix of technology, the right partners and the right strategic operating model to deliver an integrated, omnichannel customer experience across the entire retail customer-facing enterprise.
To find out more about the challenges and solutions for retail customer success, read the Market Briefing: 'Transforming the Retail Contact Center'.