Understanding how fiber can help your business
AT&T Fiber delivers highly reliable, low-latency internet connectivity for cloud-based applications
More companies are using cloud applications to perform essential tasks. Yet some are finding it challenging to sustain high-speed connections for those resources so employees can access the tools they need to complete their work. When the company's connection to the cloud isn't reliable and cannot support the applications and employees that rely on it, the business can fall behind in operational performance and in delivering a quality customer experience.
AT&T Business stays connected with how businesses use technology to connect their employees, customers, hardware, and applications. Connectivity to cloud-based applications is a focus for many business leaders. We're currently witnessing a global transformation in how businesses connect and prioritize changes in their network and operations. These changes include the way cloud-based applications are increasing the demand for more reliable business internet access that offers the speed many applications demand.
Improving cloud access to help increase productivity
The growing number of powerful cloud-based applications entering the marketplace is leading to more companies transitioning away from on-premise data centers to investing in alternative ways to store and move their data. For example, many companies are moving productivity resources into the cloud. Business Insider reports that, "While it used to be the norm for companies to own and operate their own data centers, the amount of business software running on traditional servers is set to shrink to 32% of all enterprise applications by 2022, roughly half what it was in 2019."¹
While this cloud-first approach is creating new efficiencies in data storage, it's also creating a greater need for highly reliable, low-latency internet connectivity. Now, cloud-to-internet connectivity is a more essential component to sustaining productive and efficient business operations. Newer types of internet connectivity offer improved performance over traditional technologies, but migrating away from old infrastructures and adjusting connectivity parameters can pose challenges. The good news is that there is a solution for this challenge that not only offers improved performance over older technologies, but the ability to easily provision increases in speed. That solution is fiber connectivity, and it forms the backbone of AT&T Business intelligent network solutions.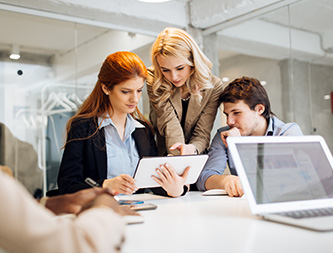 Network Services
Technology is changing rapidly and with that comes higher demands on your network while pushing bandwidth requirements to its limits.
What is fiber? Understanding what's unique about fiber connectivity

There are many forms of internet connectivity including Digital Subscriber Line (DSL), cable modem, wireless, satellite, and Broadband over Powerlines (BPL). In addition to these are fiber connections, also known as a fiber optic network, or simply "fiber." This is an internet connection established using fiber optic cables transmitting light. Due to the speed at which light travels along a fiber optic cable, fiber internet supports symmetrical upload and download speeds up to 20 times faster than traditional cable internet connections. The ability to support symmetrical transfer rates—rates for the sending and receiving of information—helps make fiber an attractive choice for businesses that rely on a fast link to the cloud for performing routine business operations.
Another quality that sets fiber apart is its high reliability. Unlike other forms of internet such as DSL which can suffer outages due to inclement weather, fiber cables provide a more consistent connectivity. If your business depends upon highly reliable access to cloud resources, fiber's consistent performance makes it a good choice.
AT&T fiber optic connectivity can supply a stable base for cloud accessibility
AT&T Fiber connectivity boasts 99.9% reliability and can form a vital part of your organization's network architecture to help provide highly reliable access to cloud-based applications. Mix and match connection types to help achieve the diverse infrastructure needed for particular operational objectives.
With more than twice as many fiber locations as other providers, AT&T Business supplies more than 625,000 U.S. buildings with fiber connectivity for a total of more than 2.5 million business locations. And our fiber solutions are quick to deploy and provision. We can have a location up and running in 5-15 business days wherever fiber service is available. Choose from a number of Business fiber internet solutions, including Global (Multiprotocol Label Switching) MPLS, internet, and ethernet, available in 195 countries and totaling 100Gbps of access.
One of the most critical factors to consider for cloud application access is speed. How fast is AT&T Fiber? Our fiber broadband speeds range from 25Mbps to 1Gbps, with other fiber connections from 2Mbps to 1Tbps.
As more businesses embrace a cloud-first architecture, the need for highly reliable, low-latency internet connectivity becomes increasingly vital.
Share this quote
AT&T Business customers benefit from our industry-leading connectivity,² which offers the following features and benefits:

Integrated Services: A comprehensive and robust portfolio of solutions that work well together to meet the needs of a business's sites, to help achieve desired business outcomes.
Shared data centers and cloud access: Proactively building capacity to shared colocation data centers –providing fast, highly reliable, and highly secure access to preferred cloud service providers. This includes 400+ U.S. carrier hotel locations, with deployment to 38 locations outside the U.S., as well as a full suite of local and long-distance software-defined solutions.
Provisioning: We can quickly turn up connectivity in days versus weeks. With AT&T Dedicated Internet and AT&T VPN, we can deliver high speed business class services in 5-15 days.
Speed: Ultra-high-speed ethernet connectivity options up to 100G+ that can easily scale to meet specific digital transformation and business needs.
Reliability: We deliver on our connectivity commitments with industry-leading SLAs for up time and time to repair.
Performance: Fiber is the backbone of the AT&T Network – which became 75% virtualized in 2020 – enabling better performance, lower latency, less jitter, stronger signal strength, and better aggregation of data.
Location: With the nation's largest fiber footprint, we have the right connectivity where it's needed, so more locations are on or near our fiber. AT&T Business is committed to investing in fiber for the long term – so more businesses will be within our fiber footprint. Explore business fiber internet near you
Guidance and Support: Trained experts are dedicated to our fiber network, solutions professionals, and industry specialists who can uncover how fiber connectivity will meet unique networking and business needs today and beyond.
Today's businesses need solutions to help provide continuous, high-speed accessibility to cloud applications. Fiber could be the right choice . AT&T Business is here to help navigate the complex and evolving technology landscape—we're working hard to understand our customer's business so we can supply the right insights, guidance, and solutions needed. More than any other technology provider, we're dedicated to success and we're here to help at every stage of the innovation journey.  
Learn more about AT&T Business fiber internet connectivity.
¹ Business Insider, "Why companies are flocking to the cloud more than ever," February, 2021
² Vertical Systems Group, "2020 Global Provider Carrier Ethernet LEADERBOARD," March 2021