Welcome back guests with safety solutions to boost confidence
Greet returning consumers with a more engaging, highly secure experience
Having the ability to travel for both business and pleasure, dine out, and participate in social activities is an essential part of life for people across the globe. Hospitality-related companies often go to great lengths to create an experience that not only delivers a memorable experience for guests and patrons, but one that also encourages them to return time and time again. In recent years the industry has struggled with the one things they cannot control – change. During periods of transition such as these, AT&T Business has adapted to help companies adjust, offer guidance and advice, discover the right solutions to remain agile and responsive to evolving customer needs.
The new normal for hospitality
After a pause in travel due to the pandemic, consumers are beginning to resume spending and return to their former habits, which includes activities such as dining out, travel, and leisure. Expectations and behaviors have changed, however, and businesses preparing to welcome back customers should consider whether their current technology infrastructure is able to satisfy returning crowds.
It's clear that health and safety priorities will likely continue to weigh on patrons' minds for the foreseeable future. Deloitte notes that "Trust will play a pivotal role in enabling organizations to recover and rebuild in the near term, and thrive in the long term."¹ Retail and hospitality businesses are expected to feel particular pressure to conform to new standards of service. Deloitte also reports that "Services is set for a strong rebound as people travel more, attend sporting events, go out shopping like they did in 2019, and return in droves to restaurants and pubs."² With the crowds come opportunities for hospitality and retail businesses to demonstrate an ongoing commitment to customer welfare. Deloitte continues: "Every hospitality-sector business will need to actively engage with consumers and communicate the steps they're taking to keep customers and employees safe—and demonstrate how they're living up to those commitments at every point of interaction."
Businesses hoping to make a strong impression upon returning customers should consider taking proactive steps to help guests feel as comfortable as possible. This may require incorporating new solutions that reassure them that their wellbeing is a priority. By embracing new technologies, businesses may reap a competitive advantage and develop customer loyalty. The question remains: How can technology assist to enhance guest safety and experience?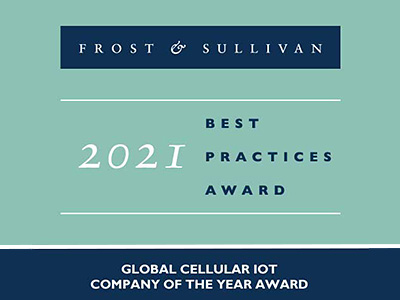 Internet of Things (IoT)
Drive your innovation into the future with our best-in-class IoT solutions. Discover why we're recognized by Frost & Sullivan as the 2021 Company of the Year for Global Cellular IoT.
Guest safety: Help promote physical and emotional welfare to keep customers returning
Rather than take a narrow view of guest safety, hospitality and retail businesses should seek opportunities to demonstrate their commitment to keeping customers comfortable and confident that providing a clean, healthy environment is being considered throughout their visit. This broader conception of safety includes physical wellbeing within restaurants, resorts, and hotels, as well as medical health.
In addition to the new standard precautions expected of hospitality and retail staff—such as frequent cleaning and sterilization—this more inclusive notion of customer safety demands that businesses reconsider how routine interactions might benefit from technological overhauls. From Point of Service Transactions (POS) and wayfinding signage to physical security and beyond, businesses should review how they can implement new solutions to help assure the public of their commitment to customer wellbeing.
Introducing contactless payments to safeguard physical wellbeing
By now, most customers are accustomed to alternative POS systems offering limited or no personal exposure to employees, clerks, or vendors. Popularity of these systems were growing before the pandemic. Now that more businesses see the conveniences they offer, these distanced payment options are likely to remain popular with customers that prefer a hassle-free purchase experience.
Many solutions support touchless and contactless payments while also supplying businesses with useful customer insights. They can integrate these systems with their existing terminals and point-of-sale infrastructure to establish a link with their customer loyalty programs. As customers pay using their smartphones or credit cards, the system captures loyalty program ID numbers and catalogs customer shopping preferences to enable more personalized promotional opportunities.

Another benefit of contactless payments is the reduced number of errors due to the fully-automated process. Contactless POS systems are suitable in a variety of transactional locations including, but certainly not limited to drive throughs, counters, and curbside locations—wherever customers appreciate flexible, convenient payment options. It's a great way to demonstrate consideration for customer preferences while also gaining a better understanding of their shopping habits.

Improving physical security with IoT solutions that deliver peace of mind

Internet of Things (IoT) technology offers hospitality and retail businesses inconspicuous methods of helping protect staff and guests from unauthorized visitors onto physical premises. AT&T Staff Alert is one such solution. The technology can be used in two ways to help secure properties and hospitality employees: either as personal panic buttons for use in emergencies to summon help to rooms and level locations, or as a smart IoT device for monitoring the status of equipment, amenities, and resources.
AT&T Staff Alert is comprised of portable, lightweight IoT tags or buttons with LED lights and audible alerts. Each hotel, resort, retail space, or common area can be equipped with a Bluetooth and an ultrasound beacon to transmit an alert signal. When activated by a staff member, the device pinpoints a worker's location. Alternatively, it can be assigned to an asset to monitor its status at any time.

This non-invasive solution provides staff a quick method to call for assistance in the event of an emergency. In addition, this delivers an additional layer of security for guests to not only protect them, but help to mitigate property liability. It's a simple method of bringing a virtually real-time security alert system on premise.

Businesses hoping to make a strong impression upon returning customers should consider taking proactive steps to help guests feel as comfortable as possible.
Share this quote
Video intelligence: Near-real-time protection and detection for crowds and high-traffic spaces
AT&T IoT Video Intelligence is another solution that can improve the guest experience for hospitality. This solution delivers a robust, on-premise or cloud-based visualization platform that provides investigative benefits, incident management, and powerful workflow and analytic capabilities. With advanced features such as the ability to scan for elevated body temperature, video intelligence enables businesses to monitor guest populations and help promote physical safety and compliance with health protocols.
Businesses can use AT&T IoT Video Intelligence to set near-real-time alerts to notify personnel of unauthorized access to critical or secured areas or buildings. Or they can use it to identify objects left in common walkways and gathering areas, all from the comfort of an internet-enable device.

Other AT&T IoT Video Intelligence features include:

People counter

Queue detector
Activity visualizer
License plate recognizer
Parking space analyzer
Traffic analyzer
These capabilities empower hospitality and retail businesses with tools to better manage and oversee their premises. AT&T IoT Video Intelligence enables businesses to make faster, more informed decisions in near real-time so they can respond to incidents, protect guests, and enhance experiences.

End-to-end connectivity for a more satisfying guest experience

While not itself a safety solution, a powerful, highly secure network forms the backbone of a comprehensive set of property- and safety-enhancing solutions. Such a network can support IoT devices, Artificial Intelligence (AI) resources, digital signage platforms, and POS systems that can reinforce a business' commitment to guest welfare.
By upgrading to a more powerful network infrastructure, businesses can help modernize their safety capabilities and enrich their property with the following guest-friendly solutions:

AI and IoT tools to ensure guests receive a personalized experience

AT&T Staff Alert
AT&T Cybersecurity for highly secure guest transactions and improved data integrity
Digital Signage solutions and kiosks for providing wayfinding, display videos, feature interactive content
AT&T Business is here to help your business make guests feel comfortable in their return to your properties. More than any other solution provider, we demonstrate our commitment to helping you grow your business and provide a safe space for your guests and employees. Whether it's providing physical security enhancements or delivering convenient digital experiences, we can assist you in selecting the right solutions for your business needs.

Learn more about the solutions we offer the hospitality industry so we can help keep your business moving forward.

¹ Deloitte, "The future of hospitality: Uncovering opportunities to recover and thrive in the new normal"
² Deloitte Insights, "A spring in consumers' steps: Americans prepare to get back to their spending ways," June 2021