Unified communications and digital transformation
Like the term Unified Communications (UC), the term "digital transformation" has a broad meaning that is evolving. For organizations prepared to take advantage of UC's digital transformation, UC is adding new business value to collaboration.
Unifying the communications of your changing workforce
One way digitally transformed UC adds value to your organization is adapting to—and attracting—the shifting demographics of your workforce.
Demographic shift isn't just changing the workplace—it's changing the nature of work itself. Your workers are the ones doing the collaborating, so it's essential to understand their needs. By 2075, millennials (those born between about 1980 and 2000) are forecast to comprise 75 percent of the global workforce. Generation Z isn't far behind.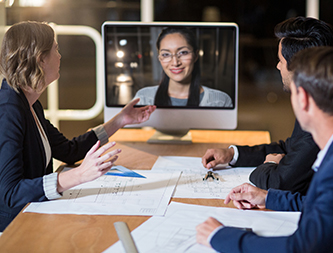 Collaboration Solutions
Empower your teams with solutions that can help you grow your business.
Unlike earlier generations, their workplace technology expectations are largely being shaped by their consumer lives. That means having a great user experience, along with ready access to whatever applications they need, across virtually all networks and devices.
First-generation UC can support all of this somewhat, but not to the extent that workers expect in 2019. Not only do they need a more dynamic solution, but Information Technology (IT) needs a better roadmap to deliver it and find the right partners who can support it.
Reshaping the UC ecosystem
Cloud, mobility, Artificial Intelligence (AI), and Internet of Things (IoT) all play a distinct role in reshaping the ecosystem and value proposition of collaboration.
Cloud means having a consistent set of tools and interfaces, whether working from the office or remotely, such as from home or a client site. Mobility means being able to collaborate just as effectively from a smartphone as from the desktop. AI means using chatbots and digital assistants to automate tasks and streamline workflows. IoT means creating new data streams from "things" to help teams work on more complex projects.
As these technologies mature, AI will take on an even bigger role in automating workflows that will free workers to be more productive in other key areas: creative problem-solving and pursuing breakthroughs to make the organization more competitive. AI also fosters the agility that executive leaders now value so highly.
The possibilities for collaboration to drive new business value have actually never been better.
Share this quote
Implications
What does this mean for you? First, organizations need to move beyond the telephony-centric models of UC. Second, it's key to have a more holistic view of the relationship between collaboration and everything around it.
By embracing the cloud, companies can better support distributed organizations, especially those with a global footprint. By embracing mobility, organizations will be able to properly support workers where they are, as opposed to where it's assumed they work. Embracing AI will open up a new world of analytics that will not just provide new metrics for worker productivity, but also enhance the use of network resources. This will also make APIs more accessible, and that translates into customized applications for specific collaboration tasks, job functions, or team requirements. Finally, IoT represents where collaboration is going beyond 2019: deeper integration with digital assistants, and the emergence of VR and AR applications that can literally add a new dimension to team work and collaborative problem solving.
This represents a value proposition that goes well beyond first generation UC. The possibilities for collaboration to drive new business value have actually never been better, and the missing piece is finding the right partner.
Some opt for a piecemeal approach and align with specific vendors for each application, but that's getting harder to do given the trends. A better approach is to use a singular partner that has already integrated the best-of-breed applications into a tightly-integrated platform.
To whatever extent you're ready for cloud-based collaboration—either full-on or hybrid—there are two pieces to consider. First is the collaboration platform itself. Second is the underlying connectivity to support the applications from the cloud to your enterprise (the more global your organization, the more this matters). Both elements must be carefully considered. Addressing them together in your decision-making is the best way to ensure your workers get the best possible collaboration experience—which, of course, enhances virtually everything you do and supports your bottom line.
Learn how you can enhance your organization's collaboration through digitally transformative UC solutions from AT&T.