Transformational collaboration: is your enterprise ready?
Fragmented collaboration capabilities could be holding your company back from gaining a competitive edge
As we move to an increasingly fast-moving, hyper-connected economy built on open-APIs and open data, companies need all the systems they use to be flexible, scalable, and able to turn on a dime. And that's doubly true for their collaboration platforms.
In this economy, enterprises must be capable of "transformational collaboration." Built on agile, cloud-based technology, this model of collaboration enables connections within enterprises and with external partners to be made highly secure and quickly. It allows for data-driven collaborations that enable companies to seize opportunities and create value. And because it's designed with maximum interoperability in mind, it empowers companies to react in near-real time to developing opportunities.
Is your collaboration platform ready for the hyper-connected economy? To find out, see if you can answer 'yes' to these six questions.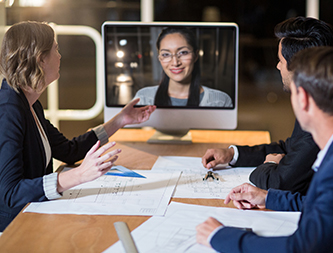 Voice and Collaboration
Empower your teams with solutions that can help you grow your business.
1. Is your collaboration platform ready for cloud?
Cloud systems give you access to the widest range of features. They are usually standards based, which allows them to be more easily integrated with new platforms and systems as the need arises (for instance, when the company embarks on new collaborations or goes through an acquisition or merger).
2. Are your collaboration platforms ready for hyper-connectivity?
At a bare minimum, the different tools and systems within your collaboration platform –video, content management, messaging, shared workspaces, and webcasting, for instance – must all work together as seamlessly as possible. But more than that, your systems must be ready to connect with other tools and platforms beyond your company's network.
3. Has your business escaped its silos?
As well as encompassing all the different systems and tools you use, your collaboration platform must also be end to end. Everyone in your enterprise should – with the proper security and privilege rights – have access to all the collaboration, sharing, and communications tools your enterprise uses. They should also have access to secure flows of data and information appropriate to their needs.
4. Is your business data driven?
Transformational collaboration both generates and is driven by data. Or, more precisely, it generates data and is driven by the insights derived from that data. With the right expertise and the right technology, collaboration tools yield actionable insights across key internal and external touchpoints. But to take advantage of this, your company must be agile and data driven.
5. Is your company culture ready for transformational collaboration?
To reap the maximum benefit from an era of transformational collaboration, companies must have open cultures that encourage co-creation, the sharing of ideas, and open working across departments and functions. The collaboration infrastructure must enable and mesh with this culture, while also supporting the necessary regulatory and security requirements.
6. Is your company customer-experience focused?
To be truly future-ready and transformational, the enterprise must have as its purpose the delivery of outstanding customer experience, externally and internally. The operation of every collaboration touchpoint must be measured against an agreed definition of success. It must then be continually optimized, both in isolation and as part of a dynamic and evolving collaboration platform.
Without the foundations for transformational collaboration, companies will see their rivals accelerate past them.
If you can't answer 'yes' to these questions, there is a good chance that your company's collaboration and communications tools could be holding you back.
Today, siloed collaboration tools waste money, leading to low uptake, low return on investment, and a fragmented experience that slows the company down. But it's their impact on tomorrow that is most worrying.
Without the foundations for transformational collaboration, companies will see their rivals accelerate past them. Fragmented systems – often acquired piecemeal and hosted onsite – are neither adaptable nor interoperable enough to function at the speed required in our hyper-connected economy. If this sounds like your company, now is the time to act.
For more information, visit our collaboration solutions page.