Transform digitally with integrated UCC solutions
Learn why companies are investing in voice and collaboration solutions
It's time to set indecision aside.
To maintain momentum, digital transformation is now a critical component of a business's success in the current and upcoming marketplace generations. Large-scale IT initiatives are everywhere, from hybridized computing, to universe-sized storage, to software layers that turn hardware towers into intelligent contributors.
But, as always, buyer beware— big IT advancements can also mean big costs.
Business can benefit from a cohesive, integrated communications and collaboration strategy that includes the tools needed for organizations to achieve their goals. Network overhauls that invalidate existing investments can set businesses back with indeterminable training time and expensive upgrades and updates.
Nemertes Research report
Nemertes Research recently published a report that addresses the digital initiatives and infrastructure needs for businesses looking to transform.
The research firm asked nearly 400 companies three questions about technologies:      
Which technology is the most vital to your digital transformation initiative?      
Where do you plan to increase spending in the next year?      
Which technologies do you use or plan to use in the next year?
Learn more about digital transformation in the business world and the enabling technologies in this free, interactive white paper report complete with statistical graphs and analysis.
Unified communication and collaboration
According to Nemertes, 70 percent of organizations have some sort of digital transformation initiative underway. Chances are, your business is among this group. This likely means you're already on the path, but you may not be looking at the importance of integrated and upgraded unified communication and collaboration (UCC) solutions that are tailored to your transformation plan.
Data also indicates that successful companies are 72 percent more likely to increase UCC spending than unsuccessful companies. That means leading organizations are upgrading to the latest communications and collaboration capabilities. Ignoring the need to evolve or doing it inefficiently may not just slow things down – it could put businesses in jeopardy of lagging behind the pack.
AT&T provides voice and collaboration solutions that give you the power to choose the tools needed to help improve employee productivity and customer satisfaction while helping to reduce costs. These capabilities support digital transformation initiatives and can help businesses retain and attract customers by optimizing resources and processes while streamlining the way businesses address and react to customer experience events.
Modernizing your voice services means connecting your flexible workforce with speed and clarity over a global network supported by the power and performance of AT&T. Stay on top of productivity and on course with transformation when you align the right voice and collaboration solutions with the business you want to be.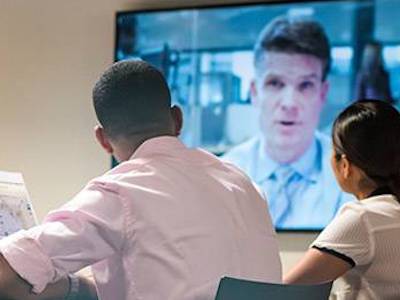 Catalyst for change
Learn why digital transformation strategies require telecom and network upgrades in this free, interactive report from Nemertes Research.