Transform business with next-gen fleet management solutions
Analytics. Intelligent reporting. Process streamlining. The right telematics can help you optimize your fleet operations beyond tracking.
A solid fleet telematics solution facilitates the exchange of valuable intelligence between a commercial or government vehicle fleet and a central authority, i.e. the fleet's home base or dispatching office. This exchange of information enables the home base to order adjustments to optimize and manage the fleet in an array of critical areas. How?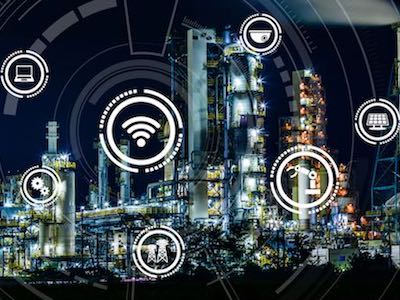 Internet of Things (IoT)
Entirely new experiences, revenues, profitability, customer relationships, business insights, and processes are now possible using IoT services and solutions.
Q: One of the biggest challenges the supply chain is facing, nationally and globally, is related to trucking capacity. This is partially due to industries adjusting to the ELD (electronic logging device) mandate, but also to increased consumer demand for products. How is technology such as IoT being used to help address these challenges?
A: Connectivity is the core of everything businesses need to be successful. It will eventually impact how businesses of all sizes interact with customers and compete as increased consumer demand via direct-to-consumer models continues to rise. IoT is the digital connectivity technology that has probably had the most significant impact on the supply chain and the transportation and logistics industry.
Businesses in the transportation industry are using digital technologies like IoT to improve fleet and cargo management, track goods, regulate driver compliance (ELD), and gain information access for customers. To help keep up with consumer demand as well as help deliver the right product to the right place at the right time, enterprises are using these latest innovations to track, pattern, and even predict many transportation events.
This breakthrough in technology has unleashed a wave of innovation that is rapidly transforming the way cargo moves along the supply chain, allowing transportation companies and others in the supply chain to make more informed decisions that positively impact the consumer experience.
Q: That means the opportunity to be more agile as the market changes so that a positive customer experience is preserved. So, beyond the help IoT can provide with enhanced customer experience and ELD regulations, there's a great deal of data it can provide. What are some of the ways that companies can use the data they collect to support flexibility and agility for the supply chain?
A: Powered by connectivity and sensors, IoT generates actionable, near-real-time data insights about the condition of physical things in the factory and throughout the supply chain. This, combined with data analytics, new technologies, and a fast network, is helping businesses better maintain their assets and streamline efficiency in production.
Specifically in manufacturing, there is opportunity for manufacturers to gain efficiencies with end-to-end visibility into their products and solutions—from the point of product design to the factory floor to the point of delivery.
In consumer packaged goods (CPG), today's digitally empowered customers are well-informed, can easily compare products, have extensive choice, and expect quick delivery of customized products at affordable prices. With IoT-powered solutions helping retailers efficiently manage centralized inventory, warehouses, and shipping—versus exclusively in-store stock—they are able to redirect and track product shipments to address localized demand and meet store-level revenue targets.
Telematics solutions capture near-real-time, rich data on details such as vehicle positions and speed, engine conditions, fuel usage, idling patterns, traffic conditions, risky driving behaviors, as well as other useful details. Home base can use this information to direct fleet vehicles and drivers to adjust. Data can be used to improve productivity, optimize fleet performance, adhere to safety rules, help ensure regulatory compliance, and much more. 
The components of a robust fleet management solution should be scalable to support your fleet, whether your fleet consists of 10 or 10,000 vehicles.
Share this quote
With the proliferation of digital transformation adoption and the emergence of 5G, future use cases in enterprise and government fleet and supply chain operations have yet to be imagined. To stay competitive, especially as the pace of business accelerates, it is imperative that you choose a fleet management solution that integrates with your current technologies. 
But how do you choose the provider that fits your business goals? 
In our whitepaper, Top 4 Considerations When Choosing a Fleet Management Provider, we've outlined an approach for you to consider as you build your fleet management roadmap. 

You'll learn:
The top 4 reasons near-real-time data is critical in transportation 
Why you should not attempt to rightsize using the WRONG data
How analytics can help you measure and optimize asset utilization
Why all OBDII dongles are not the same
How to reduce costs and create new efficiencies with intelligent routing and the right dispatch tools 
How predictive and scheduled maintenance can solve big problems before they occur
How to improve your compliance reporting, and more
The components of a robust fleet management solution should be scalable to support your fleet, whether your fleet consists of 10 or 10,000 vehicles. Read real use cases in long-haul trucking, food and beverage, oil and gas, electronics retail, and emergency medical services (ambulance fleet) to learn how AT&T has helped businesses optimize fleet performance, regardless of fleet size. 
Read the full whitepaper:
Top 4 Considerations When Choosing a Fleet Management Provider