Work smarter, not harder, with tools designed for your "new normal"
Take some of the worry out of caring for your business
If you have a small to mid-sized business, more likely than not, you've had to quickly pivot all aspects of your business in ways you didn't anticipate. You are going from figuring out how to support your employees to protecting your data to deciding how to take your business "mobile" while caring for your customers. You've had to consider many variations of what your new normal might look like.
We want to help alleviate some of the worry. There are tools, devices, applications, and even expert professional services that already exist that can help you during your time of business transition—no matter what your business needs right now. 
Perhaps your business needs help moving to an e-commerce selling model, given that online shopping and home delivery are the new retail methods of choice in today's "socially distanced" society. Perhaps your customer care services are now being conducted by phone and online rather than face to face in your offices, and you don't want to miss a phone call or important conversation. Perhaps your entire workforce is now working from their homes, and you need to make sure their data is protected.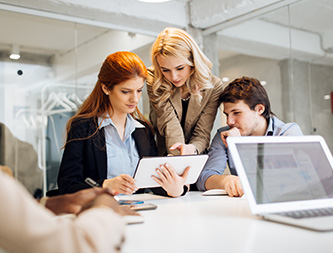 Network Services
Technology is changing rapidly and with that comes higher demands on your network while pushing bandwidth requirements to its limits.
These changes in your day-to-day operations have implications on the technology you have set up to support the services that keep your business going. The good news is, there are already new and improved tools to help you succeed in these unpredictable times.
1.   Mobility plus Voice and Collaboration tools
Now that workforces have gone mobile, the right mobility tools and devices can make all the difference in keeping your business connected and running smoothly. Add voice and collaboration services, and your staff will be able to carry on business, even while in their own homes. If a customer call comes in, for example, it can ring on multiple devices, on desk phones and mobile phones, and even a phone line you already had set up in your home. So when a customer calls at any given time, those calls ring right through to wherever they need to go.
What about inventory control? Can mobility tools give you inventory visibility? COVID-19 definitely disrupted supply chains, and there have been times when businesses have temporarily run out of supplies a customer may have wanted. But, mobility tools can help you keep track of your supplies in near-real time with apps and IoT smart sensors, so you can easily track your inventory and order replacements in plenty of time. One less thing to worry about!
2.   Connectivity
With the advent of business Wi-Fi, you're able to use Software-Defined Wide-Area Network (SD-WAN) technology to bring in dual-connectivity – giving you the ability to dynamically allocate bandwidth and separate back-office data for additional protection and support when you need it. If at lunchtime you've got a rush of orders, and you need to reallocate your circuits to handle the traffic, you can. Then in the afternoon, you can go back to equally distributing the bandwidth between your front and back offices, for example, without skipping a beat. This is just one benefit of business Wi-Fi; it has multiple tools to support the needs of small to mid-sized businesses like yours.
3.   Cybersecurity
Cyber criminals are always on the lookout for ways to capitalize on events that create vulnerabilities. COVID-19 is no exception. Now that your business has most likely shifted operations to a more mobile model, you need to make sure your business is not an attractive target for cybercrime. Small businesses often lack the structure, resources, and expertise to fend off attacks. And because an attack can be devastating to a small business, it's important to employ high-quality cybersecurity protection—especially during COVID-19.
So whether it's premise-based firewalls, or simple secure email gateway solutions to help you avoid malware that's attached to the emails you receive, and cyber tools for your mobile devices, there are simple ways to help you protect yourselves or manage your security services.
We are here for you
Today, we want to help you and your business work smarter, not harder, while protecting the livelihood you've worked so hard to build. Visit our small business website to learn more about how AT&T can help with your current business transformation, no matter what that looks like for you.
There are tools, devices, applications, and even expert professional services that already exist that can help you during your time of business transition—no matter what your business needs right now."
Share this quote