The power of voice starts by answering the phone
The right voice services can help your business transform
Cementing a positive customer experience is a core responsibility for any successful business. Or – it should be.
Too often, customers deal with inefficient answering services, and businesses aren't there when they need them. Whether it's a dropped call, an unanswered service request, or a full answering machine, a lost touch can lead to disastrous repercussions for customer relationships down the line.
Imagine your voice services are like your utilities – your water, gas or electricity. You simply cannot function without them.
The best way to inspire retention, remove roadblocks for intra-team communications, and contribute to an infrastructure that's ready to act is keeping the lines of communication open for everyone, at all times.
Imagine your voice services are like your utilities – your water, gas or electricity
Share this quote
Nemertes Research report
Nemertes Research recently published a report that addresses the digital initiatives and infrastructure needs for businesses looking to transform.
The research firm asked nearly 400 companies three questions about technologies:      
Which technology is the most vital to your digital transformation initiative?      
Where do you plan to increase spending in the next year?      
Which technologies do you use or plan to use in the next year?
Learn more about digital transformation in the business world and the enabling technologies in this free, interactive white paper report complete with statistical graphs and analysis.
Voice and collaboration solutions
With the right voice and collaboration solutions, you can have access to a suite of VoIP, messaging, chat and answering services you can tailor to your business needs.
Whether you're challenged by increasing incoming calls from customers or you're in need of a better way to keep your employees communicating with each other, you can choose what works best for your employees and your budget.
With automated answering services, you can eliminate dropped or blocked calls by ensuring that customer voices are heard. With instant messaging services, you can empower your people to stay in touch and on track in the middle of big tasks or day-to-day deliverables.
Upgrading voice services is a crucial, baseline component of digital transformation. Customers demand a certain level of attentive service while employees benefit from modern tools for modern workloads.
AT&T solutions can help transform outdated communications into tools that help improve efficiency and exceed customer service expectations. And it's all backed by AT&T expertise. That's what it means to answer the call.
Keep in touch with voice and collaboration solutions from AT&T.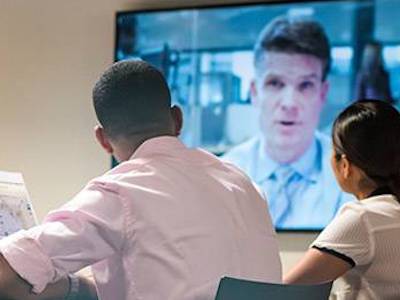 Catalyst for change
Learn why digital transformation strategies require telecom and network upgrades in this free, interactive report from Nemertes Research.