The path to ROI from Internet of Things with 5G
What you can expect from your investment in 5G
There are plenty of headlines behind what 5G is going to make possible for businesses willing to invest in its capabilities. It's not just about the data and speed. It's what you're set up to achieve across your entire business portfolio that makes 5G so impressive. It's the key to unlocking the full potential behind Internet of Things (IoT) technology.
5G is in a unique position to have a significant impact on next-gen infrastructures in healthcare, retail, finance, manufacturing, and transportation industries. But, taking the next step into 5G can be complex, and those with little information on what 5G can bring to the table may be  cautious as to whether the investment is worth it to them.
It most certainly can be. 
The path to return on investment with a 5G powered IoT environment can seem hazy. After all, we're entering uncharted territory. But the tangible benefits 5G can bring and is already bringing businesses, makes the journey worth it.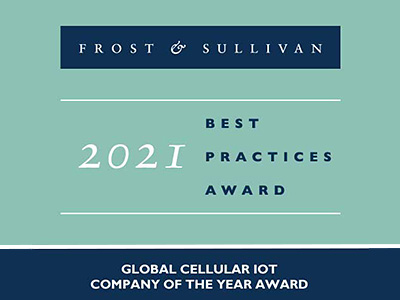 Internet of Things (IoT)
Drive your innovation into the future with our best-in-class IoT solutions. Discover why we're recognized by Frost & Sullivan as the 2021 Company of the Year for Global Cellular IoT.
Low-Power Wide Area Networks (WAN) with 5G do more for less
According to the GSMA, Low Power Wide Area (LPWA) technology delivers "the foundation of the 5G future and massive IoT."
LPWA is also the most immediate contributor to ROI when it comes to 5G. Nationwide LTE-M and Narrowband (NB)-IoT coverage will empower the devices on these networks and continue to support them as 5G standards evolve. This new network of technology will become the workhorse of modern IoT, enabling massive device connectivity with many immediate benefits:
Lower power consumption across many devices leading to less maintenance and replacement costs
Decreased upfront costs with less expensive, simpler modules, and low-usage data plans
Easier deployment with "out of the box" connectivity that can result in less investment
Opportunities with emerging global ecosystems and partners
Key verticals like manufacturing, venues, retail, and healthcare are looking at effective infrastructure investments to extract value from data while supporting ever-growing data volumes and maximizing control and privacy.
One such solution is AT&T Multi-access Edge Compute (MEC). It's a managed solution that can jump start any IT modernization journey by curating an on-premise 5G network to suit individual needs, timelines, and budgets.  With AT&T handling the network heavy lifting, a business can focus on extracting value from IoT.
Key verticals like manufacturing, stadiums, retail, and healthcare are looking at effective infrastructure investment strategies to extract value from data while supporting ever-growing data volumes, and maximizing data control and privacy.
Share this quote
Unlocking new opportunities for lower costs or greater gain
5G using sub-6 GHz spectrum is the first mobile network truly born in the cloud. That means we will be able to use software to add new features and upgrades. 5G will ultimately significantly impact how businesses work and engage their customers.
How will it affect the day-to-day for businesses? That depends. Some may be in a position to immediately reap the benefits of a lower-latency environment while others may not see the tangible fruits of 5G for quite some time. In much the same way no one could imagine Snapchat or Uber, or the scale of the remote working environment, what 5G will ultimately be able to offer businesses is difficult to pin down right now.
But there are a few ways in which the benefits of 5G can be grasped almost out the gate:
Enhanced IoT – Many businesses use a network of sensors in their day-to-day operations. For electricians, healthcare organizations, manufacturers, and more – small businesses use IoT devices to get things done. The 5G network is built for the IoT world. The 5G flavor using millimeter wave spectrum ("5G+) offers ultra-low latency (with MEC), ultra-high speeds, strong reliability, better capacity, and improved application performance across these connections in its coverage area. 5G using sub-6 spectrum will eventually have the same potential and more. 
Better, faster communications – Imagine experiencing 4K video calls without any lag. Imagine communication and file sharing between dozens or even hundreds of employees in as near-real time as possible. With unprecedented data transfer speeds, 5G+ can allow businesses to do way more with their communication channels. For instance, picture a specialist or an expert walking a field engineer through a complicated process via a video feed. A crystal clear, low-latency 4K video stream can certainly make that process way more effective in that scenario.
Fast mobile broadband and internet –  For businesses that rely on network-related tasks, like online sales or collaboration on files across the cloud, having access to fast internet speeds means they will be able to get things done faster.
 
Are you still unsure how 5G and IoT can deliver value for you? Discover the value for yourself. 
AT&T has consulted across all major verticals and can work with you to map your problems to 5G solutions. Take three simple steps to jump start your 5G digital transformation:
Customer briefing: An AT&T hosted event to discuss industry trends, 5G capabilities, customer problems
Immersion event: Deep-dive into customer operations to identify opportunities for 5G and Edge Compute
Consulting workshop: Deliver executable plans to partner with AT&T to realize value from 5G
Learn how IoT Consulting can transform and drive your digital information across your entire business. For more information on what IoT can do for you, visit click here.