The IoT tech you'll love in 2019
Top potential use cases for your industry
From smartphones to smart cities and everything in between, we are connected in more ways than we realize. And the trend will continue as the number of connected devices grows to 14.2 billion in 2019 and 25 billion by 2021, according to Gartner Research. With all these connections forming the Internet of Things (IoT), our devices, their data, and how we use the data will continue to spark exciting, new use cases in virtually every sector and industry.
What are the new IoT trends and use cases that will make you fall in love with technology all over again—and how will they impact your industry? Here are just a few that analysts see on the horizon.

Healthcare
The healthcare industry looks to improve the patient experience by implementing IoT technology to embrace a connected future. One of these improvements benefiting patients and hospitals is remote patient monitoring, including administering and adjusting medication based on collecting and analyzing near-real-time data. By using IoT devices, healthcare providers can remotely monitor vitals, track medications, and transfer up-to-the-second data to help staff make faster, more informed decisions.
Retail
Imagine walking into your favorite store and getting a personalized alert on your phone or smartwatch that your favorite items are on sale and in stock. All you have to do is follow the store map on your device to locate the item, scan, purchase, and go. That simple. It's how retailers and other industries will take advantage of IoT technologies to build and integrate omnichannel experiences for their customers.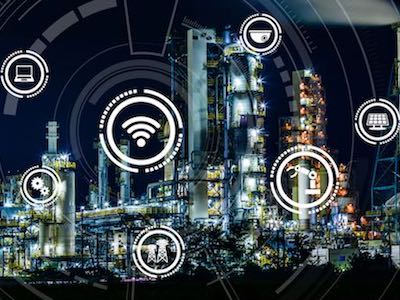 Internet of Things (IoT)
Entirely new experiences, revenues, profitability, customer relationships, business insights, and processes are now possible using IoT services and solutions.
Manufacturing
In the world of manufacturing, cybersecurity has often been lower on the priority list for businesses that are much more concerned with operational efficiency and supply chain management. But, as core processes become increasingly dependent on digital and cloud-based tools, cybersecurity needs to move further up that list.
While the IoT and cloud migration can increase efficiencies, lower costs, and automate tasks, it also opens manufacturers up to cyberthreats and puts their intellectual property at risk.
Financial services
Banks are relying on IoT-based solutions to elevate the level of service they offer at local branch offices by providing a more personalized, automated service and improving the customer experience. Like many businesses in today's increasingly connected world, customers demand faster-than-ever service, wherever and however they care to connect. This means apps and digital services are top trends for financial institutions. But there's more to the story.
Digital services alone have not delivered the kind of trusted relationship that high-stakes advisory services require. A recent study found that 46% of consumers in the United States and Canada desire automated customer service for banking, but also revealed that 87% of consumers will continue to use bank branches for the foreseeable future. As the authors of the study proclaim, "The branch is alive and well."
Smart Cities
Smart Cities are using network technology in new ways to engage citizens. One of these new engagement strategies is "gamification". In cities where this strategy is deployed, residents could earn reward points for paying their water bill on time, using public transportation, reporting potholes and other hazards, and doing their part to recycle. The points earned for such activities could be applied towards events or other VIP services in their city.
From smartphones to smart cities and everything in between, we are connected in more ways than we realize.
5G for IoT
At the heart of these technologies, will be the need for next-gen-powered networks that allow for data to flow virtually seamlessly across multiple touchpoints to make these experiences possible. That's where 5G comes into play.
5G opens new possibilities for IoT—expanded features, enhanced services, and new products—to create exceptional, integrated experiences for customers. What's more, 5G isn't just about speed. It's about capacity, computing on the edge, ultra-low latency, and high-performance. In short, it can allow you to control more connected devices remotely through applications in near-real time where performance is critical—like monitoring heavy machinery in hazardous conditions to enhance safety for workers.
Put IoT solutions to work for your business
No matter where you're at on your digital transformation, IoT innovations and solutions can enhance virtually all aspects of your business—giving you more tech to love in 2019.