Stay connected with cloud-based voice and collaboration tools
Get away from it all this summer without disconnecting
In the early '90s, AT&T released a series of TV spots as part of their "You Will" ad campaign. The 30-second spots (featuring the voice of Tom Selleck) painted a fantastic future by daring viewers to imagine a world where they could take a phone call on their wrist, send a fax from the beach, or tuck their baby in from a phone booth. Questions like "Have you ever attended a meeting in your bare feet?" were asked and answered with a definitive "You will."
In 2019, while phone booths and faxes aren't quite the technological driving factor as may have been predicted, these ideas are a shockingly accurate portrayal of today's connected society. It's interesting to look back on the footage of that silver-haired man in his loose, silk button down and bare feet, discussing and sharing architecture plans under the shade of a palm-roofed beach hut and imagine a time when it all seemed so unattainable.
Now, remote work and collaboration tools from AT&T have made that vision not only a reality, but a common occurrence. As summer approaches and your palm-roofed beach hut awaits, AT&T Voice and Collaboration is here to help you keep connected in a world where business never really takes R&R.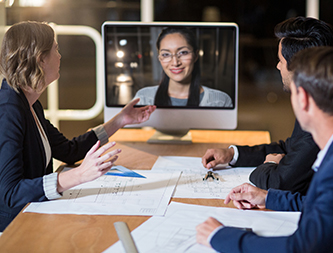 Voice and Collaboration
Empower your teams with solutions that can help you grow your business.
How the cloud makes beachfront conferencing possible
Until recent years, cutting-edge collaboration technology required complex network infrastructures and significant investment. But, the prevalence of LTE and the advent of the cloud have enabled newfound connectivity across the world. Collaboration tools that run on cloud-based communications systems create a virtual work environment that can be accessed from almost anywhere.
This software-as-a-service approach to collaboration makes for a much simpler and less costly investment for businesses who need to keep their employees connected. For traveling employees, cloud-based solutions offer two key benefits:
Location: Cloud-based tools are accessible and powered through the web. This means they can be used anytime and virtually anywhere with internet, Wi-Fi, or cellular connectivity. So, whether you're at a ski lodge in Telluride or in a hotel off Bourbon Street, a consistent set of tools you need to get the job done are at the ready.
Accessibility: Most cloud-based solutions are designed to work across the spectrum of mobile devices. From smartphone, to desk phone, to tablet, to laptop, collaboration tools in the cloud empower workforces to stay mobile and access critical tools from anywhere on almost any device.
Being able to remotely access files can not only increase efficiency, but play a pivotal role in job satisfaction.
Collaboration tools that run on cloud-based communications systems create a virtual work environment that can be accessed from almost anywhere.
What does a cloud-based collaboration service look like?
Providers can offer businesses a suite of cloud-based collaboration tools that streamline the creation of your virtual work environment. For instance, cloud-based solutions such as AT&T Office@Hand unify voice, video, instant messaging, presence, file sharing, and conferencing into a single application. By essentially virtualizing the office space, your workspace is on the cloud, accessible from any device. It lets every remote employee or work group access the same communications image as the headquarters location with the mobile devices they prefer.
Office@hand can create the exact scenario depicted in the "You Will" campaign: silk shirt, bare feet, sharing and collaborating on the same file across multiple devices and users that are nations apart.
Of course, getting away from it all is important. But, in this ever-connected world where "you will" has become "you can", AT&T knows important business can strike at any time, regardless of your footwear. Cloud-based collaboration tools are there to make it easy, efficient, and stress-free when it does.