Solving the predictive maintenance dilemma
AT&T is empowering digital transformation through IoT solutions
The Internet of Things (IoT) begins from a physical asset connected to an IoT device using a network to deliver data from onboard sensors.Deciphering and making business sense of the data presented is what empowers an analytics system to make the world of business work smarter. IoT is like a seed on a farm with the ability to take something raw and transform it into a living system that you can continuously improve.
At the 2018 Mobile World Congress in Barcelona, AT&T showcased how it is leading in communications and technology and empowering digital transformation through IoT.
IoT is like a seed on a farm with the ability to take something raw and transform it into a living system that you can continuously improve
Share this quote
From asset management and fleet solutions to connected cars, healthcare, and platforms, we showcased solutions that enable customers to create new business models and reduce their operational costs. These customer journeys are just the beginning.
One of our primary focus areas is the AT&T Asset Management Operations Center (AMOC). Built on AT&T IoT DataFlow platform – expected availability of DataFlow is in the second quarter of 2018 – it's a low-code/no-code solution that allows device and sensor data to be easily integrated into enterprise applications in the cloud. This can help reduce the cost and time required to enable asset management and monitoring.
With over 3,500 certified devices on our network, AMOC (pictured below) provides the user the ability to create device templates for their specific individual use case with many of these devices being pre-enabled. For instance, AT&T offers an OBD-II kit through the AT&T IoT Marketplace allowing data collection from vehicles.
AMOC dashboard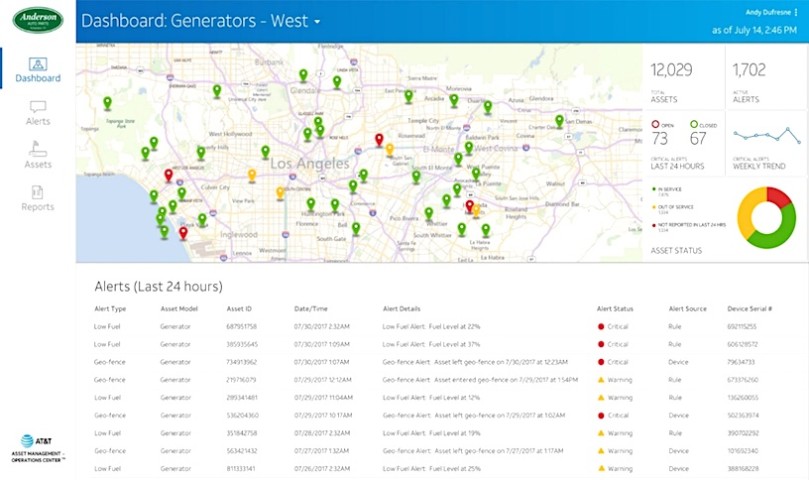 Fleet and asset maintenance using multiple sensor data points to allow analytics to conduct predictive condition maintenance analysis is a key use case for this solution. One such example is our work with IBM and their enterprise asset management solution called Maximo. IBM Maximo is the world's leading enterprise asset management solution managing critical assets and resources at its maximum efficiency.
IBM Maximo Asset Health Insights (pictured below) is one of the capabilities of the Maximo solution that utilizes IoT, weather and asset lifecycle maintenance data to improve asset performance.
Maximo Asset Health Insights can utilize AMOC to deliver data into their asset scoring models without worrying about device and network integration and management. Predictive condition monitoring is the ultimate use case for these enterprise applications. Asset Health scoring can be driven by a number of data elements associated with the asset. Some examples of these "drivers" of asset health include:   
Cost: How much has been spent maintaining the asset compared with budget or replacement cost?   
Weather: IBM's ownership of The Weather Company, allows real time and historical weather data to inform how weather may affect the health of an asset. Humid and harsh environments can shorten the lifecycle while sunny pleasant environments may extend.   
Life: How close is the asset to the end of its useful life?   
Condition: Data from IoT devices connected by AT&T can provide IBM Maximo Asset Health Insights with near real-time asset condition monitoring, including run time, temperature, vibration, humidity etc.
These "drivers" generate an asset score for each asset that reliability engineers or asset owners can use to help maximize capital investments, reduce breakdowns, prevent unplanned outages, and prioritize and optimize resources based on insights.
IBM Maximo Asset Health Insights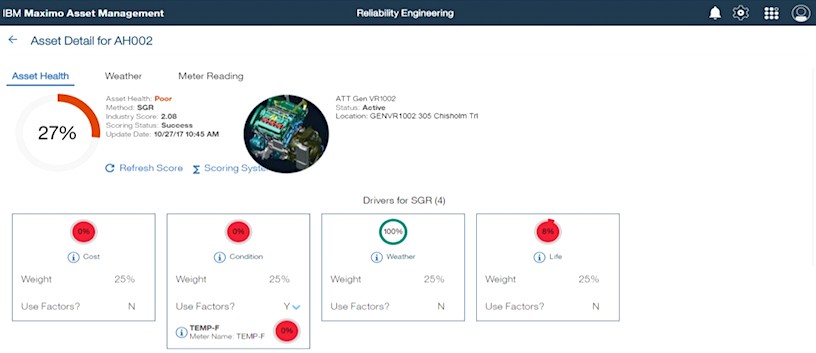 With AT&T global connectivity, DataFlow platform, and Asset Management Operations Center, customers can focus on how their data can be used to provide better services, without worrying about the underlying componentry, devices and networks.
If you want to connect assets, perform predictive maintenance or make near real-time decisions about your assets, come see us at IBM THINK 2018 or come visit our IoT Foundry in Plano, Texas and talk to us on how we can bring value to your operations.